Say hello to our August cheese of the month, the Crottin de Chavignol – CROT-an de cha-VEEN-yol - if you want to nail the French accent as you ask for this delicious and famous goat's cheese!
This cheese originates from the gorgeous Loire Valley, which is in central France and just a couple of hours away by train from Paris if you're considering a day trip. It's one of the country's most famous gastronomical regions and known for its incredible wines too.
Chavignol is a tiny village in France, with only a few hundred inhabitants, but they've certainly made a name for themselves with this well-known and well-loved cheese. There is plenty of debate about where the name of this cheese comes from… (if you're feeling sensitive, ignore the next few lines!) but there is some suggestion that it comes from the French word crotte which means animal dropping, which is the kind of resemblance it takes on throughout the aging process until the point it becomes harder and takes on a brown exterior. Food for thought!
Like the rest of our favorite French cheeses, this one is also protected by AOP status which means there are strict standards of production. It must be made from the raw milk from alpine goats which are distinguished by their glossy brown coats. People can tend to shy away from a Chèvre, often because they're not familiar with the looks or flavors but don't be deceived, the Crottin de Chavignol is a great place to start for trying something new!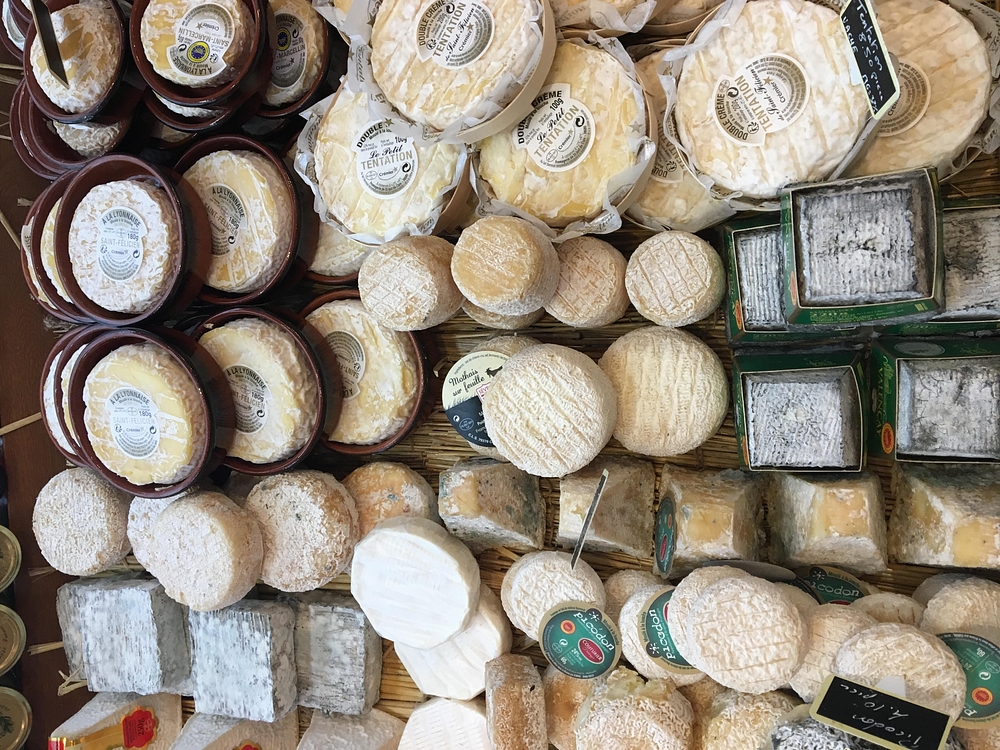 One of the great things about this cheese is that it can be eaten all the way through the aging process – young or old, it will still taste great and it picks up more pronounced flavors as it develops. Initially, the fresh cheese is shaped into a flattened cylindrical form inside a mold, after being rinsed and salted, before being matured over the course of a few weeks in a cellar. At this stage the taste of the Crottin de Chavignol is clean and nutty while the outside appearance is pale. 
It takes on a stronger smell around 6 weeks into the aging and the outside croûte hardens and darkens. At its most mature, the cheese takes on a natural bluey-white mould on the outside and the flavors become powerful, losing any notes of floweriness and developing rich flavors of hazlenuts and walnuts.
As ever, the most important question on our lips is: what do we serve it with?!
Well, of course white wine and goat's cheese is a heaven-sent pairing, and while you could never go wrong with a crisp chilled Sauvignon Blanc, we think pairing it with a lovely Loire valley white such as Pouilly Fumé or Sancerre works especially well! Brothers in arms indeed!
We really love how versatile this cheese is as it equally goes down a treat with a fruity red, such as a Beaujolais. Otherwise, seeing as it's prime picnic season you certainly couldn't go wrong with a lovely, smooth provençal rosé (and you can see our round up of the best Parisian picnic spots here) – you can't say we aren't good to you! Be brave and happy tasting!