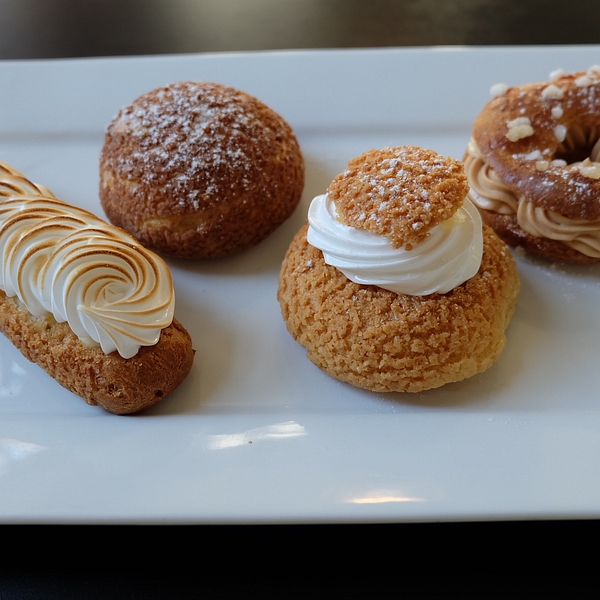 Les Choux, éclairs and more : Technical Choux Pastry
Overview
One of the most versatile products in the repertoire of the French cuisine and pastry enthusiast : Pâte à Choux! From the tempting éclair to those delicious filled Choux, or the praline filled Paris-Brest - and don't forget those savory versions including Gougères... All of these iconic French delights are all crafted from Pate à Choux (Choux Pastry).
For those curious about this classic pastry base, join us for our in-depth 3-hour Technical Choux Class and we'll have you creating some of France's most delicious offerings from Sweet to Savory versions - including a number of other skills and techniques to bring out the Chef in you!

Au menu :
Version Sucré (sweet)
Eclair au citron meringué : where you will learn to meringue
Paris-Brest : where you will learn to make creme mousseline praliné
Choux Chocolat au Craquelin : where you will learn to make chocolate cream filling and the very trendy 'craquelin'!
Version Salé (Savory)
Gougères : where you will learn to transition your choux pastry in to those succulent savory cheesy bites!
Savory Eclair : where you will turn your éclairs in to savory little bites filled with scrumptious products!

Three hours of everything Choux Pastry Class in the heart of Paris!
à savoir
If you are looking for a 'lighter 'experience, be sure to check out our two hour éclair class