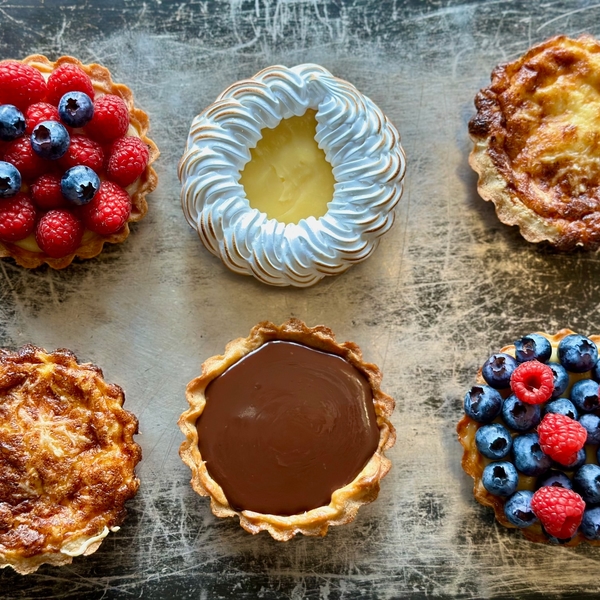 Technical Tartes
Overview
As beautiful as they are delicious, French Tartes are the star of every patisserie window. If you fancy a lesson on how to make them from start to finish, we have three hours of everything there is to know about Les Tartes!
You will start by preparing 2 different types of dough for the Tarte Bases: Pâte Sucrée (Sweet Pastry Dough) and Pâte Brisée (Shortcrust Dough)
Then, it is time to dive into the techniques and learn how to make Crème Pâtissière (Pastry Cream), Ganache au Chocolat (Chocolate Ganache), Meringue, Caramel Beurre Salé (Salted Caramel), Crème Citron (Lemon Cream) and more!

All of these techniques combine to make 4 different recipes of Classic French Tartes: Tarte Citron Méringuée (Lemon Meringue), Tartelette aux Fruits (Fruit and Pastry Cream), Tartelette au Chocolat et Caramel (Chocolate and Caramel) and Quiche Lorraine (Ham and Cheese Tarte)

You will leave with 4 different mini Tartes to take home and enjoy!

This class is a comprehensive look at the celebrated Classic French Tarte and will have you learning techniques that you can use in your baking beyond these treats, back home.
Three hours of everything Tartes in the heart of Paris!
à savoir
This class can be adapted for a vegetarian diet without problem!