Afternoon Tea. It's a tradition that borders on ceremony, where cake stands are generously laden with home-baked treats, teapots brim with Earl Grey or Assam, and Wedgwood sits atop a pristine white tablecloth. In Paris's hotels, Afternoon Tea reaches new heights, with some of the grandest salons in the city opening their doors for cucumber sandwiches, pastries, traditional French cakes and English classics. 
To complement our Tea Map of Paris and celebrate an exciting announcement coming soon to our Class Calendar, we thought we'd share the very best of Afternoon Teas served in Paris's sumptuous hotels, from The Ritz to The Four Seasons and everything in between...
Le Dali at Le Meurice 
All week long from 3.30pm - 6pm, Le Dali restaurant at hotel Le Meurice welcomes visitors for its famous Afternoon Tea. Le Meurice's Pastry Chef, Cédric Grolet, has put the hotel's afternoon tea on the map (and not just our Tea Map, which you can find here!) He was named the World's Best Restaurant Pastry Chef in 2017 and has recently opened a dedicated boutique just round the corner, but there's no better way to savour his incredible creations than with the decadent €60 afternoon tea. You'll be surrounded by lofty glass doors, Corinthian columns and the interior-design brilliance of Philippe Starck, so just sit back with your Earl Grey and a homemade scone and surreptitiously scan for celebrities.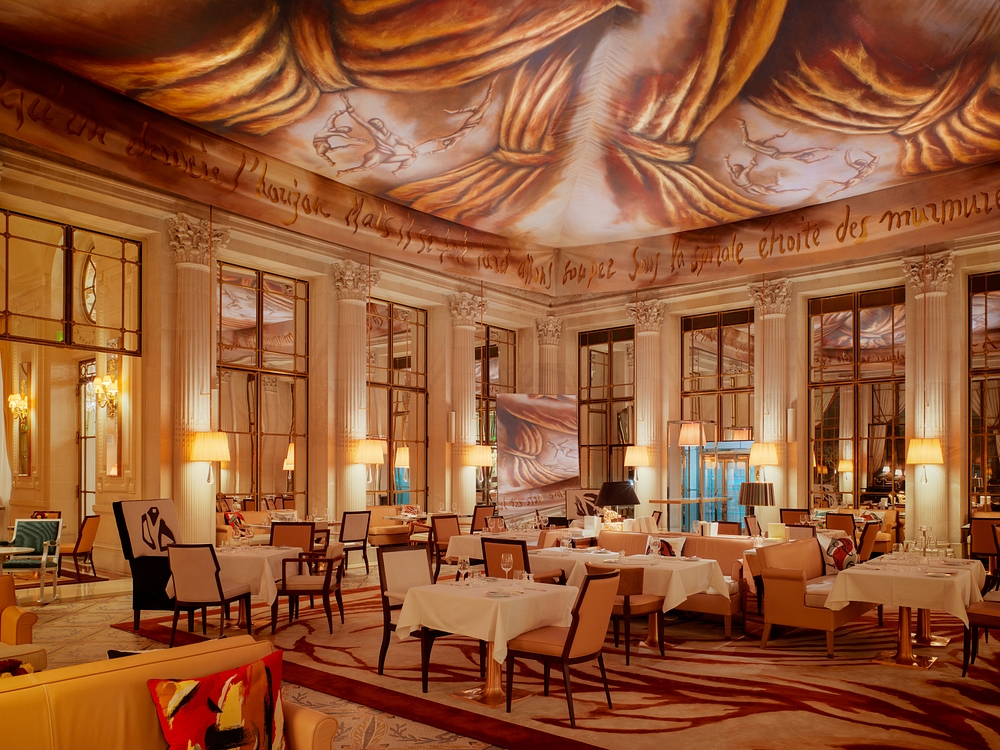 Hôtel Le Meurice, 228 Rue de Rivoli, 75001 Paris   +33 1 44 58 10 44   Website
Salon Proust at The Ritz
"When I dream of afterlife in heaven, the action always takes place in the Paris Ritz," said Hemingway. For Sophia Loren, it was "the most romantic hotel in the world." Marcel Proust declared that "At the Ritz, nobody pushes you around." It was this raison d'être that inspired the creation of a bar in his honour, the Salon Proust - a brand new addition to the Ritz Paris revealed when it re-opened in 2017. From 2.30pm - 6pm, you can cosy up in a big armchair by the fireplace amongst the warm tones of wooden bookshelves stocked with rare editions, and savour a classic French Afternoon Tea. A mind-boggling selection of teas has been specially selected by a tea sommelier, while Chef Pâtissière François Perret is the genius behind the Salon's famous freshly baked Madeleines. On a gleaming marble table-top in the centre of the room, glass domes contain an endless supply of cakes, treats, tarts and cakes. A typical Thé à la Française comes in at a cool €68, so why not go the whole nine yards and throw in a glass of Ritz Reserve Barons de Rothschild Champagne or a signature cocktail and call it even at €88? In for a penny…
15 Place Vendôme, 75001 PARIS   +33 1 43 16 33 74 Website
La Galerie at Plaza Athenée
For those who can't countenance Afternoon Tea without hearing a harp (we all have standards), La Galerie at Plaza Athenée awaits. Executive Pastry Chef, Angelo Musa, also happens to be a MOF a Meilleur Ouvrier de France which, roughly translated, means Pastry Jedi. Settle in between 2pm and 7pm and choose between three teatime options arranged in ascending order of indulgence. For €48, you can play it sensible and still enjoy Musa's amazing morsels served with a hot drink; for €58, upgrade to a Rose Royal Cocktail; for €68 you can add a classic croque monsieur. In terms of decor, think pure elegance - take the harp soundtrack as a starting point and go from there - crystal chandeliers, mosaic floors, colonnades and views over the lush internal courtyard.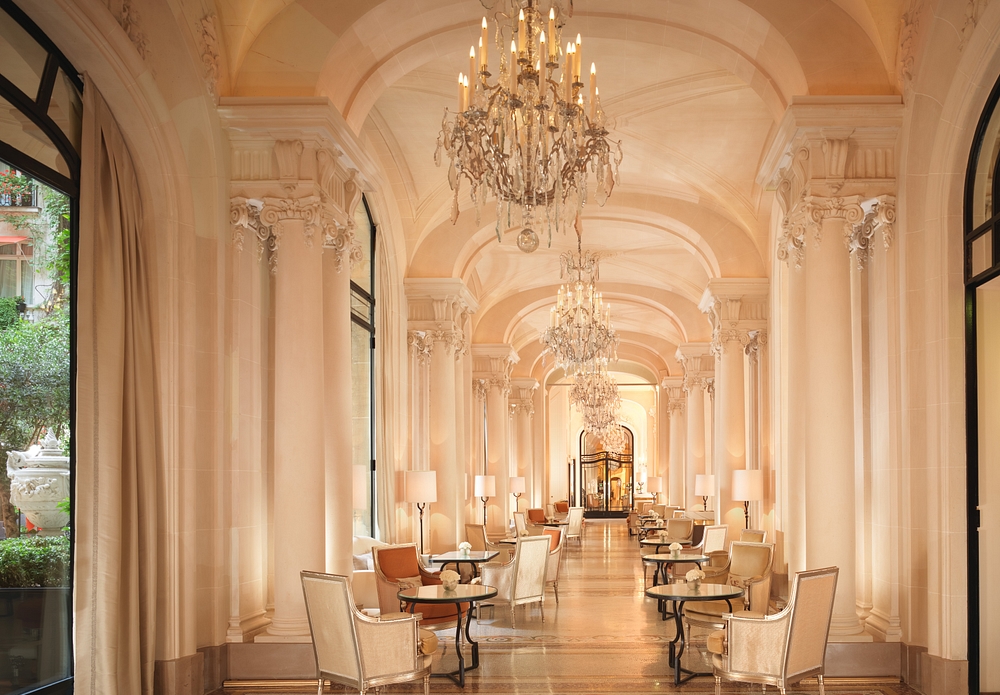 25 Avenue Montaigne, 75008 Paris   +33 1 53 67 66 65 Website
Bar les Heures at the Prince de Galles
The Prince de Galles Hotel is a haven of Art Deco glamour, where the chic monochrome interiors gleaming with brass will probably inspire you to don a flapper dress at the earliest opportunity while saying things like "it's simply too divine."Alternatively, you could head straight to Bar les Heures between 3 and 6pm to enjoy an English Afternoon Tea by chef Stéphanie le Quellec and pastry chef Nicolas Paciello. In the lounge, sip cocktails on elegant sofas or head out into the inner courtyard to lounge with a glass of Laurent Perrier Champagne and endless edible delights - sandwiches, scones, pastries, cookies...all for €62 per person.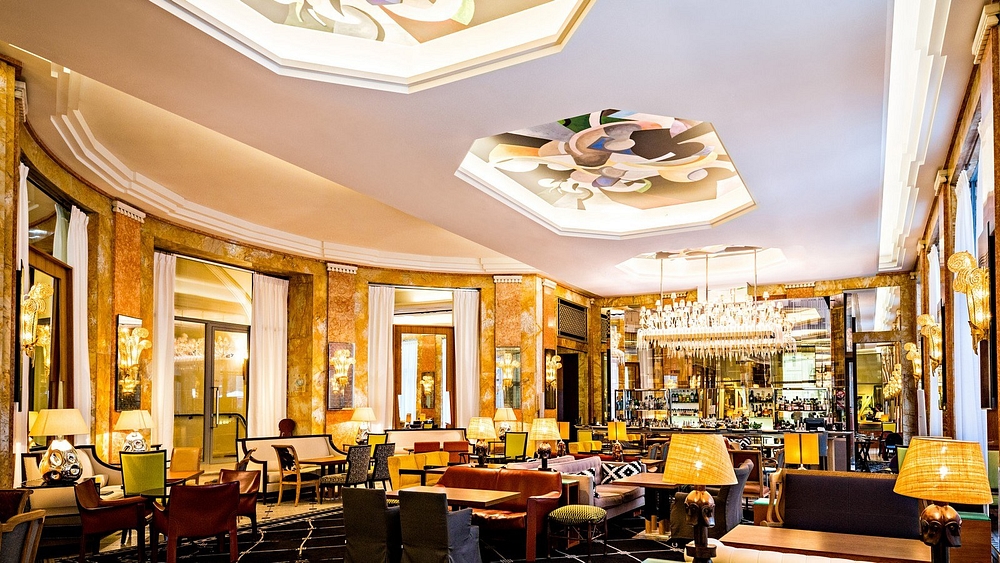 33 Avenue George V, Paris, 75008, France   + 33(0)1 53 23 78 52 Website
Café Antonia at Le Bristol
For those who love the idea of living in a British stately home, Café Antonia won't disappoint. Cushions line plush banquettes, lofty windows are swathed in miles of fabric and lamps cast a cosy glow over the scene while oil-painted portraits look out enviously from their enormous gilt frames. Opt for the Le Bristol High Tea where the pastries are the work of Julien Alvarez. A glass of Champagne, a selection of mini sandwiches, homemade scones, muffins and petits fours come in at €60. Served between 3 and 6pm.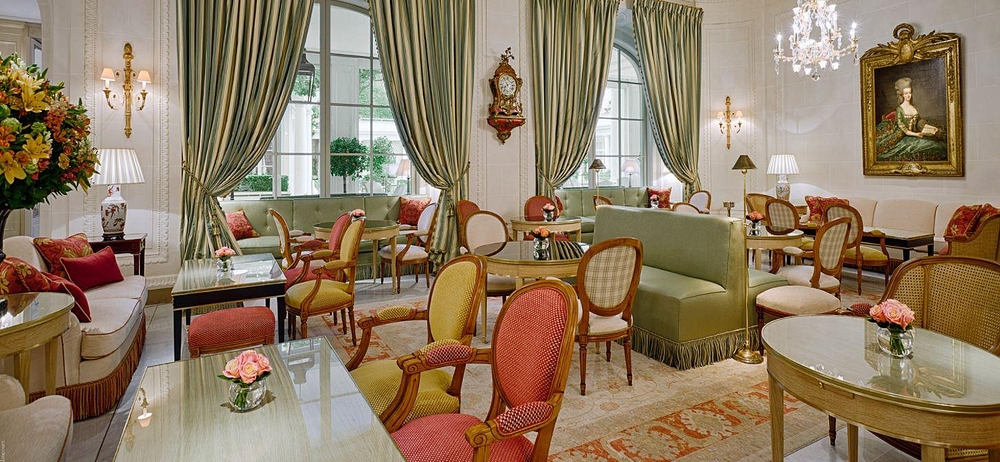 112 Rue du Faubourg Saint-Honoré, 75008 Paris   01 53 43 43 42 Website  
La Galerie at the Four Seasons
There's a hushed, intimate vibe to La Galerie at the Four Seasons, where Flemish tapestries adorn the walls and 19th-century paintings and works of art dot the softly lit spaces. Oozing tranquility and elegance, La Galerie takes this up a notch from 3pm, when Afternoon Tea is accompanied by a live pianist. Opt for a High Tea à la francaise to enjoy a glass of Champagne, followed by a hot drink and a rich array of savory bites, pastries, cannelés from Bordeaux, Madeleines, financiers, home-made scones…the list goes on. €60.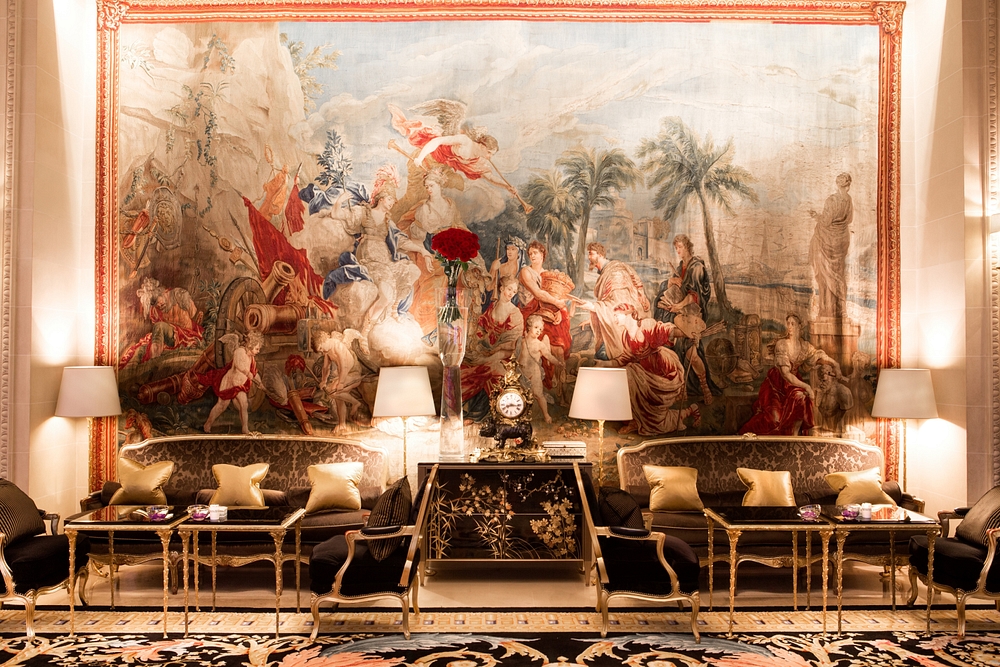 31, avenue George V  75008 Paris +33 33 1 49 52 70 00 Website  Website