This time our Cheese of the Month is more like Cheeses of the Month - we know, we're spoiling you! We thought it would be a fun festive feature to celebrate all those cheeses that reach new realms of deliciousness when melted, so expect lots of cheesy meal suggestions, fun recipes and a dash of history thrown in.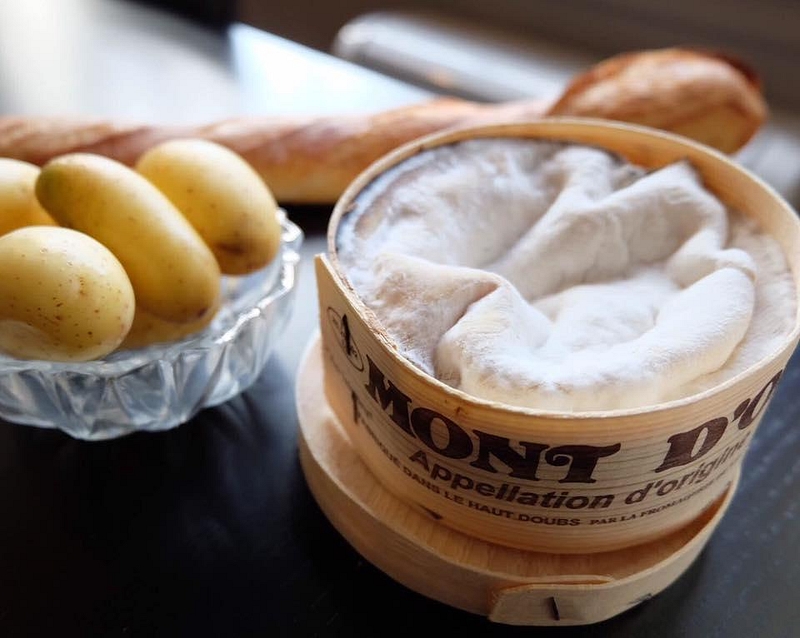 When it comes to wintry cheeses, few capture our hearts like the mighty Mont d'Or. A raw milk cheese ripened for around three weeks in its signature round spruce box, Mont d'Or comes into its own during the chilly winter months. Why? Because it's so heart-warmingly gooey. You might also hear of Mont d'Or being referred to as Vacherin Mont d'Or or Vacherin Haut-Doubs. The confusion of names seems to stem from a scuffle between the Swiss and the French when it comes to Mont d'Or - in Switzerland it seems the name Vacherin Mont d'Or won out, while in France these small cheeses are known simply as Mont d'Or - golden mountain.

So how do you eat it? Simple! Take a lovely Mont d'Or in its spruce box, preheat your oven to around 200°C, wrap the box in tin foil (leaving the top exposed), pierce the top a few times - shove a bit of sliced garlic into the holes and dash on a healthy amount of white wine (kirsh works perfectly well too)! then bake for around 20-30 minutes. Serve with beautiful crusty bread for dipping!
Another cheese well-worth melting is the classic camembert (which is beautiful cut in half and filled with spices, nuts, etc), best paired with a glass of champagne - perfect for the season!
Raclette
Speaking of Swiss cheeses, Raclette is one cheese that has been lovingly adopted by the French. This is a cheese that has been turning heads since Medieval times, and was a particular favorite with cow herders, who would sit by the campfire at night allowing the cheese to slowly melt until it reached the perfect gooeyness. Then, they would scrape off the top melted layers of the cheese onto a slice of bread. In France, raclette is typically enjoyed with a Savoy or Riesling wine - and even the name is French, coming from the verb racler - to scrape.
When you hear the term Raclette, it also refers to the appliance used to create the dish - which looks like a portable oven with little skillets - one for each person. If you Google the term 'Raclette' you will get a good sense of the variety of machines available. The 'first' Raclette of the season is quiet sacred!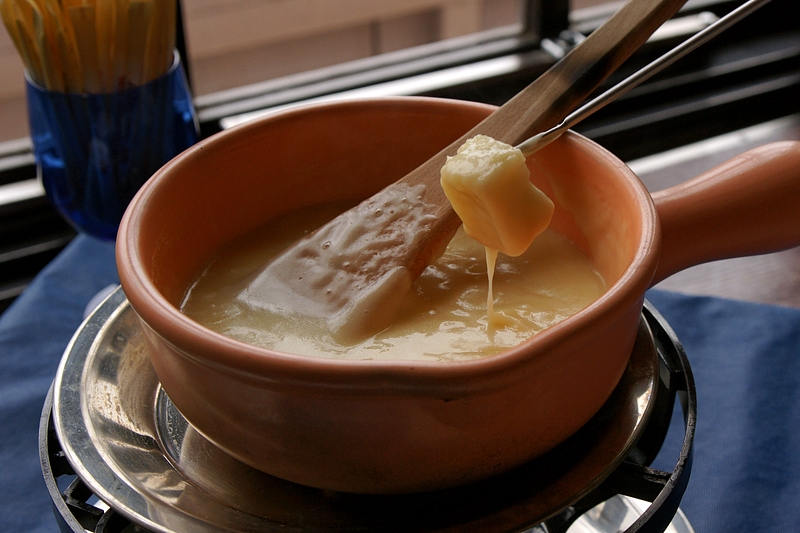 Take a pan of bubbling melted cheese, dip things in it, eat, repeat - a recipe for instant happiness. We couldn't mention melty cheeses without showcasing fondue, and while many attribute this Alpine favourite to the Swiss, the French have their own love affair with fondue! Here, we share our recipe for the perfect French Fondue.

Cheesy Fondue
1 pound of grated Comté
3 tbsps flour
1 garlic clove
1 ½ cups of dry white wine (French, of course!)
Plenty of black pepper
A crunchy fresh baguette
Let your grated cheese reach room temperature, then mix it together with the flour.

To add a little je ne sais quoi, halve the garlic clove and rub it all around the inside of your fondue pot.

In a saucepan, heat the dry white wine until it lightly bubbles, then add handfuls of Comté while stirring constantly. When each handful is completely melted, add another.

Season with salt and pepper, and even a little grating of nutmeg if you like, and if the fondue is too thick for you add a little dash of milk.

Transfer the melted cheese to the fondue pot and keep it bubbling away while you toast chunks of your baguette, ready for dipping!
Just for the record, this also works fantastically with Gruyère and Emmental - or a mixture of any of these cheeses you wish. Serve with a sparkling cider, or a dry white wine such as Sancerre or Riesling.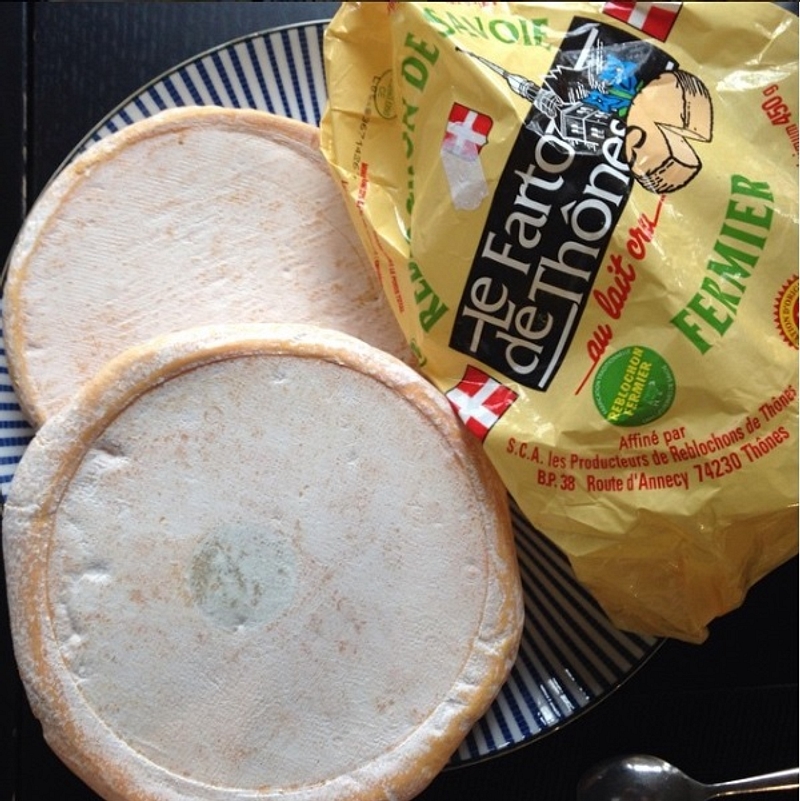 Reblochon
Ah Reblochon, we love your slight stinkiness, your soft nuttiness, and most of all, your capacity for melty-ness! One of our favourite ways to enjoy Reblochon is in the classic French Tartiflette - the hearty winter dish that will warm the very cockles of your heart. Layers of potato are muddled with bacon pieces, melted Reblochon, cream, garlic and white wine, making for a winter dream. There are recipes for this on line, but the one thing great about this dish is you really don't need a guide - make it your way!
But first, a few words on Reblochon. This soft-rind number is an unpasteurized cheese made from cow's milk, and is typically made in the Alpine Savoy region. Now comes the bad news. Precisely because Reblochon is unpasteurized, it actually cannot be exported to the US. We know - Quel dommage!!! If you're in the States and you'd like to make a tartiflette, talk to your cheesemonger and ask them for the closest possible cheese that might work - then, book tickets to Paris and plan to enjoy the real thing!
Chèvre
Goats cheese or chèvre is a French favourite, and one that has been around for literally thousands of years. One of our favourite ways to enjoy a little goats cheese is the lovely Salade Chèvre Chaud, a lush salad topped with slices of toasted baguette smothered in melted goats cheese. A truly delicious bistro lunch, the chèvre chaud reaches new heights when you add a little drizzle of honey on the top of each slice of goats cheese. Sprinkle the cheese with herbes de provences and thyme, along with some freshly ground pepper. Serve the slices atop a lovely fresh green salad.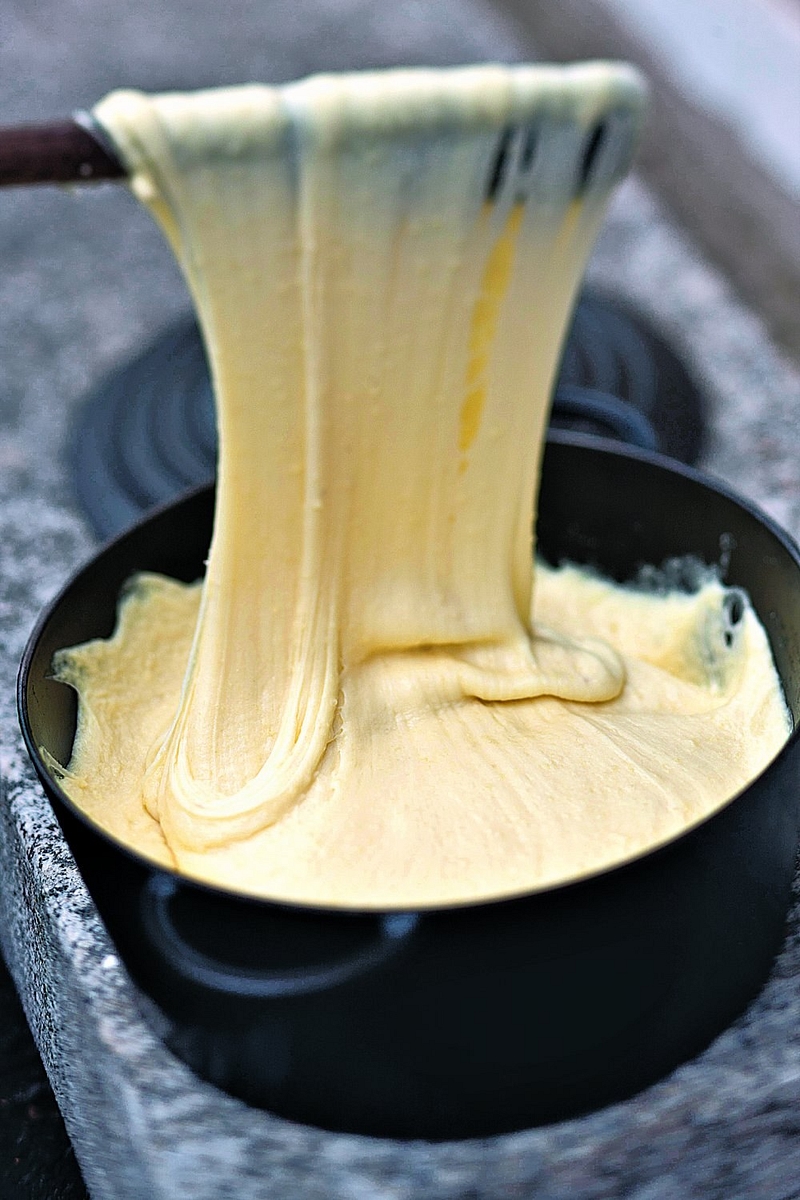 Combining two of our favourite things, Aligot is a mixture of cheese and mashed potato - so we're already sold. Aligot is a classic country dish typically made with Tomme d'Auvergne cheese, but you can also use Cantal and Gruyère. And here's how you do it!

Serves 4
4 medium potatoes
Salt
2 garlic cloves, crushed
85g butter (around 6 tbsps)
1 cup heavy cream
1 ½ pounds of Tomme d'Auvergne
Black pepper
Boil the potatoes in salted water for around 15 minutes, then drain.

Mash the potatoes and return them to the warm pan. Over a low heat, add the crushed garlic, butter, cream and around half of the Tomme d'Auvergne.

When the cheese has melted, add the rest. Season, then savour!