This month at La Cuisine we are in love with La Rouelle du Tarn from La Fromagerie du Pic. La Fromagerie du Pic was started 30 years ago by two brothers, Jef and Claude Remond, and has grown exponentially since. What started as a small business has now become a thriving goats cheese farm with over 1,000 000 liters of milk being produced a year and housing a 1,000 goats that provides cheese not only to France but also to Japan, Spain, Canada, USA and many other far away places! 

The company strives to produce the highest quality of cheese and we have to say, they certainly achieved that with La Rouelle du Tarn, which not only tastes good, but looks good too. The hole in the center is formed by ladling the cheese curds into a mold that has a hole in the middle. This gives the soft cheese its distinctive shape and adds a certain aesthetic quality which brings a certain je ne sais quoi to any cheese board. Those of you who joined us last month for Cheese of the Month (Saint Maure de Touraine) will remember the use of ash is more common than you might think, and La Rouelle du Tarn is no exception! The outer surface of the cheese is covered in ash to enhance the flavor, help with preservation and neutralize acidity. As La Rouelle du Tarn is only aged for one month, pair it with a young, fruity red wine or a light, citrusy white.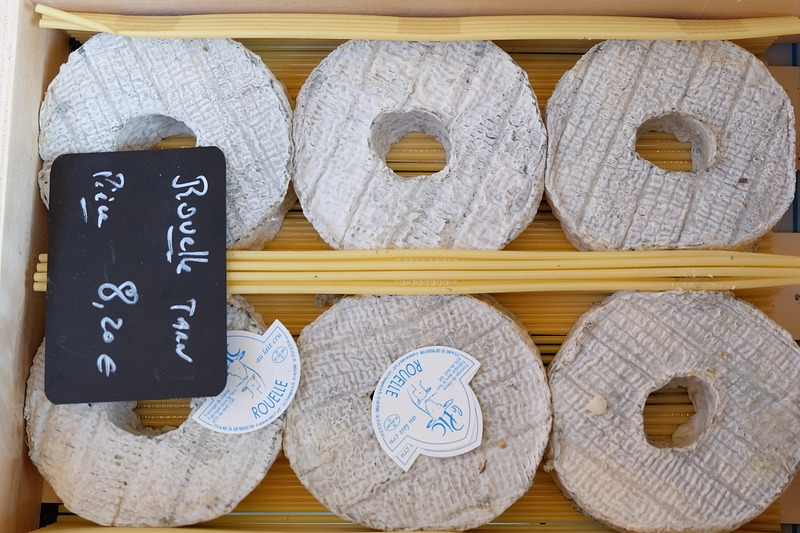 La Rouelle du Tarn comes from Tarn in the southwest of France and it is made from unpasteurized milk. French cheese packaging can be confusing to read but you know a milk is unpasteurized if it has the phrase, "au lait cru". In some parts of America they are very strict about the selling of unpasteurized cheese but it is welcomed with open arms (and mouths!) here in France so you will frequently see cheese made from au lait cru. La Rouelle du Tarn is also a full-fat cheese so it is deliciously creamy and milky with a slight taste of hazelnut.
Some people believe that goats cheese is more of a summertime cheese but here at La Cuisine we believe it is too delicious not to indulge in all year round! Pop this in your salad, bake it in your tart, grill it or simply just savor it over a nice, big class of vin; you are sure to love it!