Rue Montorgueil
No doubt, if you have been reading along for a while you know we rave about Rue Montorgueil, nestled in the heart of the 2nd arrondissement, this cobblestoned street has an almost village like charm (except for being much much busier). The real reason to wander down this street is for the food, once simply a limb of the Les Halles open air market, this street has held many of the same values for centuries, a place for Parisians to eat well, drink well and thoroughly enjoy themselves!
We cannot discuss notable foodie establishments on this street without first talking about Stohrer, Paris' oldest patisserie, and a now listed historical site. This pastry shop was founded by King Louis XV's pastry chef - Nicolas Stohrer in 1730. Stohrer also claims to be the mastermind behind the creation of the delectable Baba au Rhum. Even if you decide not to treat yourself, it is still worth taking a quick peak at the inside, its' interior was designed by a student of Paul Baudry, the decorator of the Opéra Garnier!
L'Escargot Montorgueil is another longstanding establishment on this street, once the hang out for big named celebrities of the time, including Marcel Proust and Sarah Bernhardt. It has been serving escargot at 38 Rue Montorgueil since 1832!
For those looking to explore taste your way through this area with us, check out our Les Halles Tour!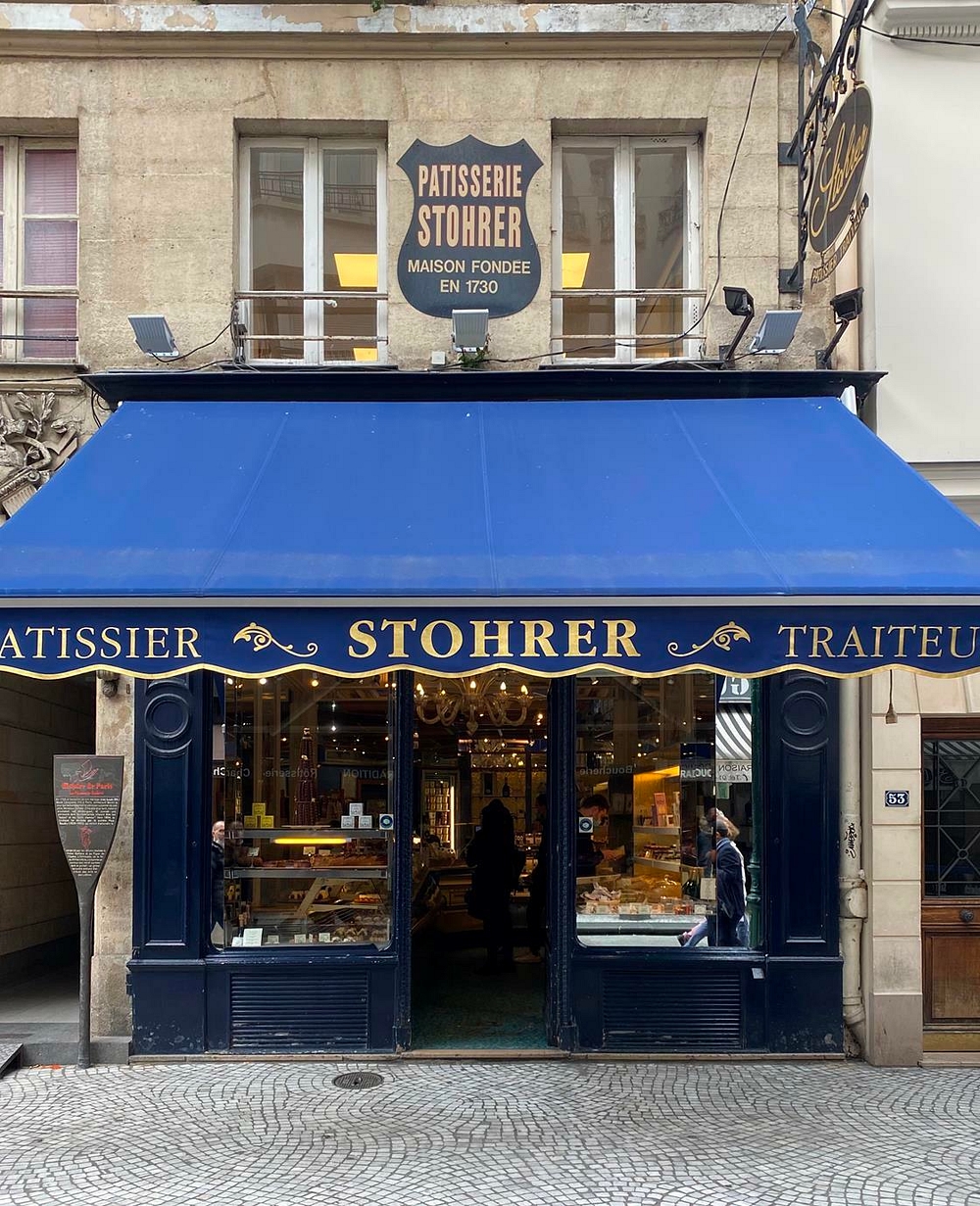 Rue Cler
A notable market streets in Paris, and just a stones throw from the Eiffel Tower itself. Another padestrian friendly street, you can find an array of specialty food stores, pastry shops, butchers, delicatessens, cheese specialists, fishmongers, and more! Having been located on Rue Cler for the last 80 years, Charcuterie Jeusselin is your go-to for fois gras and other delicious meat and salmon products. Mariage Frères has one of their many locations along this street for all of your tea needs!
And when the sun is shining it is the perfect street to grab your picnic grub and make your way to the neighboring Champ de Mars. Especially convenient is that Rue Cler is open on Sunday mornings making it the hub for any weekend shopping!
Rue des Rosiers
Directly translating to the street of the rosebushes, this quaint street curves through the heart of the Marais neighborhood which is also the center of Paris' jewish quarter. All the expected top class foodie establishments can be found here, the renowned L'As du Fallafel for the undoubtably delicious and famous falafel, Yann Couvreur for his delicious pastry creations, and Korcarz, a restaurant-tea room that has been passed down for five generations. While they serve savory food, they are most known for their Ashkenazi pastries. Another tea room with exceptional dessert portions head on over to La Loire dans la Théière for their lemon meringue tart!
Rue des Martyrs
Up until a few years ago, Rue des Martyrs was but a humble market street, now that artisan bakeries, specialty stores, and concept coffee shops have moved in this Parisian street has become a mecca for shoppers and foodies alike! Head on over to Mesdemoiselles Madeleines for their gourmet take on the pillowy snacks, they have a range of exotic flavor combinations, like basil-strawberry, miam! Anglo- French bakery Rose Bakery offer a range of tasty dishes from salads to quiches, on Rue des Martyrs, but they are best known for their carrot cakes. Bringing us the best of Provence - Maison Brémond, is a high quality epicerie showcasing all that this south eastern region is best known for, like calissons, a typical French almond candy.