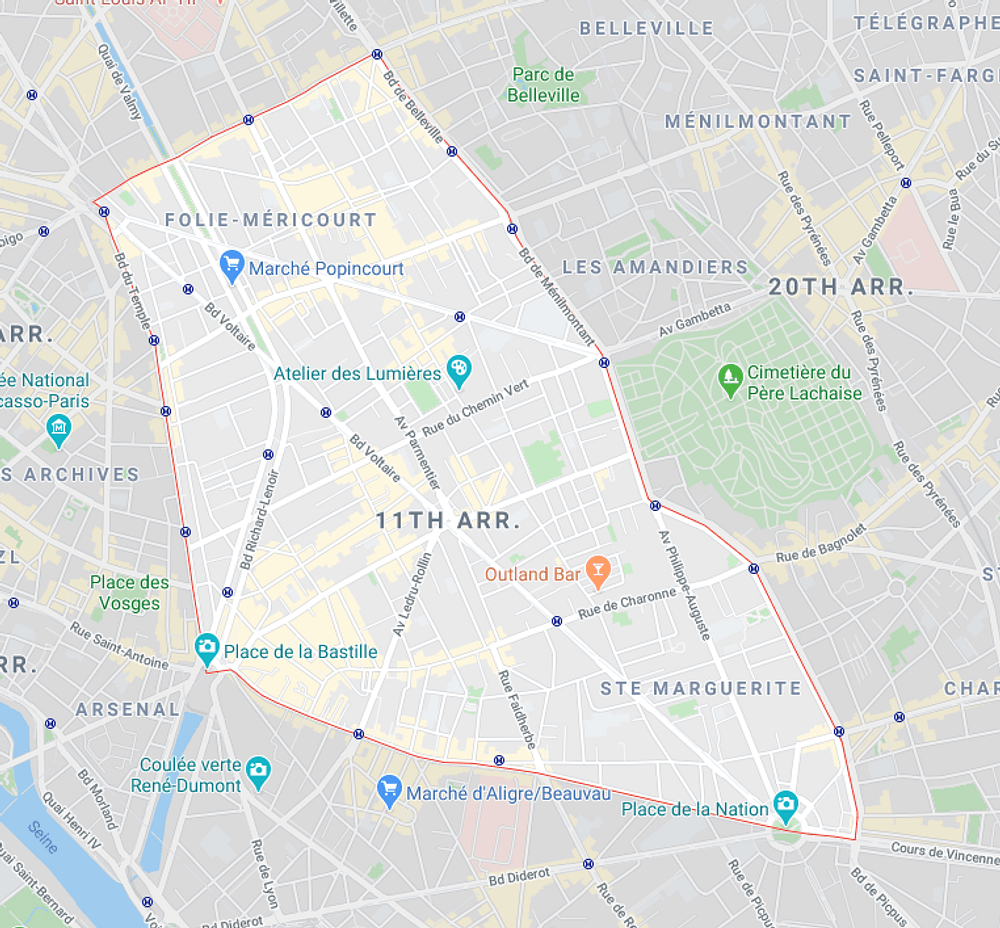 The 11th: An Overview
One of the mostly densely populated areas not just in Paris but in the whole of Europe, the 11th arrondissement is a great area to explore and may be a little less well known even to seasoned visitors - giving you even more reason to check out this little round-up of great addresses! The 11th is flanked on its eastern edge by the beautiful Père Lachaise (where you'll find the graves of Jim Morrison, Molière, Delacroix, Proust, Oscar Wilde, Sarah Bernhardt, Edith Piaf...and approximately 1 million other people) and on the west by a long boulevard which - in typical Parisian style - changes its name three times between Place de la Republique and Place de la Bastille. 
The 11th includes the popular Oberkampf neighbourhood with its vibrant nightlife, and is also home to the biggest market in the city, Marché Bastille, which you can even explore with us over the summertime as part of our French Market Tour & Cooking Class!
A short disclaimer! As we all know, dining out is a very personal, nuanced affair, and our humble little list featured here - or indeed in any of our content - unfortunately cannot guarantee a spectacular, knock-your-socks-off, "Dear Diary" dining experience - as much as we would love it to! While we certainly aim to inspire, as always we recommend using these suggestions merely as a jumping-off point for your own Paris research. So with that out of the way - on we go!
Restaurants
Septime
Without a doubt one of the hardest tables to snag in Paris due to a stellar reputation as one of the best restaurants in the city, Septime opens reservations every day for the following three weeks, from 10am - 12pm via phone. Bon courage! 
80 Rue de Charonne
East Mamma 
The first Paris restaurant of the incredibly popular Big Mamma group, this buzzy restaurant shows why the concept has been such a runaway success. Quick, friendly service, excellent cocktails, delicious, authentic Italian fare and fabulous design. Crowd-pleasing at its best. 
133 Rue du Faubourg Saint-Antoine
Pierre Sang
This sleek, industrial-style space is the realm of chef Pierre Sange, whose open kitchen turns out a unique set menu of 6 courses (for dinner, €39) that blends French and Korean influences, with immaculate results.    
 55 Rue Oberkampf
Bistrot Paul Bert
A classic bistrot that's a staple address for many visitors to Paris, this cosy resto is a favourite for its traditional French cooking and friendly service.
18 Rue Paul Bert
Le Chalet Savoyard
Sometimes you just need a little melted cheese in your life, and Le Chalet Savoyard can help you there. Serving fondue and raclette, this spot can be great fun for dinner with family or friends. 
58 Rue de Charonne
Cafe de l'Industrie 
A local haunt for simple, classic French food at affordable prices. Cosy, old-world interiors will surround you in a low-lit Paris of yesteryear.
16 Rue St Sabin
Les Fabricants
A relaxed, popular option in Oberkampf for those in search of generous portions, reasonable prices (one top tip: they only accept cash) and south-west French cuisine. Attracting a young-ish crowd thanks, expect a boisterous, laidback atmosphere. 
61 rue Jean-Pierre Timbaud
Le Chateaubriand
A great option if you're looking for an affordable tasting menu experience (currently at €75), Le Chateaubriand is the realm of chef Iñaki Aizpitarte, who designs a completely new array of dishes every day. Head here if you're up for a little experimental Michelin Star cooking. 
129 Avenue Parmentier
Fulgurances
If you feel like discovering the work of a different chef every six months, then Fulgurances is for you. Each time you visit you could be savouring a new culinary concept thanks to a rolling programme of guest chefs.
10 Rue Alexandre-Dumas 
Clown Bar
A zinc-topped bar, 1920s clown tiles (hence the name) and circus-esque lighting meets the exciting and innovative cooking of Sota Atsumi. Natural-wine lovers will be spoiled.   
114 Rue Amelot
Astier 
Traditional bistro fare served in a bustling setting, and a self-serve cheese course that you must save room for.
44 Rue Jean-Pierre Timbaud
Clamato
Superb seafood goodness from the team behind Septime (see above). This no-reservations spot is a gem. If you can get in. Arrive early and get on the list!
80 Rue de Charonne
Chez Justine
Great wood-fired pizzas, good vibes, retro design and an always-busy atmosphere makes Chez Justine a good bet for an inexpensive, fun night out. 
96 Rue Oberkampf
Bars
Dirty Lemon 
Having worked at names like Septime and Bonhomie, Ruba Khoury now has her very own place to call home in the 11th. Cocktails are the work of ex-Candelaria mixologist Brittini Rae, while the mouthwatering sharing plates and small bites are all Khoury (roasted cauliflower, mussels with harissa, homemade foccaccia and more). To find out more about Dirty Lemon, check out our blog post here.
24 Rue de la Folie Méricourt
Le Perchoir
Rooftop drinks are always a good idea in Paris' warmer months, and the original Perchoir in the 11th arrondissement is a great place to enjoy them! Take the lift to the rooftop from 6pm, and enjoy sweeping views towards Sacre Coeur. 
14 Rue Crespin du Gast
Café Charbon
A great option all day for cosy coffees or fun afterwork drinks (literally called 'afterworks' in France), Café Charbon is a staple of the Oberkampf social scene. 
109 Rue Oberkampf
Moonshiner
One of Paris' first speakeasies, and still going strong. Two clues: Pizzeria. Fridge. For a map of Paris' speakeasies, click here. 
5 Rue Sedaine
La Buvette
Opened in 2013, La Buvette is the tiny little natural-wine bar that packs a great punch. This is the place for an early-ish apéro (they close at a civilised 10pm) so meet a friend, snag one of the four tables, and enjoy. 
 67 Rue Saint-Maur
Cafe des Anges
An all-day favourite thanks to its crowd-pleasing menu and pocket-friendly prices, Cafe des Anges is a trendy, bustling bistro with generous portions and interiors that you could only find in Paris.
66 Rue de la Roquette
Aux Deux Amis
This excellent wine bar is always packed. If you manage to grab a table, order a picher of wine and a plate of cheese and charcuterie and just enjoy the buzz. 
45 Rue Oberkampf
Septime Cave
If you can't get into Septime (who can?) head to their sister bar for a glass of wine and small bites. 
3 Rue Basfroi
Le P'tit Pinard
With almost 200 wines with an option to suit every taste, this new wine cellar also serves delicious bites to enjoy with a glass (or a bottle...) of something lovely.  
18 Rue Saint-Ambroise

Coffee
Dreamin Man 
The former barista of Boot Café - another one of our favourite coffee entries - is behind this trendy spot just minutes from République. A new hit for 2019.
140 Rue Amelot
The Hood
This place perfectly reflects the trendy, vibrant neighbourhood it calls home, thanks to its local friendly feel, neo-bistrot Vietnamese-French menu, home-made pastries and coffees made with Belleville beans. An all-day all-evening hangout. 
80 Rue Jean-Pierre Timbaud
Café Oberkampf 
Granola, porridge, grilled cheese, veggie burgers, avocado toast... Café Oberkampf is a haven for those in search of home-cooking and good vibes. And the coffee ain't too shabby either.
3 Rue Neuve Popincourt
Café Mericourt
One word: shakshuka. If you haven't tried the hearty breakfast of tomatoes, peppers and baked eggs yet, you're in for a treat. Try it here in the beach-house vibes of Café Mericourt, little sister to Café Oberkampf. 
22 Rue de la Folie Méricourt
Coffee Spoune
36 Rue Saint-Sébastien
Ten Belles Bread
Not only has Ten Belles mastered brilliant coffee, but at this second outpost in the 11th, they serve the very best of breads alongside! Go here. You won't regret it.
17-19, bis rue Bréguet
Paperboy 
White tiles, wooden floors, pendant lights and a Scandinavian touch make this a bright and breezy spot for inventive lunches, a popular brunch and fresh juices. There's even a little more seating than Paris usually manages to squeeze in! 
137 Rue Amelot
Honourable Mentions
Chambelland
This gluten-free bakery is a godsend for those in search of all the delights of Paris pastry and bread without the gluten. For more gluten-free addresses you'll want to check out our map just here.
14 Rue Ternaux
Marché Popincourt
On Tuesdays - Fridays from 7am - 2.30pm, head to Marché Popincourt to find the freshest of everything in one large outdoor market. A great local Parisian experience! For your nearest local market in Paris, refer to our Handy Map here.
111 Boulevard Richard-Lenoir

Marché Bastille
The largest Market in Paris, Marché Bastille is a great outdoor market running along the Boulevard Richard-Lenoir - you'll find everything from cheeses and fresh seafood to vegetables and meats. Everything you need to stock up your Paris kitchen. Want to explore it with us? Join us this summer!
Boulevard Richard-Lenoir