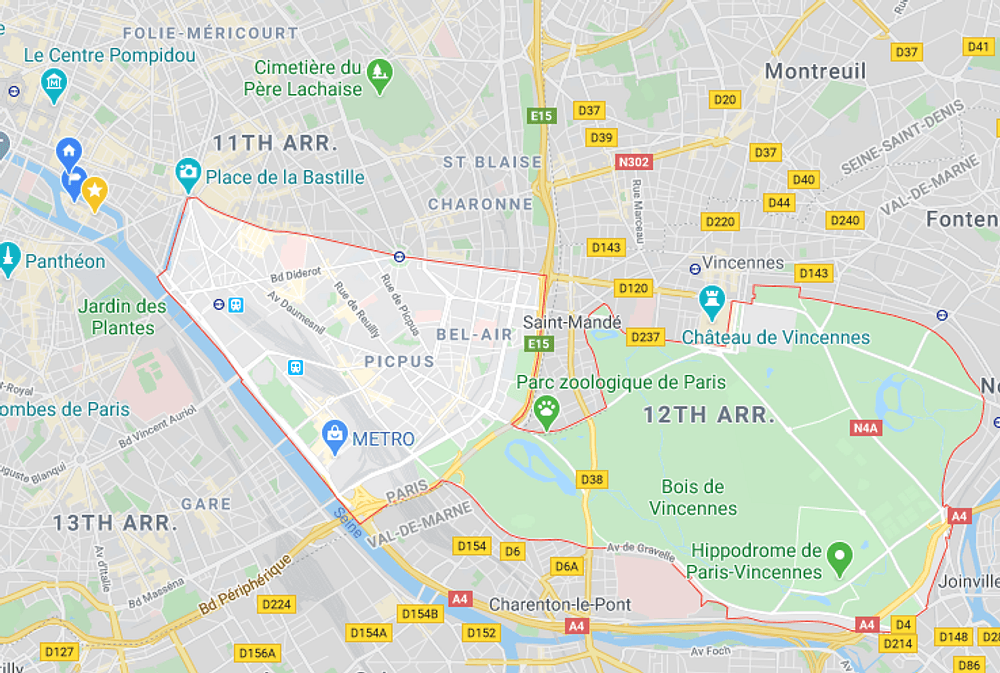 The 12th: An Overview
One of the smallest arrondissements of Paris when it comes to population, the 12th is actually 1/3 parkland! To the south east of the district lies the great expanses of the Bois de Vincennes - the largest park in Paris, while elsewhere in the district you'll find the beautiful raised walkway that is the Promenade Plantée, the lovely Bercy Village and the fantastic Marché d'Aligre. 
A short disclaimer! As we all know, dining out is a very personal, nuanced affair, and our humble little list featured here - or indeed in any of our content - unfortunately cannot guarantee a spectacular, knock-your-socks-off, "Dear Diary" dining experience - as much as we would love it to! While we certainly aim to inspire, as always we recommend using these suggestions merely as a jumping-off point for your own Paris research. So with that out of the way - on we go!
Restaurants
Le Train Bleu
If you like a whole lot of grandeur with your dining experience, then this lavish restaurant within the Gare de Lyon will not disappoint. Watch as your dish is flambéed by your table, or your leg of lamb is carved beneath enormous chandeliers and glorious painted ceilings.  
Gare de Lyon

A la Biche au Bois

Warm the cockles of your heart with the fare of south-western France at this local favourite. Think wintry cassoulets, game, coq au vin and other classics.
45 avenue Ledru Rollin

L'Alchimiste

You'll want to book ahead or arrive early to snag a table at this little gem, where generous portions, reasonable prices and a classic-with-a-twist menu has made it a local favourite. 
181 rue de Charenton
L'Embauchoir
Just over the road from its little sister wine bar (see below) this lovely bistro gets its inspiration from the neighbouring Marché d'Aligre. Stylish, both on and off the plate.
43- 45 Rue de Cîteaux
Maguey 
If you love to see a little invention and imagination in your dining experience, then Maguey - with its intimate, modern style and playful dishes - will hit the mark. Sophisticated without pretension, expect a new experience which each visit as you choose two adjectives from a changing selection that will determine the chef's creations. 
99 Rue de Charenton
Virtus
Splash out a little at the cosy Virtus, where the menu dégustation (€85) changes every day thanks to the clever inventions of chefs Chiho Kanzaki and Marcelo di Giacomo. 
29 rue de Cotte
Jouvence
A beautiful, atmospheric bistro that extends its considerable charm to the plate, with a tightly curated menu of traditional, carefully executed dishes. 
172 Bis Rue du Faubourg Saint-Antoine
Bars
Baron Rouge
This is an institution of the 12th, just a stone's throw from the hustle of the Marché Aligre. Sip a glass of wine with friends gathered around a wine barrel, indulge in a few oysters, or refill a glass wine bottle to take away with you. A classic. 
1 rue Théophile Roussel

Le Siffleur de Ballons
A friendly neighbourhood wine bar from Thierry Bruneau, whose restaurant is just over the road. Explore the excellent list and pair your choice with a plate of cheeses or meats - or even dinner, if you don't feel like moving on. (Which you won't). 
4 Rue de Cîteaux
Le Calbar
A neighbourhood favourite, Le Calbar serves up excellent cocktails without taking itself too seriously. 
82 rue de Charenton
Ground Control
Arts space, food hall, terrace, urban hangout, Ground Control is whatever you need it to be. In the large warehouse space you'll find a host of tempting options, food-truck-style, as well as bars and art installations. Outside, the fun continues.
81 Rue du Charolais
Coffee
Café Aouba 
First opened in 1932, this tiny coffee stop is in the midst of all the bustle brought by the nearby Marché d'Aligre. 
30 Rue d'Aligre
Passager
A great address to have in your arsenal, Passager is a one stop shop for coffee, breakfasts, fresh juices and style. 
107 Avenue Leddru-Rollin
Honourable Mentions
Bercy Village 
On discovering Bercy you'll immediately see what it's called a "village". Once upon a time this cluster of buildings was the hub of the wine trade - now, these old storehouses have been transformed into a peaceful haven of boutiques, cafes, restaurants and cinemas. Great for an afternoon of relaxed exploring and retail therapy. 
Cour Saint-Émilion 
Marché d'Aligre
The heart of the neighbourhood, the Marché d'Aligre is held six days a week, (no markets happen in Paris on a Monday), making it a great option for a little exploring. In the covered market you'll find three halls dedicated to the freshest produce, meats, fish - and everything else you can think of - while outside you'll find flea market stalls so you can pick up a bargain! 
Blé Sucre
A wonderful bakery to add to your collection, by a former pastry chef at Le Bristol, Fabrice Le Bourdat. Go for the kouign-amann or their celebrated Madeleines.. 
7 rue Antoine Vollon