There is a certain ring of elegance to Les coquilles Saint-Jacques (scallops), and let's face it, any food lover would attest to the delectable taste and texture that have made them a favorite dish around the world.  The French are particular fans of these jewels of the sea and so it comes as no surprise that a lot of extra care and pride is taken during the process of raising (and obviously, consuming!) the highly prized scallop.
The name itself translates to Saint-James' Shells and originates in the Medieval age, when Christians used the scallop shell to symbolize their pilgrimage to Saint James' Shrine in Galicia, on the northern coast of Spain.  The association of the Saint with the scallops is blurry, but the legends say that the apostle James once rescued a knight who was found covered in scallops!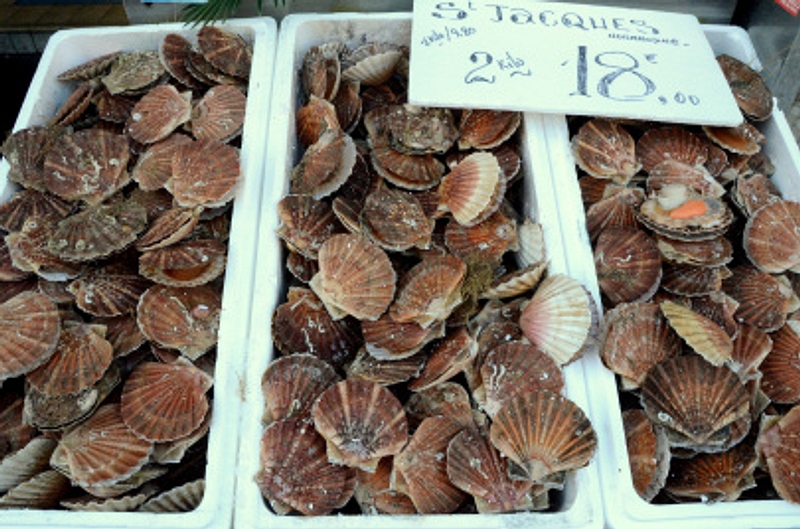 Today though, France uses scallops for more gustatory experiences!  Most common is the classic Saint Jacques à la créme, a beautifully balanced dish made with seared scallops, de-glazed with either white wine or cognac and then reduced with a cream.  Don't hesitate to order this at a restaurant, especially in January when scallops are at their freshest and are found in abundance!  Trust us, it'll be a memorably meal.
Scallops are composed of two main parts, the fleshy white muscle and the roe, also known as coral.  Did you know that scallops are in fact hermaphrodites? The part we eat is the muscle, the male part, while the coral or "hook" (which wraps around the muscle) acts as the female part. In France, specifically in Normandie and Bretagne, we generally see the species St. Jacques Pecten Maximum, which is known for its delicate taste and the generous size of the muscle. This particular variety is native to the Atlantic, English Channel and North Sea.
In France, the regulations around the fishing and harvesting of Saint Jacques are pretty strict.  Fishermen must carry a special permit and the season begins officially on 1st of October and ends on 15th of May. Shells must be at least 11cm/4.3in to fish, in order to protect their harvesting, as it takes up to 3 years for these creatures to grow!
If you go to a fishmonger, you will find scallops in a few different forms, either in their shells – coquille Saint-Jacques or shucked – noix (nuts) Saint-Jaques.  You can order them shucked (ouvert) if you prefer! Stored properly, fresh scallops will hold up to 48 hour in the fridge and preferably with the flat "fan shaped lid" on top.  As a first course, calculate about 2 scallops per person and serve at least three if you're using it as the main dish.

How to Choose Fresh Scallops
In the shell: If you tap it gently, you should see a slight movement of the shell (they are alive after all!).
Shucked: Whether with or without the coral, the meat should be pearly and very firm which is a sign that it was recently shucked. Also, beware of scallops that are a bright white which is a sure indicator that they were preserved in brine to increase weight.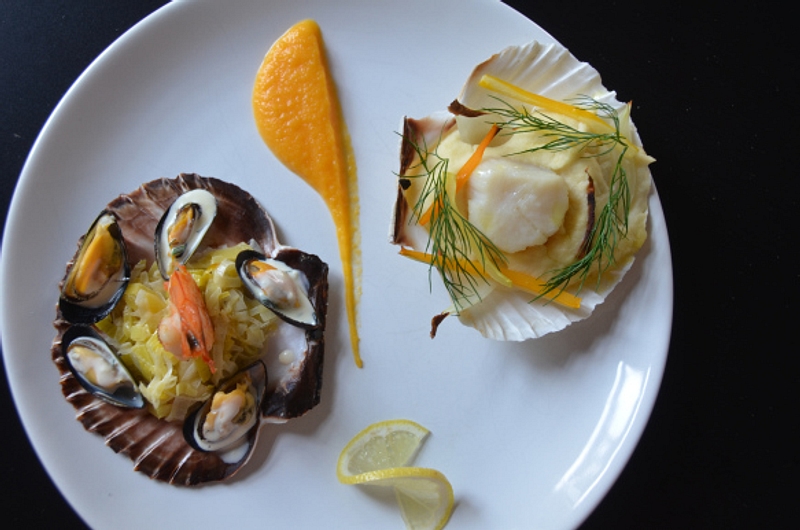 A unique way to serve your scallops is by using the beautiful shells as a dish. First, be sure to clean the shell thoroughly and remind your fishmonger to keep the shell!
Can't find fresh scallops? You can easily find them frozen, but remember – when defrosting frozen scallops, place in a bowl full of milk!  This will allow the scallops to keep their white color and will provide a crispier sear.
Flavor pairing
Scallops have a mild sweetness and you want flavors that will further enhance its natural properties. Rule of thumb: anything "fatty" such as bacon, cream, butter, olive oil will pair perfectly with scallops.
Recipe: Fondue aux Poireaux
One of our favorite dishes to accompany saint-jacques is creamed leeks.  The sweetness of the sauteed leeks reduced with the cream combines perfectly with the scallop! 
4 leeks
1 large shallot
Butter
Optional : white wine
100 g whipping cream
Salt, pepper
Clean leeks thoroughly. Chop leeks and shallot. Sweat shallot in a frying pan with butter. Add leek and sweat until very soft.  At this point, you can add some white wine to deglaze. When reduced, add cream and let cook for a few minutes. Season to taste.