France and wine are inseparable, so to celebrate the launch of our partnership with Paris Wine Company - where you can receive six bottles of delicious sparkling wines direct to your door - we thought it might be handy to create a Beginner's Guide to French Wines, giving you the perfect resource to come back to again and again to refresh your memory!

The world of French wines can certainly be confusing - if not a little overwhelming! - so we're here to demystify and clarify a few things that might help the next time you're reading a French wine label or trying to identify which French wines are your favourite, and why that might be. 
One thing you should know is that in France, wines are organised according to region, not grape variety!  
Join us as we explore the major wine regions of France, giving you the lowdown on the grapes and wines that make up this rich wine landscape!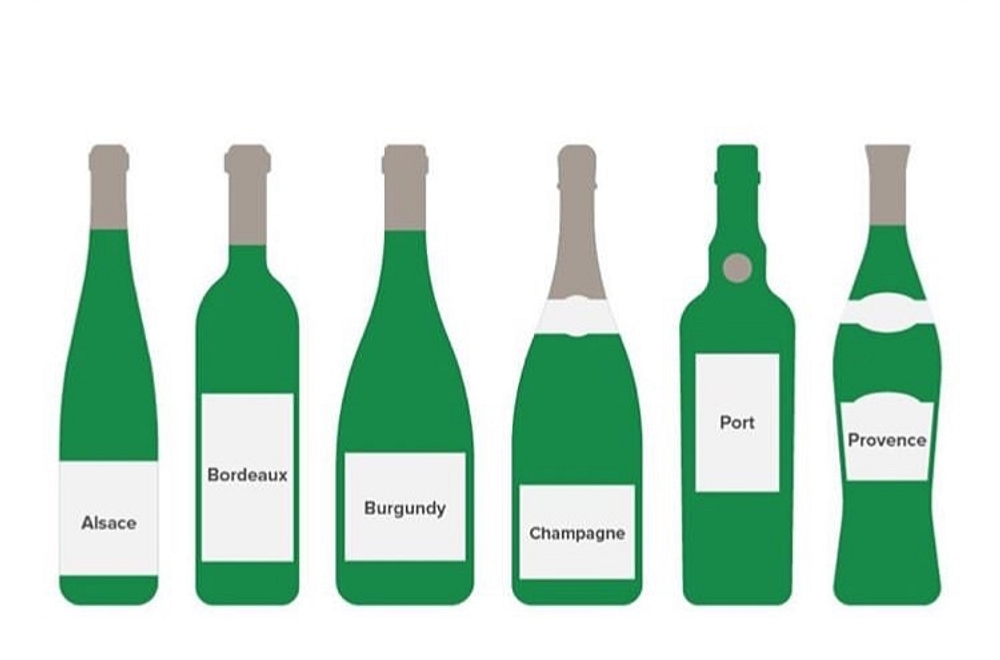 Bordeaux : The Basics
Let's start with one of the most instantly recognised and perhaps the most famous region for wine: Bordeaux. The south-western region of Bordeaux lies at the meeting point of the Garonne and Dordogne Rivers, and, as the largest wine-producing region in the country, produces a huge amount of wine that is of consistently good quality - a fact that accounts for its global popularity and lasting fame. 
The 8,500+ producers (or Chateaux) of Bordeaux focus for the most part on red wines, however Bordeaux also produces dry white wines, Sauternes (sweet white wines), and some rosé and sparkling wines. Red Bordeaux is usually made from a blend of different grapes, the main varieties of which are Cabernet Sauvignon, Cabernet Franc, Merlot, Malbec and Petit Verdot. White Bordeaux wines are also usually blends, with grapes including Sémillon, Sauvignon blanc and Muscadelle.  
The region of Bordeaux is itself divided into subdivisions, which are helpful to know about if you're talking about Bordeaux!

The Major Regions of Bordeaux
The Left Bank
Centred around the city of Bordeaux itself, The Left Bank lies to the west of the Garonne River and is divided into two sub-regions: 
Médoc : Home to some of the boldest Bordeaux wines - match them with red meat, or hold on to them - they age well! Famous appellations here include St-Estephe, Pauillac, St. Julien and Margaux.
Graves : In Medieval times, the very first wines exported to Britain were produced in this region, which is considered the birthplace of Claret (the English word sometimes used to refer to Bordeaux wines). Sweet Sauternes are produced here.  
A typical left bank blend, with grapes listed in order of proportion would be Cabernet Sauvignon, Merlot, Cabernet Franc, Malbec and Petit Verdot.
The Right Bank
This area is located on the right bank of the Dordogne river in the north-east of the region,around the city of Libourne. This area includes the famous St-Emilion appellation. What's an appellation? It's a legally protected geographical area - think Champagne for a perfect example! On the Right Bank, the principal grape is Merlot, with Cabernet Franc and Cabernet Sauvignon often used as blends. 
Entre-Deux-Mers
Literally meaning "between two seas" - which makes sense when you realise that the both the Garonne and Dorgogne rivers are tidal - Entre-Deux-Mers lies in the middle of the Bordeaux region. This area isn't home to any particularly famous wines, however it is a sub-region known more for its dry white wines than reds, with whites usually being a blend of Sauvignon Blanc, Sémillon and the less common Muscadelle.
How to Read a French Wine Label
For more fun content like the handy visual guide below, be sure to follow us on Instagram!