When the bakers of France turn their attention to the annual creation of a Yule Log, they do not mess about. The Bûche de Noël takes Paris by storm every year as bakers across the city put their own unique spin on this quintessential festive treat.There's even an event dedicated to showcasing the year's creations - in short, the art of the Bûche de Noël is elevated to art every year, as the stunning results are revealed...
In case you needed further proof, we've created a round-up of some of our favourite Bûche de Noël creations in 2017.
Maxime Fréderic drew on his childhood memories for his first Bûche de Nöel for Paris' The Four Seasons. For him, and for anyone who sees his gorgeous creation, it's a reminder of decorating the Christmas tree with one's family.

Fréderic daringly moves away from the traditional horizontal log to a tree - 60cm in height with its base nestled amongst pine-cones and a trunk covered in chocolate-y branches. Made of 75% Peruvian chocolate, Fréderic's tree is sprayed with white chocolate and silver powder to give a snowy texture. 
Discover Fréderic's Bûche de Noël at The Four Seasons' three gorgeous restaurants - Le Cinq, Le George and L'Orangerie at a price of €160 for 4-6 people and €180 for 6-8. You'll just need to order it at least 48 hours in advance - this work of edible art takes some time to craft!!
New pastry chef François Daubinet has created a dramatic Bûche for Fauchon this year, with a name to match: Minuit - Midnight.
Set inside a casing of delicate chocolate 'bark', Daubinet's Bûche de Noël is made using vanilla from Tahiti, juniper berry cream and a Genoa sponge soaked with lemon syrup and gin. You'll also find a kumquat compote and crispy almond biscuits, but that's all for later - first you just have to stop and marvel at the gleaming pearly white Bûche with its pink hues and miniature candied kumquat decoration. Frankly, it's almost too beautiful to eat.  
€120 for 6-8 participants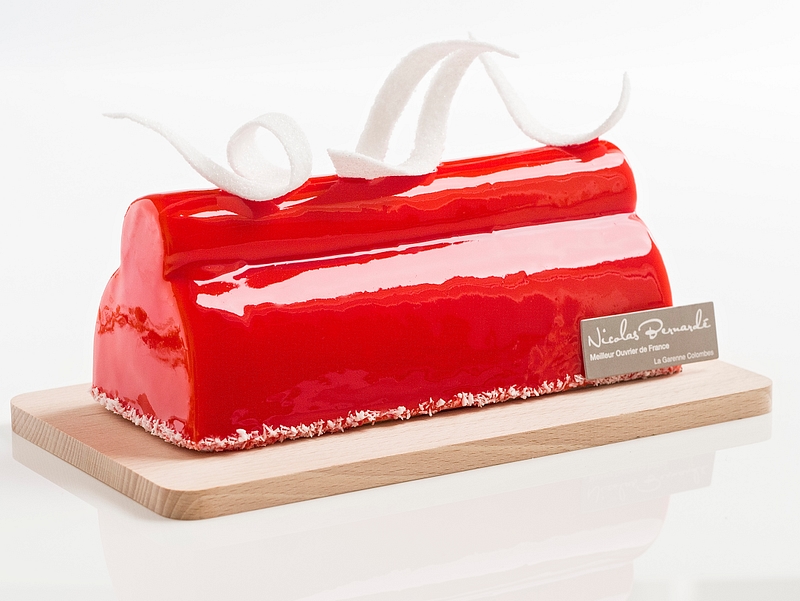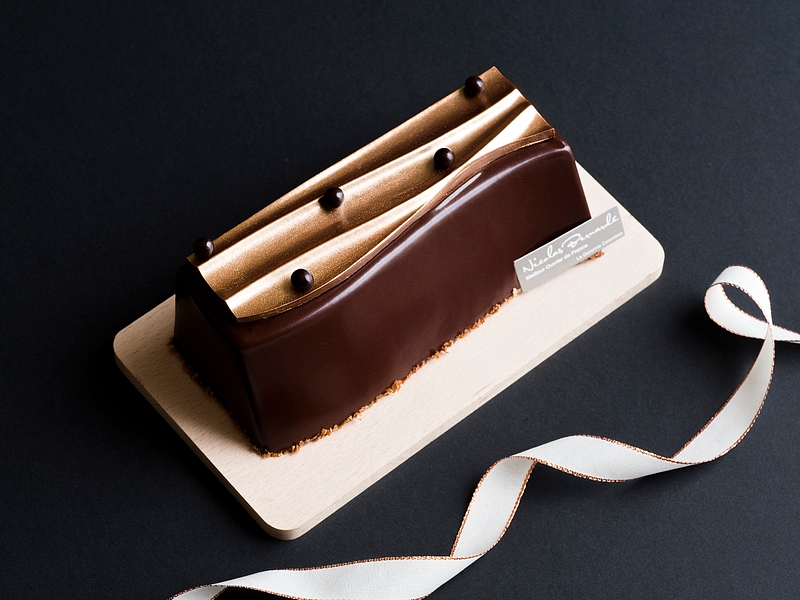 Nicolas Bernardé is spoiling Paris this year with no fewer than four Bûches de Noëls. There's the vibrant Lemon and Red Berries Yule Log with its bright red topping and white detail - which we feel perfectly brings to mind Santa's suit! (Picture above)
 €45 for 6-8 people.
Next we have the sultry Chocolate Brownie (sold!) which features a slinky caramel, Piedmont hazelnuts, Grand Cru chocolate from Papua New Guinea and a delectable mousse and vanilla heart. We love the decoration on the top which seems to bear the tracks of Santa's sleigh in a rich bronze finish. (Also pictured above)
€45 for 6 to 8 persons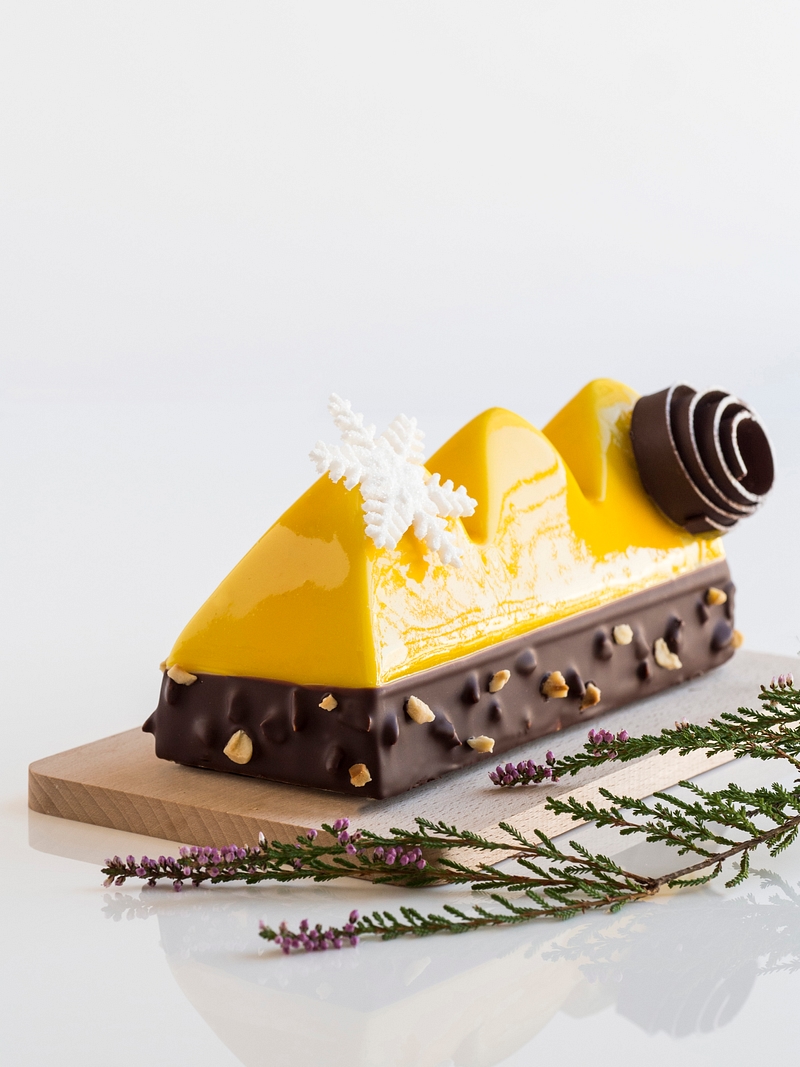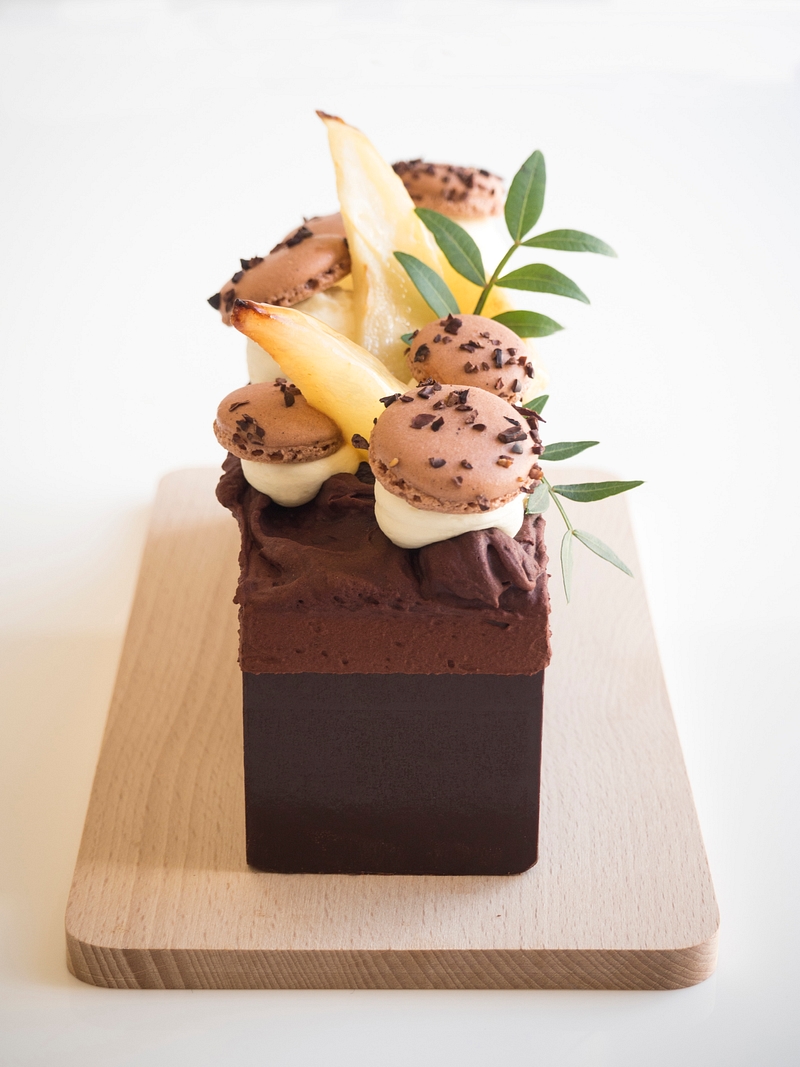 Then there's the bright yellow Hazelnut Mango and Passion Fruit Yule Log which boasts a passion-mango compote and passion-fruit cream, while the Piedmont hazelnut biscuit adds a bit of crunch. This one brings a lot of sunshine to the Bûche de Noël season!
Price: €45 for 6 to 8 persons

But he's not finished yet! Finally we have the fun Poire Belle Hélène chilled yule log, which miraculously mingles pear sorbet and ice cream made using Grand Cru chocolate from Santo Domingo. Topped with a traditional feature of the Bûche de Noël - little mushrooms made of macarons - there's also candied pear and a coating of rich chocolate sauce.  
Price: €30 for 6 persons
There's something magical about Hugo & Victor's gold-tinted Bûche de Noël this year, with its simply 'snow-capped' meringue decoration and golden shortbread stars. Expect a shot of zesty lemon, a hint of lime and a lovely currant jam interior.
€19 euros for 2 people, €45 euros for 4 and €65 for 6 people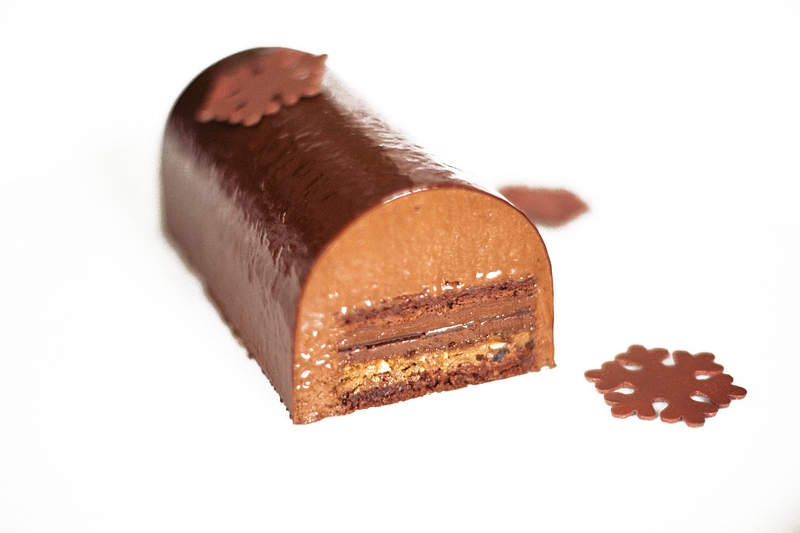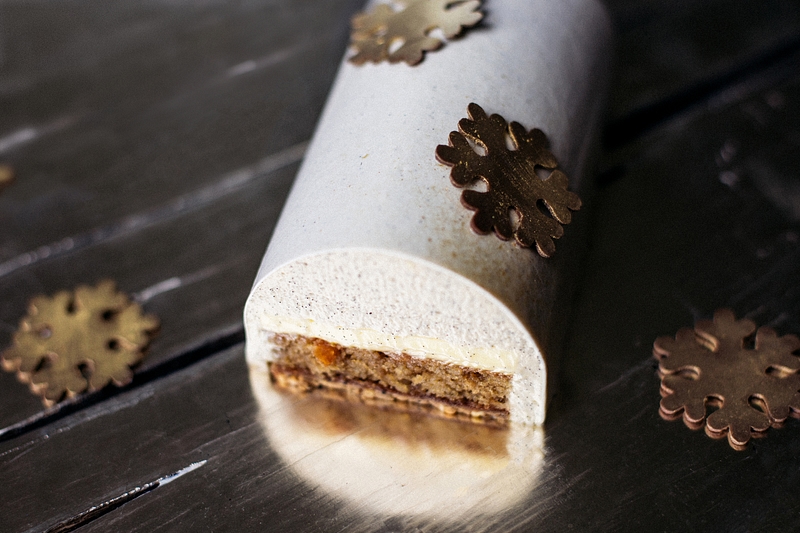 Patisserie des Rêves doesn't translate to Pastry of Dreams for nothing! This year, we're loving this delectable duo. For chocoholics, the Chocolat Log Vietnam mixes 73% Vietnamese cocoa in a foamy mousse that coats a cookie layer. Magic. Then we have the zesty La Bougie Madagascar Vanille & Citrus, where a Grand Cru Vanilla foam gives way to a crunch vanilla biscuit.
Individual: 7,90€, 5-6 people, €59, 8-10 people, €79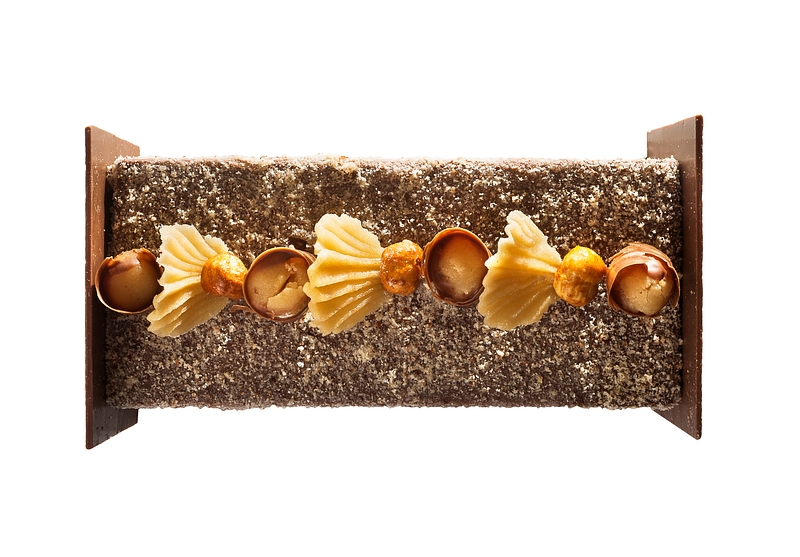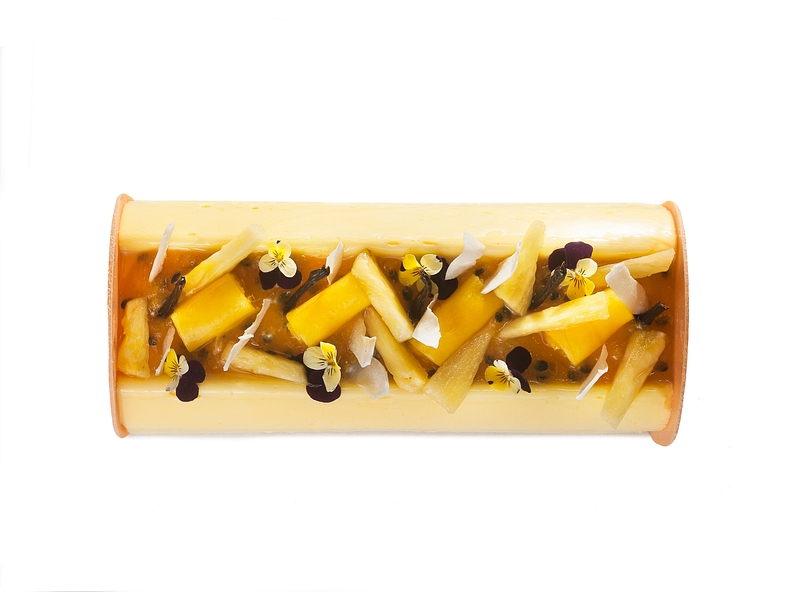 Pain de Sucre is also treating us to four Bûches de Noëls this year! Let's start with Aveline. Get your friends together because this Bûche is for parties of 6! Work your way through the silky mousse to the muscovado-sugar biscuit, or opt for the bright and breezey Fregate also pictured above, with its citrus zest, pineapple purée and beautiful floral decoration.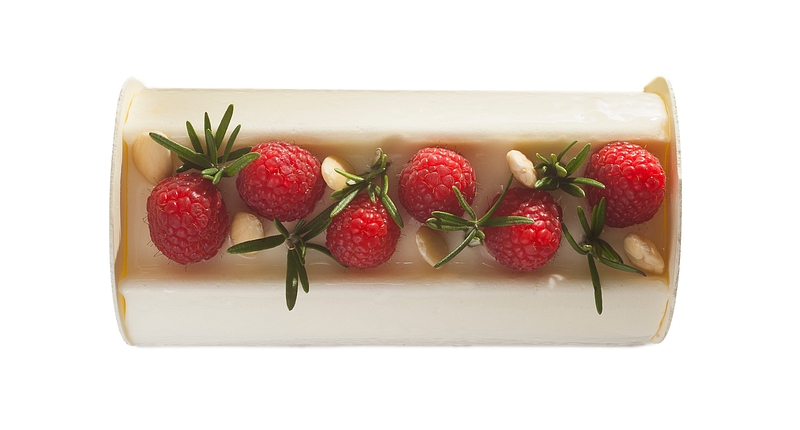 How about a little Rosemary, with its rosemary biscuit, rhubarbe purée with raspberry and lovely orange-flower cream. We love this one for its colourful mix of red, white and green. 
Finally, chocolate lovers will love Choc Choc - think crunchy dark chocolate, cocoa biscuits, 85% cocoa, light chocolate mousse and lots of nutty flavours. It doesn't get more chocolatey than that!
La Cuisine Paris (Yep, that's us!)
Well, we can't let the pastry chefs of Paris have all the fun!! Every year, we hold our lovely Bûche de Noël class to help you create your very own magical Yule Log. This year, we'll be making this dramatic beauty - a traditional yule log with Chestnut pastry crème, Chantilly cream and meringue mushrooms, all with a chestnut and blackcurrant filling. Come and join us on December 23rd for a Bûche adventure!