If you have ever visited France, you're probably aware of the love affair that the French have with their butter. It's definitely true love, but when the rest of the world discovered the brilliance of French butter, the global love affair had some unfortunate repercussions. In late 2017, a much-reported butter shortage began to clear the supermarket shelves of this crucial ingredient and residents began to stockpile their reserves!
So what makes French butter so addictive? How is it different from other countries? And, most importantly, where can you buy it? First-things-first, good butter begins with the cows - of course! Essentially, the cows' diet dictates the quality of the milk produced.
This fact goes some way to explaining why the most famous regions for butter in France are Normandy and Brittany, where it rains a lot and the cows have plenty of green grass to eat. We have a word in French – terroir – which literally translates to "the history of the soil." This one term sums up an idea that is absolutely fundamental to French food and wine. In terms of butter, we believe that you can taste what the cows eat, as it comes through in their milk. In a sense, rich soil equals rich tasting butter. But it's not just the terroir that makes butter so tasty… French butter also has a higher fat content. This is France, after all!
While most countries use about 80% butterfat in their butter, French law requires at least 82% butterfat. It might not sound like much, but this 2% difference actually has a a huge impact on texture and taste.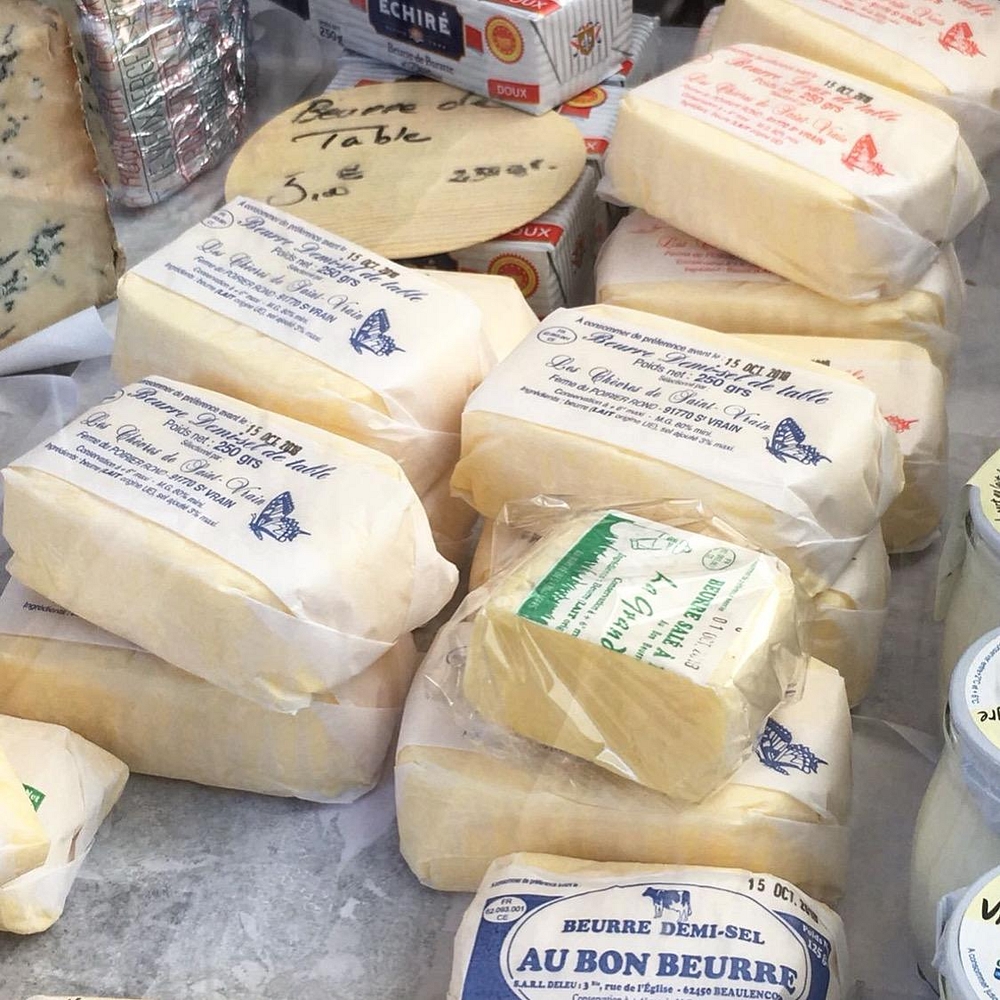 What are the different Butters?
Yes indeed, not only do we have a plethora of different brands, we also have main categories of butter. They are :
Beurre Doux : Butter that is without added salt. Still the percentage should be 82%. This tends to be the preferred butter for pastries and cuisine (unless otherwise called for) - reason being that it allows you to control the amount of salt added.
Beurre Demi-Sel : Butter with salt content. On average, Beurre demi-sel will have .5 to 3% of salt content.
Beurre Salé : Now this one is for the salty lover. Hailing from Brittany, salt content is pretty substantial with over 3%...you'll certainly find a salt crystal or two floating around in this one!
Beurre Sec : This one is all about the fat content - and usually used in professional production. You have minimum of 84 % vesus 82%. It's mostly used for the famous 'la pâte feuilletée'.
Which Butter is Better?
Taste is always so very personal, so it is always hard to really advise on what is best! What is best in our opinion is what YOU enjoy. You only need to visit one of the open Markets in Paris to see that you can get Farm fresh Butter at any 'Fromagerie' or 'Creamerie' stand. These stands are of course dedicated to Milk type products. We would encourage you when you can, to try these small, often no-lable French butters!
If you are looking for something a bit more 'mainstream' there are two names to remember: Yves Bordier and Beurre d'Echire. Bordier butter is a favorite and made by a man that has devoted his life to making butter, so he knows his stuff. Bordier butter hails from Brittany and is rich, creamy and bright yellow, but you can also find some really interesting riffs on the buttery theme, such as piment d'espelette, yuzu and Madagascar vanilla.
Beurre d'Echire is produced in the West of France and is 84% butterfat. It also holds an AOC status (check out our blog on food labels here to find out more) which ensures that the 66 farms which produce it are held to the highest of standards. The taste is a cross between sour cream and sweet cream. One final note: Do yourselves a huge favor and choose beurre demi-sel, which literally translates to "half salt." Salted butter will change your life! We use it in baking for a delicious sweet/salty result and it's especially tasty just smeared on bread.