The Café at the Musée Jacquemart André
For those looking for a little old-world grandeur (and killer cakes).
This mansion-turned-museum is one of our favourite cultural spots in Paris, thanks to its combination of stunning architecture, stately private apartments, incredible art and other-worldly elegance. However, it has another hold on our hearts thanks to its beautiful café! Open independently of the museum itself, you can sun yourself en terrasse during the warmer months while feeling miles away from the bustle of Boulevard Haussmann just outside the mansion's walls. Inside, the tea room is one of the finest in the city, made perfect by pastries whipped up by the likes of Stohrer and à la Petite Marquise. Foodwise, the Café creates a bespoke menu inspired by the latest exhibitions, which we happen to think is ingenious.
158 Boulevard Haussmann, 75008 Paris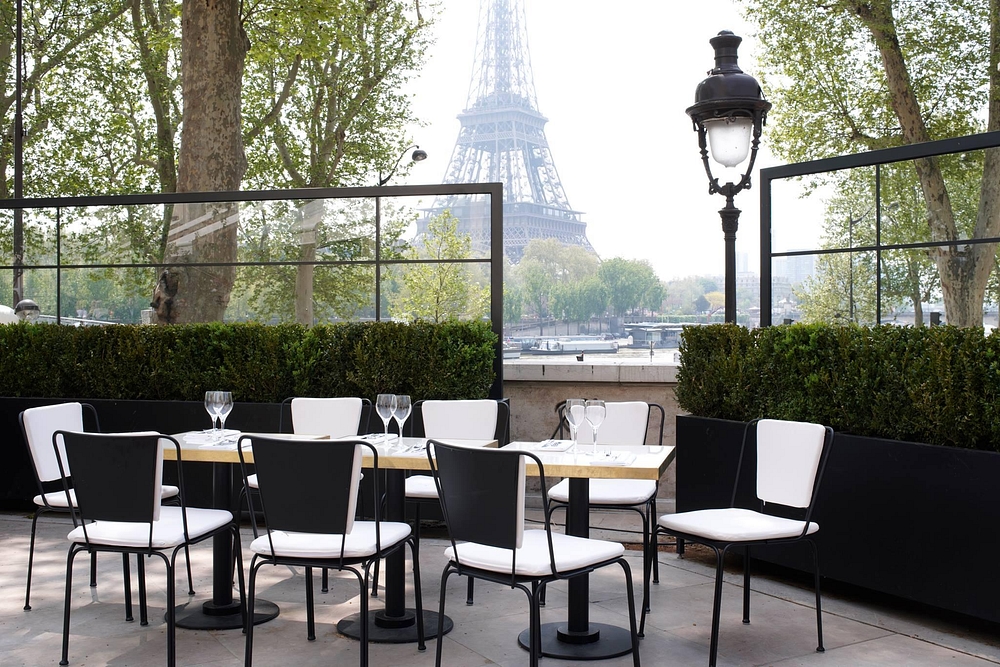 Monsieur Bleu & Les Grands Verres at the Palais de Tokyo
First, we give you Monsieur Bleu, the Palais de Tokyo's Art-Deco-inspired restaurant, where green marble meets plush velvet and huge chandeliers hang from the lofty ceilings. And that's just inside. If you're lucky enough to reserve a table on the Terrasse, you'll be treated to amazing Eiffel Tower views as you enjoy a Parisian apéritif or indulge in the minimalist, international menu.
For something a bit more laidback and buzzy, Les Grand Verres is all pendant lightbulbs, cosy booths and potent cocktails. Beneath the cavernous ceilings that are the Palais de Tokyo's signature look, Les Grands Verres is the work of Quixotic Projects - the crack team behind some of Paris' trendsetting institutions including Candelaria, Mary Celeste and Hero. Open until 2am.
20 Avenue de New York 75116 Paris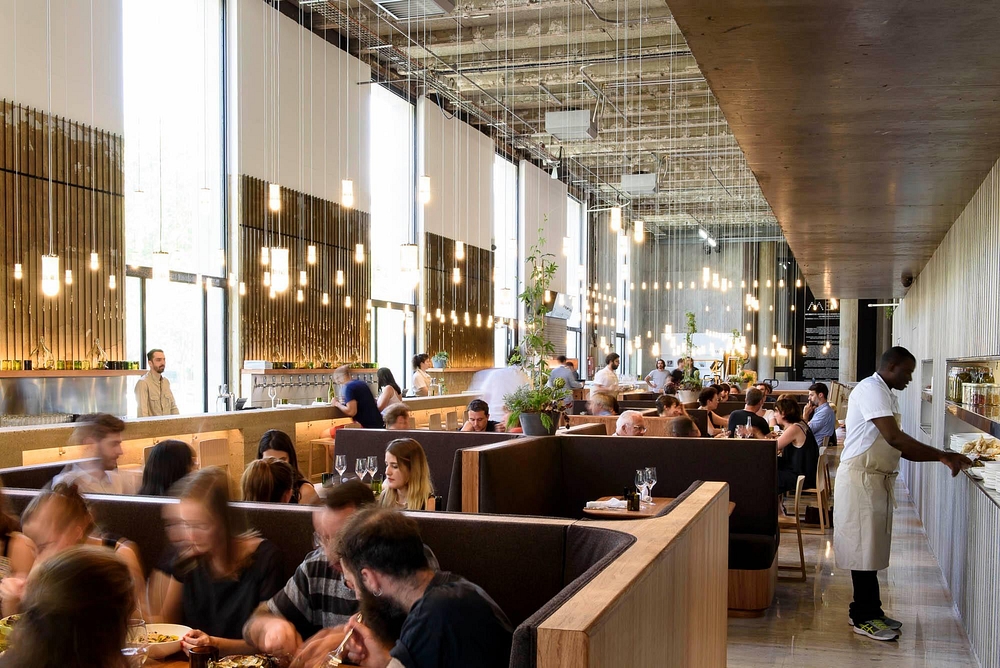 Musée Picasso, Café sur le toit
A rooftop sun-trap for a relaxed coffee stop.
We love a good view, and since the Musée Picasso has its very own terrace sur le toit (on the roof), there's no better time to head over into the Marais for some culture. The food here isn't anything to write home about, but you will find a selection of sandwiches, soups and salads available alongside a sharing platter of Spanish charcuterie. We just really like a rooftop view with our post-Picasso coffee.
5 Rue de Thorigny, 75003 Paris
The Musée de la Vie Romantique
The Museum of Romantic Life has a garden that lives up to the name.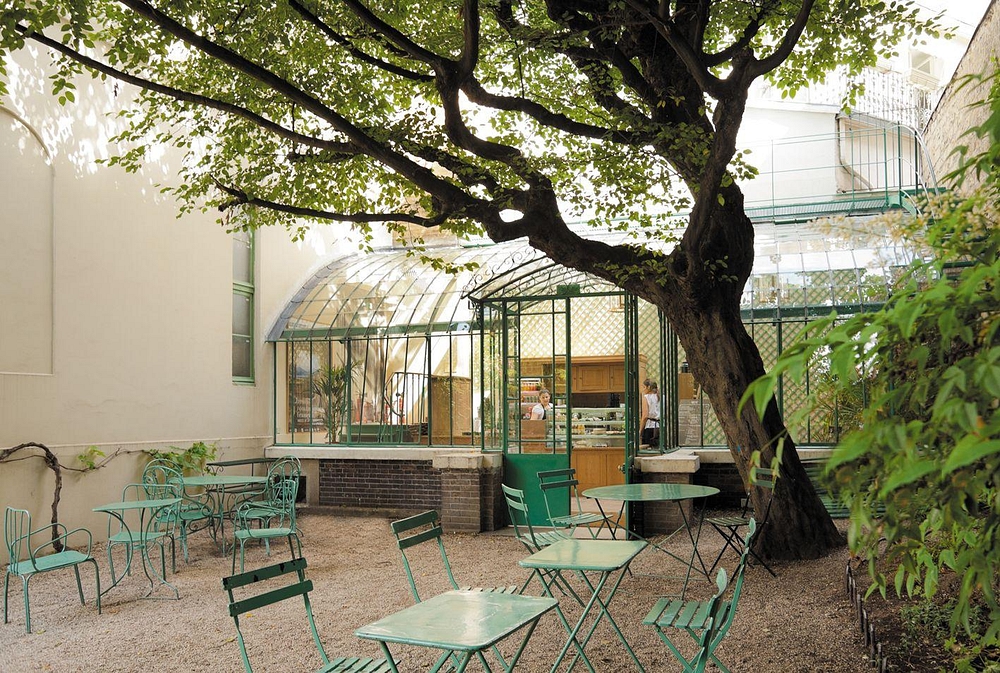 On a quiet Sunday morning in Spring, when the city is sleeping and the streets are quiet, sneak into Southern Pigalle with your favourite book and while away an hour or two in the garden café of the Musée de la vie Romantique. It's a rudimentary little café where a smattering of cakes and coffees are ordered inside a beautiful old greenhouse, but the lush gardens, towering trees and pretty chairs and tables will transport you to….well - a lush Paris garden with towering trees and pretty garden chairs and tables. Because where else would you rather be?!
Hotel Scheffer-Renan, 16, rue Chaptal, 75009 Paris
Petit Palais
Free and fancy, the Petit Palais hides a beautiful inner garden.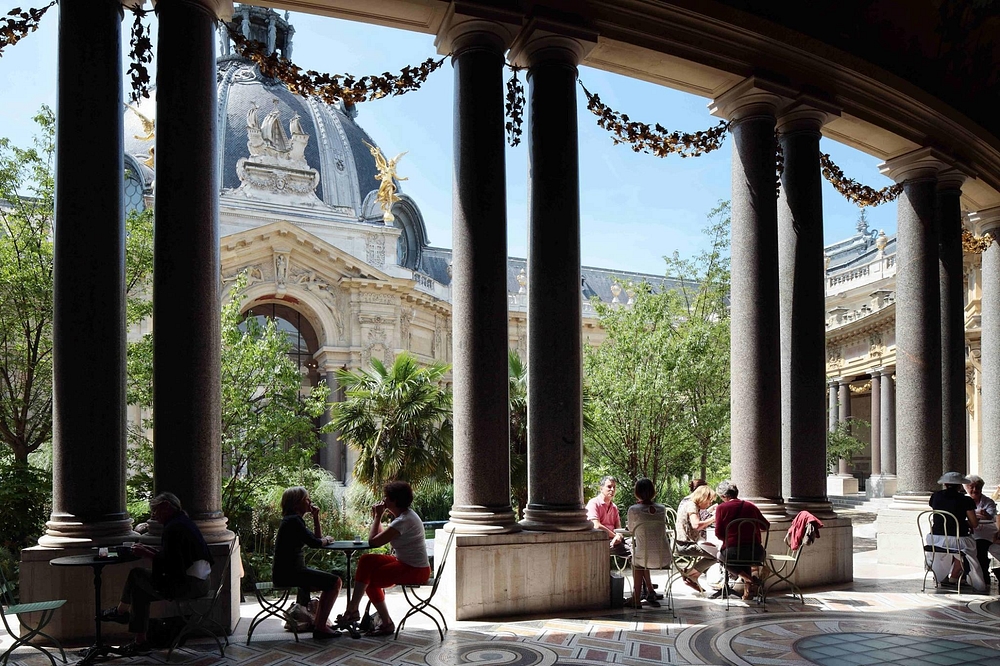 One of our favourite museums in Paris (and not just because the permanent collection is free) the Petit Palais also boasts a beautiful café at its heart. If you can manage to commandeer one of the tables in the covered colonnade, you'll be looking out over an enclosed garden where mosaic-tiled pools reflect the exotic plants above. A popular spot for light lunches, coffees and treats, the Petit Palais is a great option to have up your sleeve - and you may want to look out for the free lunchtime concerts which are regularly hosted by the Palais.
Avenue Winston Churchil, Paris 75008
Grand Palais
Channel your inner aristocrat in the colonnades of this fancy yet unpretentious restaurant.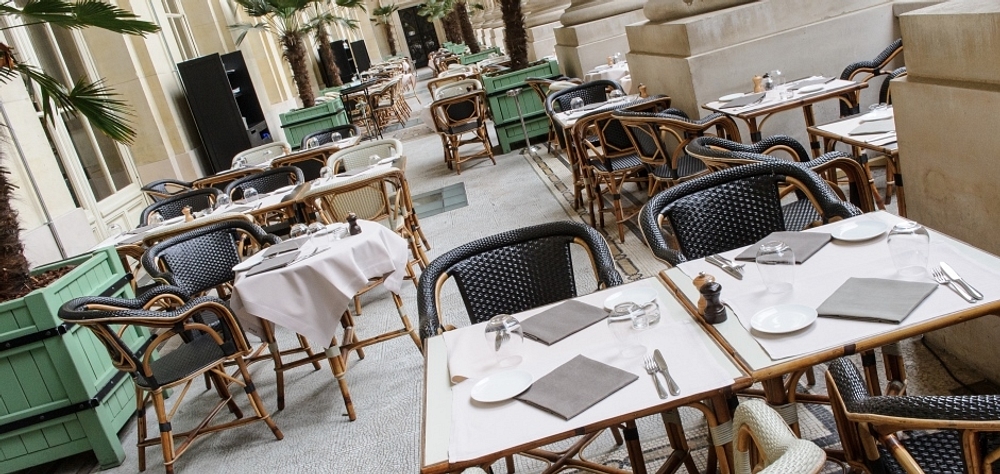 The Petit Palais' big sister, the Grand Palais is really very grand (we're using our best French accent). The gigantic glass roof is spectacular to see from inside, while the Palais' wings play regular host to some of the city's biggest and most hotly-anticipated exhibitions. With such stately proportions, the opportunity for a stunning restaurant finds full realisation at the Mini Palais. You can imagine how mini it is (hint: not very). Take a table on the terrasse for the full experience, where you'll be dining amidst towering columns and palm trees while perusing the latest monthly menu by Eric Frechon of Le Bristol Paris.
Avenue Winston Churchil, Paris 75008
LouLou at Musée les Arts Décoratifs
Elegant lunches are a go.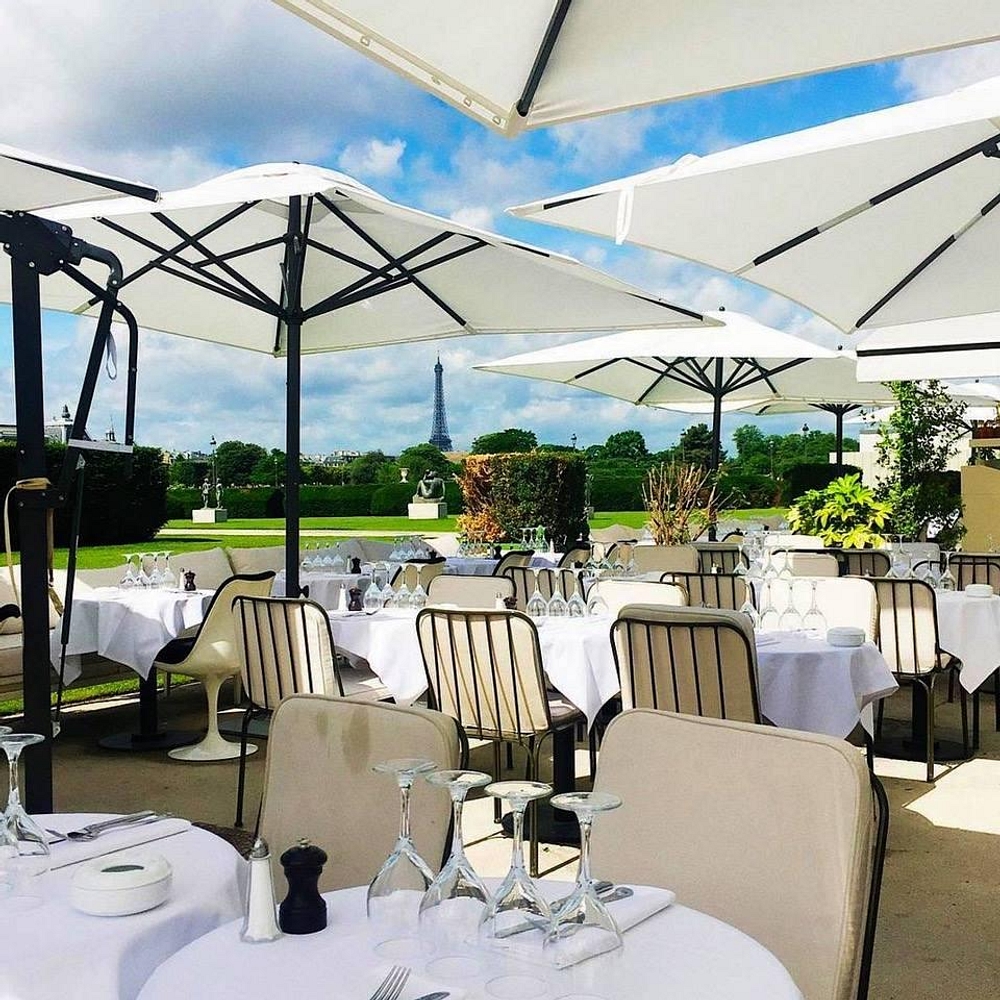 If you suspect you're feeling a little bit chic, LouLou will remove all doubt. Overlooking the Tuileries Gardens, this swish restaurant has a breezy terrace full of white parasols and cushioned chairs perfect for whiling away the afternoon over a lunch of imaginative Italian fare. It's a bit of splurge, but when you can see the Eiffel Tower through the bubbles of your Champagne or snap a photo of the Louvre from your lawn-fringed table, it's to be expected. What's more, the service is friendly. Just imagine.
107 rue de Rivoli 75001 Paris
Le Georges at the Pompidou
Just focus on the view.
We have a couple of disclaimers for this one. In fact, this entry is not so much a recommendation as a "well, all things considered, it's worth it. Probably." Yes, Le Georges is expensive. Oui, the food is patchy. Bien sûr, the service may fulfil a few unfortunate stereotypes…. But that view though. Perched at the top of the Centre Pompidou, there really are few places better positioned for rooftop views in Paris than Le Georges - so whaddya gonna do. Take the rough with the smooth we say, opt for a lunch rather than dinner, splash out on a nice glass of wine, snag a table on the terrace and you'll at least be playing the odds.
43 rue Saint-Merri, 75004 Paris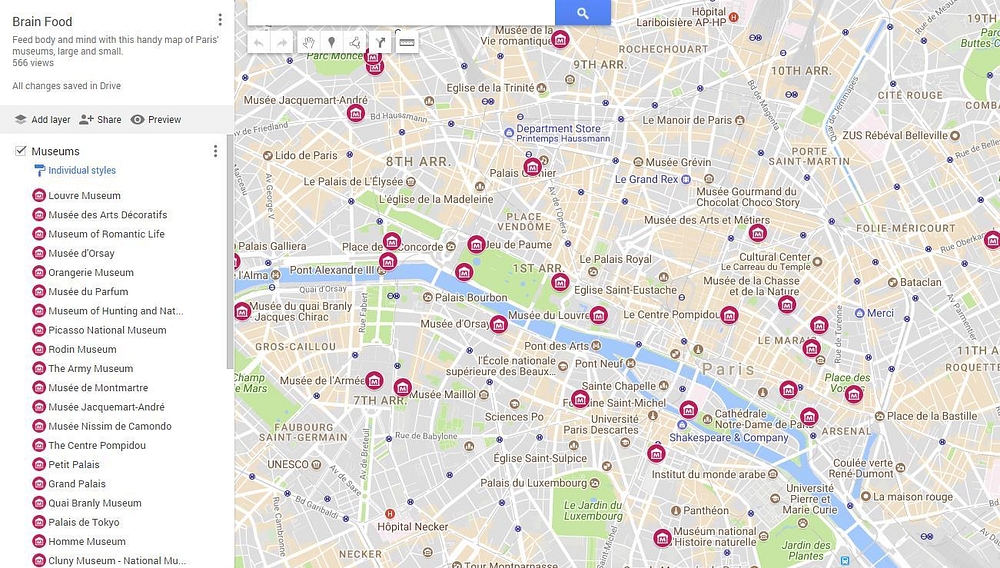 Here's a handy little Map with the suggestion above and more. Come check out our Map here !