Choux What?
When it comes to versatile pastries, Choux is champion. This pastry lends itself to dozens of creations - it's an easy-going, amiable, go-along-with-anything kinda kitchen companion, ready and willing to turn into just about anything you need it to be. Feeling profiterole-y? Choux pastry. Craving a cheese puff? Choux pastry. Want to fill it with chocolate cream and ice it? Why not! Et voilà, éclairs. Need an awesome wedding cake with a difference? Croquembouche. It's one recipe with dozens of recipes stashed inside its airy pockets. Genius.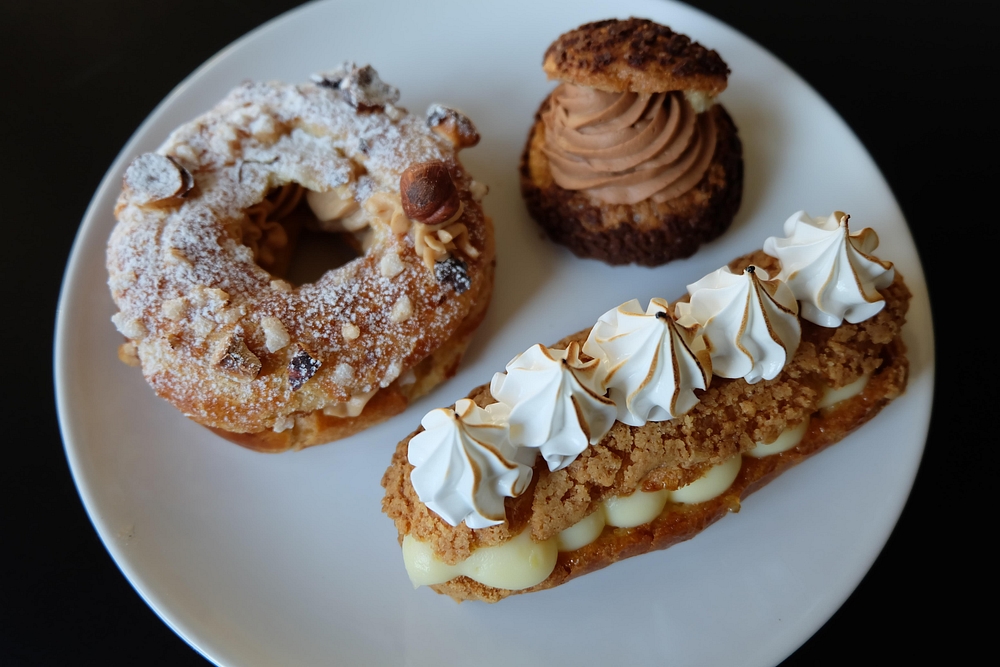 As you Frenchies will know, "choux" actually means "cabbage" in French. You'll be relieved to hear there's no cabbage in the choux pastry recipe - but who knows, it's so versatile you might want to give that a try! (But please don't). Little puffs of choux pastry are like mini cabbages however, which is where the name comes from. 

Everyone knows that the simple things are the best things, and choux is no exception. Eggs, flour, butter, water, and you're done. There's no chemical raising agent in choux, it puffs up all by its magical self and is so airy and light that it's perfect for filling with all kinds of flavoured wizardry. In fact, choux pastry does not have bags of flavour in and of itself, so it's really the extras that give it its pzazz. It's a humble pastry, happy just to showcase whatever else you choose to do with it. Bless its heart. 
One Pastry, So Many Options!
Profiteroles
This dessert is essentially choux pastry puffs filled with ice cream, cream or custard and smothered in melted chocolate, much to the delight of all concerned. 
Sold. Where can I find them in Paris?
Do you know where you can get a profiterole so gigantic that even two people struggle to finish it? (If this sounds like first-hand experience, it's because, oh boy, it is), it's at Bouillon Pigalle. Find it at 22 Boulevard de Clichy
Gougères
Choux goes savoury in this apéro hour classic, where gruyère, emmenthal or comté cheese and a good dose of black pepper is added to the choux mixture to create the perfect cheese puff. We make these in our French Hors d'oeuvres Class
Where can I get them? The ones featured above are from our lovely local boulangerie Au Petit Versailles du Marais, 1 Rue Tiron, 75004 
Chouquettes
The sweet sister of the gougère, the chouquette is an afternoon treat par excellence. Choux pastry puffs are sprinkled with pearl sugar and baked to perfection until they are golden brown on the outside but have just a hint of chewiness. You can usually find these in large baskets on the boulangerie counter, sold by the 100g across Paris. We'll take a kilo, thanks. 
Where can I get these? 
Personally we love the chouquettes at La Parisienne, which many of you may already know and love if you've joined us for a Cooking Class at Marché Maubert. We regularly buy a bag to enjoy on the way back from the market! 
Choux à la Crème
For something a little more decadent, you can opt for a choux à la crème - a choux puff filled with pastry cream of various flavours. Put together a selection of flavours and create a box of choux jewels - perfect as a gift. 
Eclairs
A classic. This time, the choux is piped in a long cylinder and baked, then filled with your choice of flavour - vanilla, chocolate, coffee, pistachio.. you can have so much fun with eclairs, and kids love making them. That's why we offer private éclair classes for families with kids under 13! Just email us if you'd like more information. 
Point me in the direction of Paris éclairs!
Eclair de Genie have made an art-form of the humble éclair, elevating it to the realm of jewellery in their numerous Paris boutiques. One of these is in the Marais and we can regularly be found there, admiring the cases of eye-popping variations like salted caramel, vanilla and pecan, pistachio and raspberry - each of them as beautiful as they are delicious. Find the boutique at 14 rue Pavée.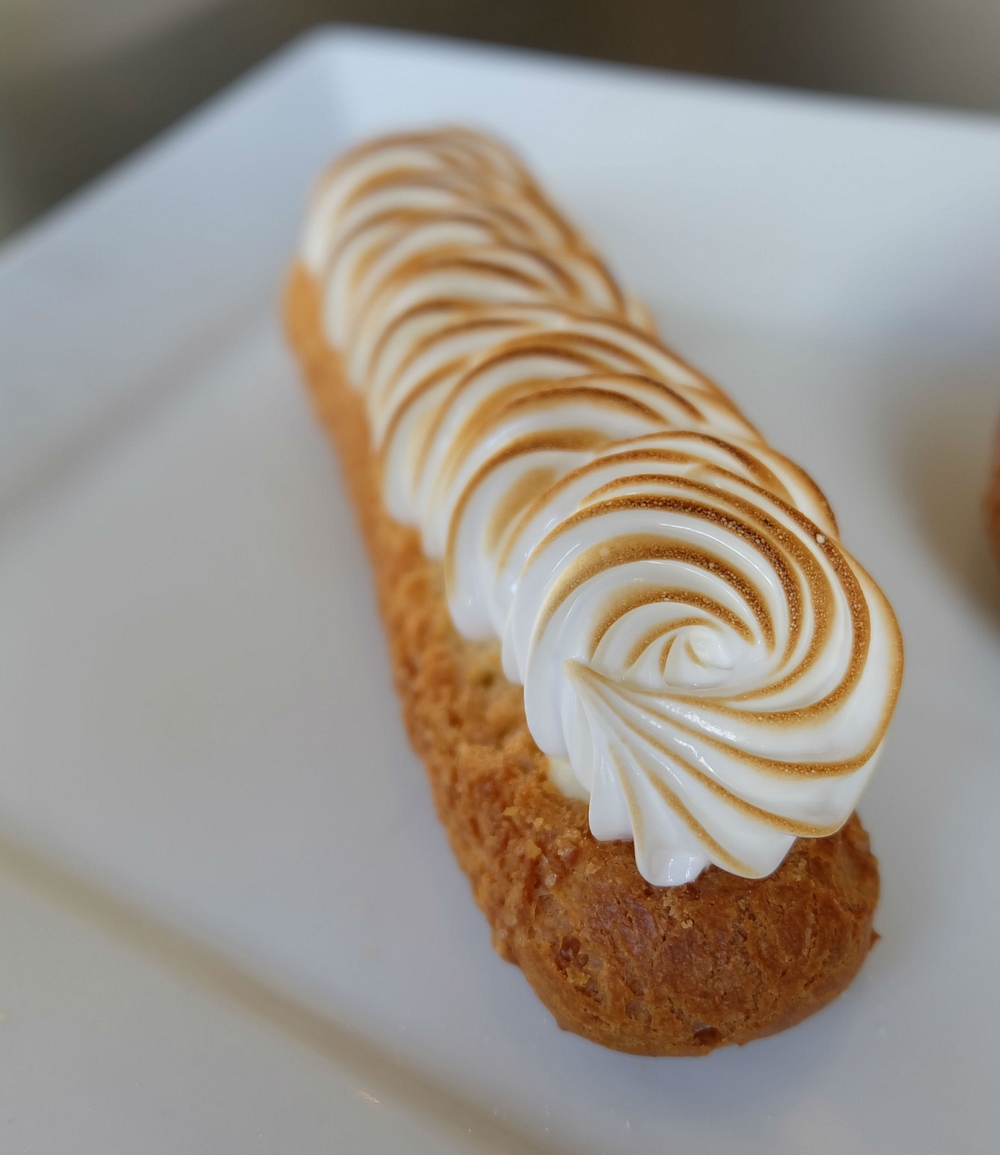 Religieuse 
Arguably the cutest of the choux pastry incarnations, the Religieuse is one smaller pastry puff on top of another, both filled with delicious crème pâtissière and smothered in chocolate. Literally meaning "nun", the religieuse resembles a little nun in her habit - she has a little choux puff head with a chocolate "veil", a "collar" of piped ganache and a little round body with a chocolate habit! Like éclairs, the variations for this pastry are endless! 
St Honoré
Did you know that Saint Honoré is the patron saint of bakers? Not only that, he also gets his very own cake! Invented in 1847 by a baker on - you guessed it, rue St Honoré - this technically complex cake is a ring of puff pastry topped with a ring of choux pastry topped with glazed choux pastry puffs....... so it's pretty much choux pastry taken to the max. What's more, there's the addition of Chiboust cream (or more commonly, Chantilly, which is less tricky). This baking adventure is certainly not for the faint of heart, but it sure is pretty!
Paris Brest
A ring of choux pastry filled with praline flavoured cream and sprinkled with slivered almonds is a thing of beauty, and it's called a Paris Brest. Its shape is no accident - the Paris Brest was invented by Louis Durand in 1910 in honour of the Paris-Brest-Paris bike race which Pierre Giffard - a journalist and sports organiser - had first invented in 1891. Now, it's a popular sight in France's bakeries, and its "bicycle wheel" shape is still in evidence! This is one of our favourite choux pastry creations, so we include it in our Technical Choux Pastry Class!
Where to find it: one of the best Paris Brest we know is served up by Bistro Paul Bert, which you'll find at 22 Rue Paul Bert, 75011.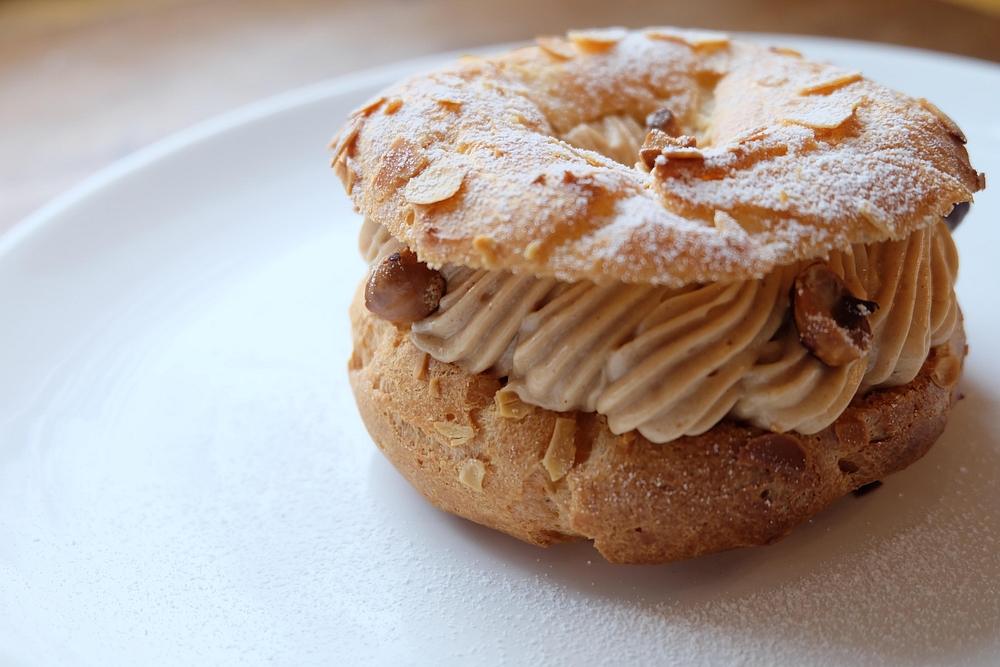 Croquembouche 
In terms of the grandest choux pastry creation, croquembouche takes the cake. Imagine a mountain of choux pastry puffs stuck together with spun sugar - wow factor galore. This is essentially a delicious tower of profiteroles, one that may present a logistical conundrum - how on earth does one go about eating such a thing? - but it's a challenge we're more than willing to take on. Pass us a spoon.