Brittany is the promised land of butter. So it stands to reason that one of the most buttery, sinful and sensational cakes in France hails from this beautiful buttery region. The New York Times once dubbed it "the fattiest pastry in all Europe" - so naturally we're big fans. It may look like a strange name, but the Kouign-amann  (pronounced queen-a-mahn) means "butter cake" in Breton. It's certainly an apt title. Long before the Cronut craze exploded in 2013 (thanks to New York pâtissier Dominique Ansel), in France the Kouign-amann had been gleefully thickening arteries for centuries with its laminated layers of butter, dough and caramelized sugar. 
Now a Brittany classic, the Kouign-amann's exact history is debated. Popular theory dates the creation of the pastry to around 1860, in the town of Douarnenez, in the Finistère department of Brittany. 
In Paris over 150 years later, this particular pastry is a treasure which must be sought out - the kouign-amann is by no means a common feature in the windows of Paris boulangeries! Until quite recently if you wanted to experience a true kouign-amann you would have had a journey to Brittany on your hands - hands which would soon be covered in butter and sugar, making the adventure wholly worthwhile. But no longer! Brittany has finally arrived in Paris in the form of brilliantly executed kouign-amann and kouignettes - smaller versions of the traditionally large circular cakes (which will have your cholesterol levels breathing a sigh of relief). 

So where will you find it? Patience grasshopper. First it is essential that you know the best way to appreciate a kouign-amann, and that's to heat it in the oven beforehand. Warmed through, the pastry's layers become more pliable and delectable and delicious, the heat bringing out the flavours of the sugar and butter to rapturous results. 
Yann Couvreur 
Stylish is a byword for Yann Couvreur, where the pastries are as beautiful as the surroundings. Yann Couvreur's second boutique opened on the lovely rue des Rosiers in the Marais back in 2017, a lovely honey-toned wood frontage that opens directly onto the cobbled street. Inside you'll find millefuille to die for while his Paris Brest is generally regarded as The Best In The Known Universe. There's also the latest seasonal baba au rhum to get your teeth into but besides all that is - of course - the kouign-amann. 
23 bis rue des Rosiers, 75004
Georges Larnicol 
The great thing about Georges Larnicol's kouign-amann offering is choice. You can pick up a larger round version to share, choose littler versions, and even opt for different flavours such as salted caramel, pistachio, almond, raspberry, chocolate, rum and raisin, chocolate, orange confit.... Larnicol's self-service approach can be a dangerous thing, so be prepared to accidentally fill a bag (for research purposes...) and then prepare for a full-on butter fest. 
14 Rue de Rivoli, 75004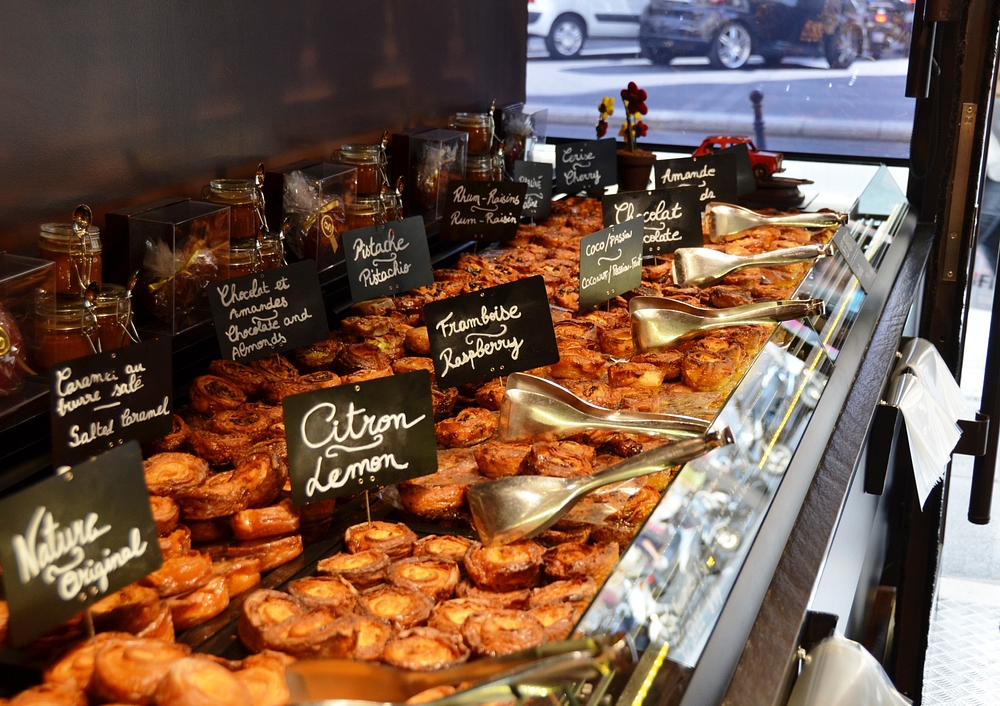 Le Grenier à Pain
Pastry chef Michel Galloyer opened his first store in Angers, and is now head of an international bread and pastry empire, not to mention a training school for the bakers of the future. So it's good to know that despite Le Grenier à Pain's worldwide success, the quality and consistency means we can confidently enter them into our list of Where to Find Kouign-amann in Paris. 
91, rue Faubourg Poissonière