This month we're featuring one of our favourite restaurants on the Ile de la Cité, Au Vieux Paris. The Ile de la Cité is one of Paris' two islands and marks the medieval heart of Paris. It was on this natural island that the city was originally founded, growing over the centuries to become one of the most prestigious neighbourhoods in the city with its medley of meandering cobbled streets, stately architecture and chic boutiques.
Tucked away on a corner of this elegant island and located just moments from Notre Dame, Au Vieux Paris awaits like a time capsule from a bygone era – 1512, to be precise, which is when this building was completed. Like many of the buildings in this street,the building's façade was crafted using left-over limestone from the construction of Notre Dame. Today the imposing stone is softened by a lush carpet of Wisteria; a dreamy mass of winding vines, purple blooms and green leaves. The owners tell us the Wisteria was planted in 1946.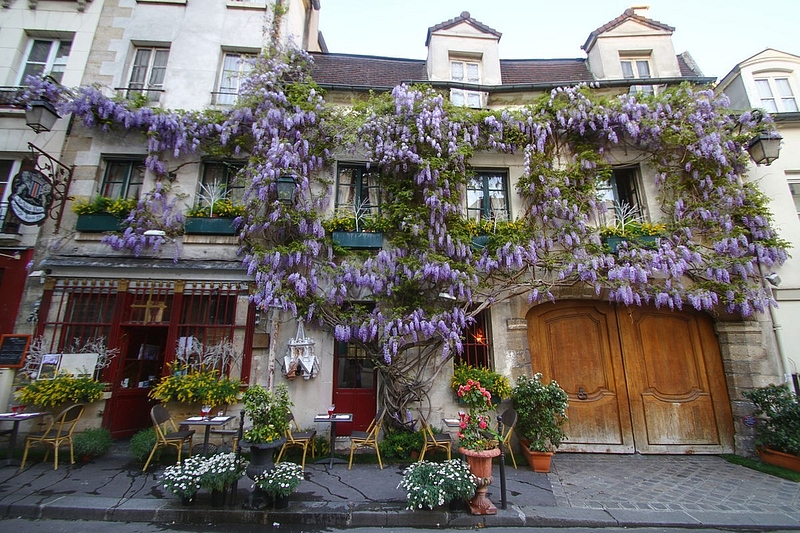 Of course, Au Vieux Paris is not just a pretty façade. Step inside and you'll be transported to 18th-Century Paris, a world full of beamed ceilings, plush red velvets, gilded frames and intricately carved benches. With its cosy nooks and air of romance, this is a gem during the long summer afternoons, and an intimate hideaway for chilly autumn nights.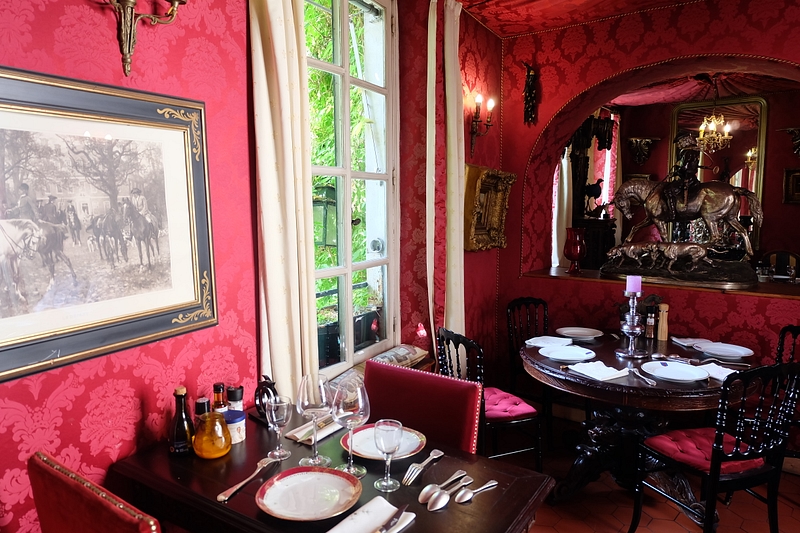 Then, of course, there's the food and wine. Au Vieux Paris' menu follows a classic French theme, so you can expect foie gras, hearty terrines (chunky country-style pâtés) and (of course!) escargots as a classic introduction to your French feast. Moving on, you'll be choosing from traditional dishes such as lapin à la moutarde (rabbit with mustard sauce), Saint Jacques (juicy French scallops) and magret de canard (duck breast). Just make sure you save some room for dessert! Crème brulée, clafoutis (a baked fruit flan) and delicious crêpes are bound to tempt those with a sweet tooth.
If you're in search of authentic French cuisine in a historic Parisian setting, you've found it – in fact, we love it so much, we make it one of the stops on our Notre Dame Gastronomy Food Tour!