People always ask us, where is the best place to buy cooking equipment? Paris has such a diverse range of quality cooking stores that it can be hard to know where to start - and with that in mind, we wanted to share our favourite Paris addresses for all your cooking needs. The Les Halles area is a veritable hotspot of the culinary arts, so you can visit all eight addresses in one cooking-tastic tour!

If you want to cook the best meal you can, you need award-winning quality kitchenware.
When Eugene Dehillerin opened his kitchenware store in the heart of Les Halles in 1820, his first clients were the owners of the countless traditional French bistros in the area. With his fiery temper and sense for business, he purchased several other stores around the area and started to build a monopoly of kitchen stores which has lasted over 200 years. 
Although the products have changed today, the history of this iconic store can be felt the moment you step inside. The boutique itself is worth the visit, resembling an unlikely blend of hardware store and library! Enormous antique tools hang from the ceiling and old wooden shelves gleam with copper pots and pans of every size and shape, while the old wooden floorboards creak beneath your feet.
E. Dehillerin's motto is 'To modestly help promote French Cuisine', and to this day Paris' chefs and culinary connoisseurs can be found in the bustling corridors, tracking down the highest quality utensils for their professional kitchens or home cooking exploits. 
Rue Coquillière, 75001  
Monday: 9am - 12.30pm, 2pm - 6pm 
Tuesday – Friday: 9am - 7pm  
Saturday: 9am - 6pm
G. DETOU
A specialty store with everything you could ever need for high-quality French pastry products, G. Detou is actually a bit of a play on words (the French love a good pun!) To hear the name, it sounds just like J'ai de tout which of course means - I have everything! 
G. Detou is the Paris professional's secret weapon when it comes to the world of pastry. Established in 1952, this much-loved boutique stocks rare products you just won't find in other cooking stores, such as high-quality baking chocolates and naturally extracted flavorings like coffee. They also have hard-to-find products like gelling agents, emulsifiers and flavored paste for macarons which was formulated by Monsieur Detou himself!
This is the place to go if you want to get good mustards, honeys, pâtés, pickled produce, jams and other conserved goods. They have an extensive array of dried fruits, as well as a mind-boggling selection of sugared confectionery and decorations like mini tartlets made of nougat and sugar granules that look like glittering jewels. No wonder they call this place the 'Cave of Ali Baba for all things pastry'!
58, rue Tiquetonne, 75001
Monday – Saturday: 08:30–18:30
Sunday: Closed
MORA
With over 5,000 items in its catalogue, Mora has all the cooking equipment you'll ever need.
For 'day to day' cooking utensils, Parisians usually go to Mora. Their enormous range of pastry tools, cooking utensils, and beautiful table settings and linens, makes Mora the first stop when shopping for kitchenware. What's Mora, this is actually the oldest cooking stores in Les Halles (sorry, I couldn't help myself...) Since 1814, they have made a name for themselves as one of the most prestigious and reliable cooking stores in Paris.
Mora boast an impressive range of sugar crafts and cake decorating items, making it a perfect stop for children's parties and special events designed to really wow your friends.
Professional, amateur or somewhere inbetween, chances are you'll find what you need at Mora.
13 Rue Montmartre
Monday – Friday: 9am –1pm & 2.15pm - 6pm Saturday : 10am 1pm & 1.45pm - 6.30pm Sunday: Closed  
BOVIDA
The beautiful exterior of Bovida really inspires you to dive into the world of French Cuisine. The three-story boutique wraps itself around a busy corner in the bustling Les Halles district, meaning you can gaze through the windows at all the beautiful tools you'll need to whip up that perfect French dish.
Bovida may appear to focus on professional caterers, but their insightful staff are more than happy to help home-cooks find exactly what they need. With an impressive array of Japanese knives, industrial-size kitchen equipment like scales and mixers, and the most stunning rainbow of Cocotte pans, Bovida also hosts a dizzying selection of disposable paper plates, cups and napkins that take any picnic to a whole new level of chic.
36 Rue Montmatre
Monday – Thursday: 9.30– 7pm  Friday: 9.30 - 7.30pm  Saturday: 10am – 7.30pm  Sunday: Closed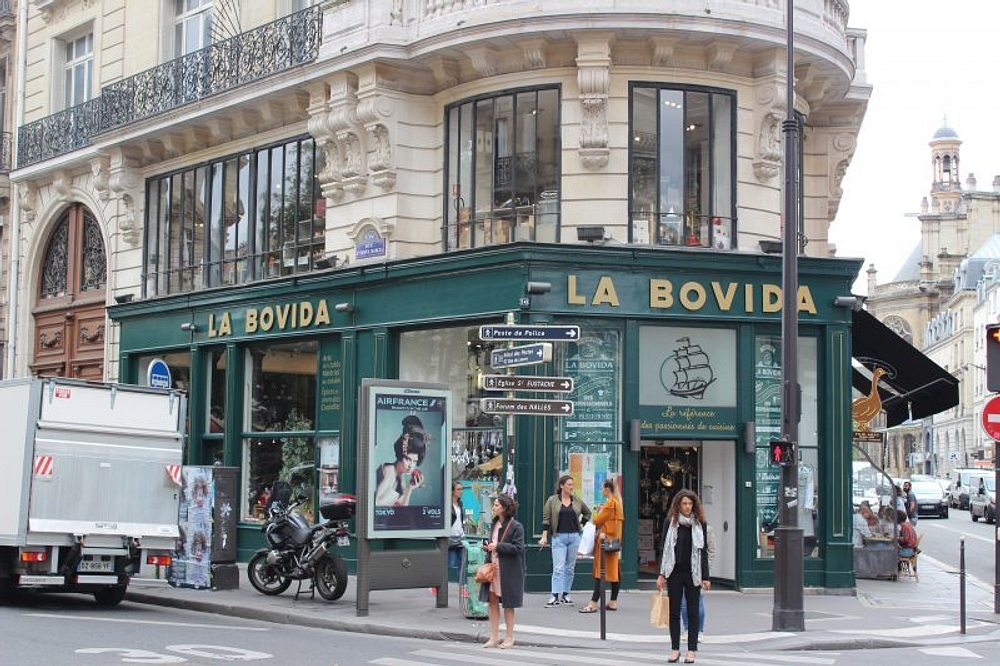 A. SIMON
A. Simon is our favorite place to buy porcelain and glassware, as well as other decorative table accessories. This company has been in operation since 1884, and distributes a lot of its products to restaurants and hotels all across France, so if you are staying in a fancy hotel in Paris, you may already recognize their brands!
48 Rue Montmatre 
Monday – Saturday: 9am to 7pm Sunday: Closed
LE COMPTOIR DE LA GASTRONOMIE
Le Comptoir de la Gastronomie
You could pass by Le Comptoir de la Gastronomie and mistake it for an impressively designed bistro, (which, in fact, it is) but it's what they sell that sets them apart.
The Comptoir de la Gastronomie has existed since 1894 as a bistro, but only started selling items to the public a few decades later. Today people visit this boutique to purchase all the delicatessen produce that they also serve to the hungry clientele dining in the bistro - so you can sit down and enjoy a light tasting plate, and then purchase the exact same produce and take it home with you!
You'll also find a great selection of amazing wines and champagnes, as well as the French classics such as foie gras, confits, smoked fish, homemade sausage and seasonal fruits and other produce.
For a chic French dinner, gourmet apéro or even for decadent picnic supplies, Comptoir de la Gastronomie is a must.
34 Rue Montmatre 
Monday – Thursday: 9am – 11pm  Friday – Saturday: 9am – Midnight Sunday: Closed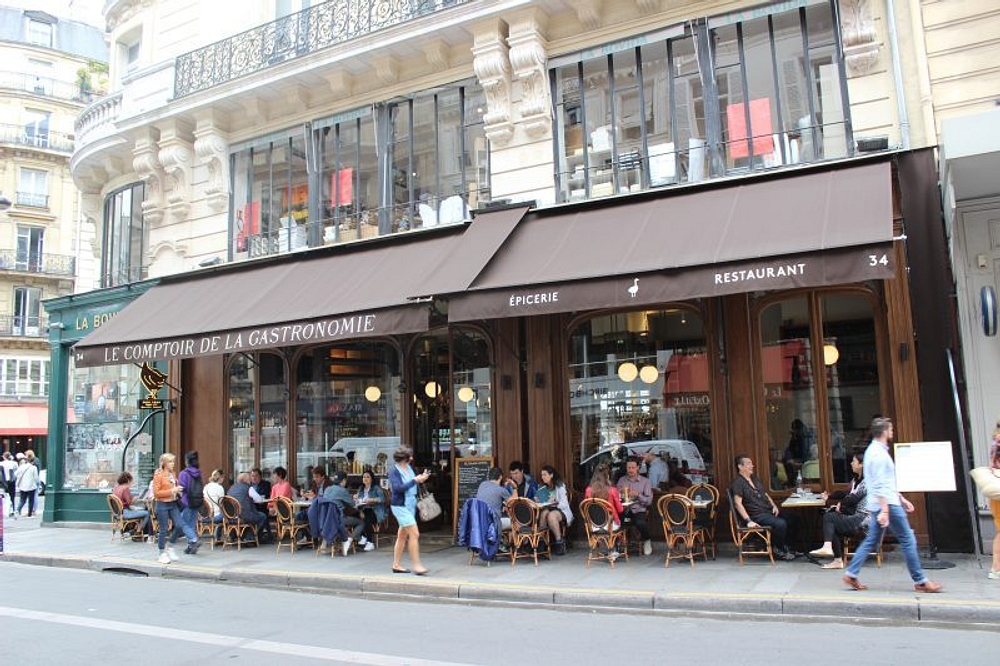 DU BRUIT DANS LA CUISINE
One of the most recent additions to Les Halles cooking district is Du Bruit dans la Cuisine or 'the noise in the kitchen'. As its name might suggest, this boutique brings a lighthearted approach to French cooking, focusing more on good food shared between friends.
Here you can find a large array of cookery books by everyone from popular TV personalities, to Gourmet masters of the restaurant world. They have everything for every skill level. We also love the fun creative utensils they sell.
With a kitchen set up in the center of the store, stop by around 4pm for the chance to catch a live demonstration! A fun and exciting place to find culinary gifts.
93 Rue Rambateau
Monday – Saturday: 10am– 8pm  Sunday: 11am – 7pm
DECO RELIEF
If you want to decorate a cake, look no further. 
Whether you're a serious chocolatier or a pastry connoisseur, Deco Relief will take your chocolates to a professional level. Home to a world of cake-making accessories, Deco Relief offers everything from beautiful chocolate impressions and countless cake molds to cookbooks packed with expert knowledge! Also, if you aren't into making your own chocolate or cakes then fret not, you can also buy chocolate here! Win win!
6 Rue Montmartre, 75001 Paris
Monday – Saturday: 10am –6.45pm Sunday: 11am –7pm
Honorable Mentions
Of course it's not just about Les Halles when it comes to cookery stores in Paris! Here are a few honorable mentions that just happen to be in our very own neighbourhood. 
Izraël : One of our closest neighbors, Izraël, is also one of the most inspiring ingredients stores in Paris. Still family owned and operated, you'll find vats of this, bottles of that, and everything in between. To visit this spice emporium, you can find them at : 30 Rue François Miron, 75004  
 A l'Olivier : Founded in 1822 by a pharmacist, and still using some of the same practices and techniques, here you'll find one of our favorite olive oil stores in the city (not to be confused by a larger global brand with a similar name!) Expect an extensive selection of high-quality oils from Provence. Visit them at : 23 Rue de Rivoli, 75004