As all you French food lovers will know, a good sauce can be a major attraction in its own right - so it's no surprise we teach a class dedicated to the subject. During the three-hour Sauce experience we not only take on the classics like Bearnaise, Béchamel, Port Wine Sauce and more, we also tackle the sweet stuff like Caramel Beurre Salé, (salted butter caramel) and chocolate. 
Still, if you can't wait until you're next able to join us for a Sauces Class, this month we have the perfect solution. A recipe for one of the most moreish sauces ever invented: Sauce au Poivre, pepper sauce! 
Made with crushed black peppercorns, a dash of Cognac and whipping cream, once you've mastered this delicious recipe you'll be pouring it over all your favourite meats. In the mood for a perfect steak? Perfect for pepper sauce. Magret de Canard? Pepper sauce. Pork loin? You see where we're going with this.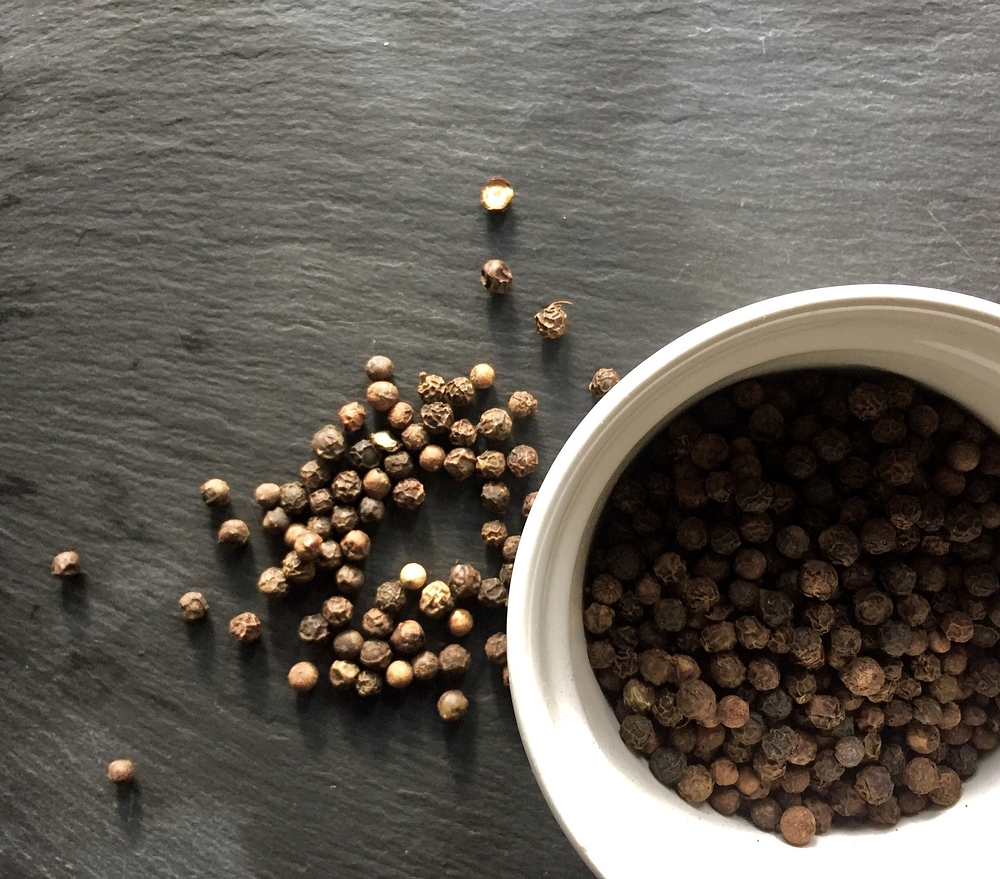 SAUCE AU POIVRE
Ingredients
6g crushed black peppercorns
10cl Cognac
20cl Veal Stock
10cl Whipping Cream
10g Butter
Salt
fresh green peppercorns (optional)
Method
Use a mortar and pestle to crush whole black peppercorns until you have 6g. 
Melt the butter, then add the crushed black peppercorns and cook for 2 minutes.
In another pan, heat the Cognac, then flambé it. Pour the Cognac over the peppercorns and reduce by 1/3.
Add the veal stock and let the mixture reduce by half. 
Add the cream, then allow to reduce by 1/3. Season with salt. 
If you want to, as a final stage you can add a few fresh green peppercorns which do not themselves have any heat, but add a little texture and interest to the finished sauce. 
Looking for somewhere in Paris to find your peppercorns in Paris? Don't worry, we have some great suggestions! All the following spots are experts in the culinary world of spices and peppers, so you'll certainly be in safe hands. 
Epices Roellinger, 51 bis, rue Sainte-Anne, Paris 75001
Compagnie Française des Poivres et des Épices, 7 rue de Furstemberg, 75006 You can read all about them here!
Nishikidōri - Le Comptoir des Poivres, 6 Rue Villédo, 75001
And what if you just prefer to dine out and enjoy a classic Steak au Poivre? Well look no further - we have some suggestions for that too! 
Chez Savy, 23 Rue Bayard - Find it in our Gourmet Guide to the 8th arrondissement
Atelier Vivanda, 18, rue Lauriston