The 16th : An Overview 
One of the most affluent arrondissements in Paris, the16th is known for its well-heeled residents and chic neighbourhoods. Home to broad avenues, leafy parks and grand museums, le seizième, as it is known, is synonymous with elegance. Within the borders of the 16th, you'll find the Place du Trocadéro, the enormous Bois de Boulogne, museums such as the Palais de Tokyo and the Fondation Louis Vuitton, and - of course - a host of lovely restaurants and bars in which to join the stylish locals for a meal, glass of wine or a lovely coffee as you enjoy the finer things in life!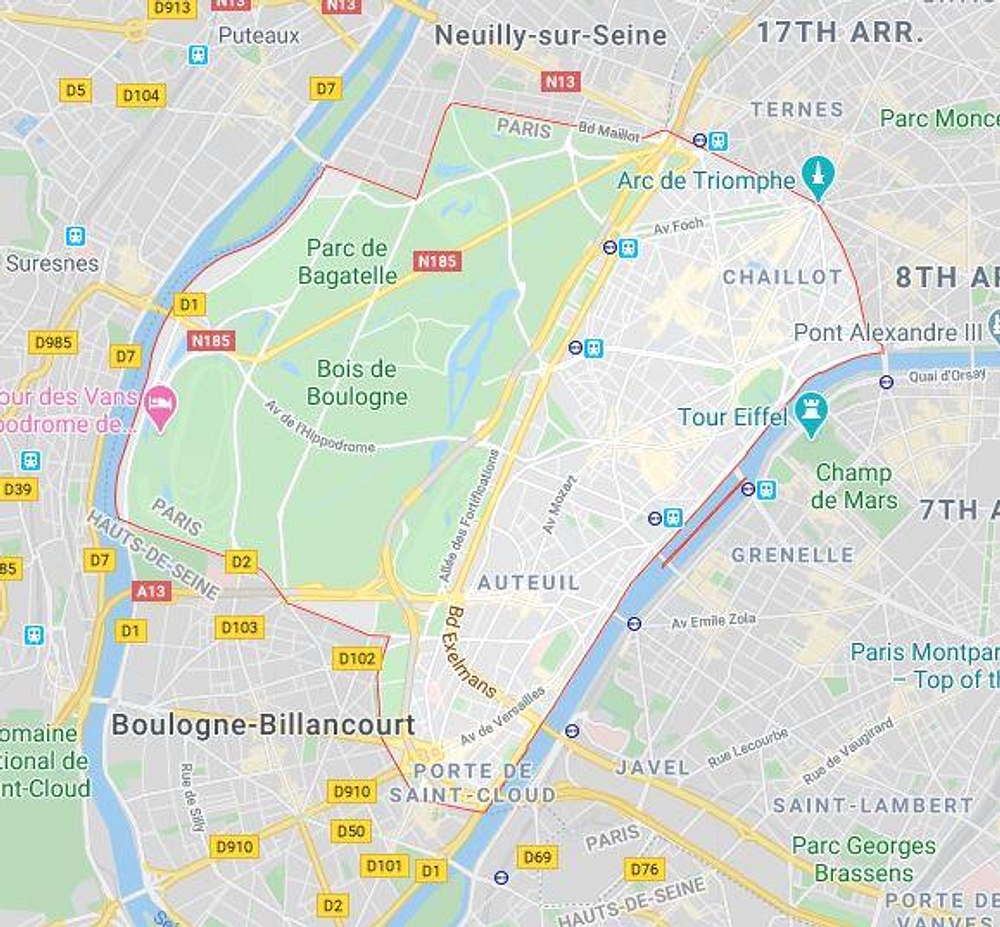 Restaurants 
Alan GEAAM Restaurant
Michelin star dining with a Lebanese twist in a relaxed, cosy atmosphere.   
19 Rue Lauriston
Daroco16
A trendy Italian neo-trattoria with a lot of style, Daroco16 also boasts a lovely terrasse and clever cocktails. 
3 Place Clément Ader
St James
A grand, neoclassical hideaway with inventive cuisine by chef Adrien Brunet. Nb. Reopening in February of 2021.  
Brasserie Paris Longchamp
Feel like you're dining in the countryside at this chic brasserie in the middle of the Paris hippodrome, right on the edge of the Bois de Boulogne. 100% organic, 100% stylish. 
2, Route des Tribunes
Ensemble
A stylishly industrial aesthetic, paired with small plate dining. 
11 Rue Spontini
Le Recepteur
Convivial dining and seasonal, thoughtfully crafted fare. A great address to know.  
3 avenue Théophile Gautier
Substance
An atmospheric bistro with creative, inventive cuisine by young chef Matthias Marc. 
18 Rue de Chaillot
Comice
An irresistible pairing of Michelin-Star dining and a warm, friendly atmosphere.  
Girafe
When it comes to incredible views and elegant terrasses, Girafe pretty much ticks all the boxes. Overlooking Trocadero and the Eiffel Tower, it doesn't get much more Paris than this. 
1 Place du Trocadéro
Le Pré Catelan
In the heart of the Bois de Boulogne, dine under the auspices of Chef Frédéric Anton's 3 Michelin Star cuisine. 
Bois de Boulogne
Brasserie Auteuil
Head up to the rooftop of this beautiful hotspot for cocktails and pizza! Stylish and summery. 
78 Rue d'Auteuil
L'Astrance
Two Michelin Star cuisine, reinvented on a daily basis - but getting a reservation can be a challenge!
4 rue Beethoven - soon to be relocated to 32, rue de Longchamp
Les Marches
A simple, honest, speedy bistro in the tradition of serving quick, affordable food to travellers - called a "routiers" in French. 
5, rue de la Manutention
Bars 
Molitor
If you want to travel back to the Art Deco era, head to the rooftop bar of the Molitor for cocktails and look down on their astonishing open-air swimming pool!
Cravan
Head here for cocktails or coffee - be warned, they do not serve wine, curiously!
17 Rue Jean de la Fontaine
Hotel Raphael 
Stylish rooftop bar and restaurant, re-opening from September. Eiffel Tower views and a rooftop garden feel. Lovely!
17 avenue Kléber 

Coffee
You Decide
Great coffee as well as wholesome, homemade fare including great breakfasts for the perfect start to the day. 
152 avenue Victor Hugo