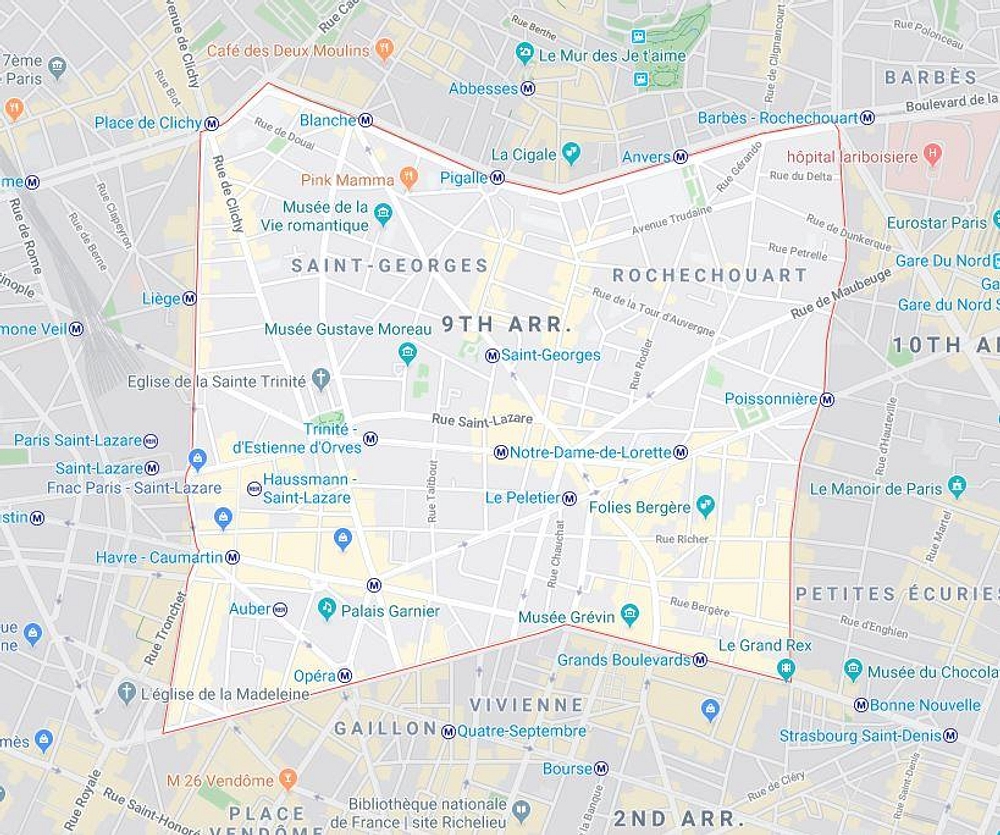 The Ninth: An Overview
The red windmill of the Moulin Rouge marks the northern boundary of the ninth arrondissement, a line which marks out the neighbourhood of Southern Pigalle - which has become a trendy destination full of partygoers and cocktail lovers. The ninth also incorporates the grandeur of the Saint Georges neighbourhood, and the buzzing foodie street that is the rue des Martyrs. Notable attractions in the 9th include the Musée de la vie Romantique, the incredible Opera Garnier, the famous Folies Bergère and of course two of the Grands Magasins de Paris, Printemps and Galeries Lafayette. 
A short disclaimer! As we all know, dining out is a very personal, nuanced affair, and our humble little list featured here - or indeed in any of our content - unfortunately cannot guarantee a spectacular, knock-your-socks-off, "Dear Diary" dining experience - as much as we would love it to! While we certainly aim to inspire, as always we recommend using these suggestions merely as a jumping-off point for your own Paris research. So with that out of the way - on we go!

Restaurants
Hotel Grands Boulevards
A menu designed with the help of chef Giovanni Passerini makes for a great French-Italian dining experience at this chic hotel restaurant by the celebrated Experimental team (Experimental Cocktail Club, La Compagnie des Vins Surnaturels). Dine overlooking a leafy courtyard after a cocktail in the bar. 
17 Boulevard Poissonnière
Bouillon Chartier
Already a feature of our Historic Bars & Restaurants post, Bouillon Chartier is the original in what is now a growing trend - fast, affordable food at low prices, often in typically Parisian spaces that hark back to days gone by. Boisterous, no-frills dining that never fails to draw a crowd. 
7 Rue du Faubourg Montmartre

Pink Mamma 

Some restaurants are much more than restaurants, and behind the pink facade of Pink Mamma lies a whole world to be discovered. Part of the wildly successful Mamma family of restaurants, this Pigalle address not only offers lively, convivial Italian dining over multiple levels but also a hidden-away speakeasy. 
20bis Rue de Douai
Les Affranchis
Carefully crafted, thoughtfully prepared, served with a smile - what more do you want from a modern, local-gem of a restaurant? 
5 Rue Henry Monnier
Le Bon Georges
A charming corner bistro serving bistro classics with style. It's all about qualities producers and products here, so you're in safe hands.
45 rue Saint-Georges
Coco
When it comes to being seen, there's currently no better place than this oh-so-chic restaurant inside the oh-so-incredible Opera Garnier itself. Gatsby-esque, this hymn to the roaring twenties positively oozes decadence. 
1 Place Jacques Rouché
Monbleu 
A fromagerie and restaurant, this cheese-loving heaven is perfect for those who love artisanal, thoughtfully sourced products alongside tasty home-made dishes, good wine, artisanal beers and even Sunday brunch. 
37, rue du Faubourg Montmartre
Le Pantruche
This may look like your classic old-school bistrot, but what's on the plate is as modern as modern can be. A great address for discerning diners to have up their sleeve.
3, rue Victor-Massé
Restaurant Il Cuoco Galante
Watch as chefs bridge the gap between traditional and modern Italian fare in the open kitchen at Il Cuoco Galante, where Genoese chef Ilaria Conti shines. 
36 rue condorcet 
Abri Soba
Chef Katsuaki Okiyama already had a Japanese bistro to his name when he opened this soba spot in the 9th arrondissement, where chefs cook up the heartwearming buckwheat noodles in the open kitchen. Très bon.
10 Rue Saulnier
Willette 
The kind of place you just wish was on your own street corner, Willette pairs cosy, neighbourhood vibes with an excellent, tightly curated menu and equally good wines.
21, rue de Trévise
Foodie Streets
rue des Martyrs
Wandering from one end of this street to the other is a gourmet adventure in and of itself, presenting you with a whole host of options - so arrive hungry. Coffee at KB Cafe, freshly baked treats at Rose Bakery or Farine&O,jams and more at La Chambre aux Confitures, traditional sweets like calissons from the Maison Brémond epicerie, fluffy Madeleines from Mesdemoiselles Madeleines (click for a recipe!) and much more besides. 
rue Saint Anne
For lovers of Japanese food there is nowhere better than rue Saint Anne, which is lined with everything you could possibly wish for - ramen, gyoza, sushi, takoyaki, okonomiyaki, Udon... Don't be surprised if you see queues forming outside the street's most popular stops!
Bars
Le Sans Souci 
Meaning "No worries" in French, this corner spot is the hub around which Southern Pigalle turns - its pavements are always crowded with revellers spilling out from the bustling scene inside, where simple bistro fare is served to a boisterous crowd. 
65 Rue Jean-Baptiste Pigalle
Buvette
Opened in 2012, Buvette is a great all-day address to know. Eggs in the morning, wine and cocktails in the evening, with locally sourced ingredients crafted into delicious small plates. 
28 rue Henry Monnier
Lulu White
This tiny little cocktail bar has a definite speakeasy feel with its intimate round booths (if you can acquire one!) and regular live music sessions that lean strongly towards the 1920s. 
12 Rue Frochot
Hotel Amour
Pop in for a cocktail from 6pm before heading out to explore Pigalle on your doorstep. A lovely courtyard makes for a hidden-away drinking spot. 
8 Rue de Navarin
Pompette
A chic wine bar with sharing plates to match - created by an ex-Frenchie chef, no less. 
15 Rue Hippolyte Lebas
Coffee 
Musée de la Vie Romantique 
This lovely museum tucked away in the 9th arrondissement conceals a beautiful garden café - a great spot to know about if you just want to unwind in what feels like your own beautiful French garden. 
16 Rue Chaptal
KB Cafe 
On the bustling and beautiful rue des Martyrs - a street on which you can find almost anything your heart or stomach desires - you will find KB Café, with its wraparound terrace, tightly-packed indoor seating and hearty baked goodies. A staple address for coffee lovers.
53 Avenue Trudaine
Café Soucoupe 
Freshly, healthful lunches, great coffee, a friendly welcome and a courtyard garden at the back. 
33 rue du Faubourg Poissonniere
Aloha Cafe
"Nice coffee & food for nice people" declares Aloha, so that's a good place to start! Add in homemade pastries, lunchtime salads, veggiebowls, soups and salads, and you're really on to something. 
32 Rue Pierre Fontaine
IBRIK
An oriental coffeeshop, Ibrik brings something totally new to the city's coffee scene. Cosy and stylish interiors are mingled with Turkish coffee, sweet pastries and a menu of Romanian inspired dishes. 
43 Rue Laffitte
Honourable Mentions
Babka Zana 
The first boulangerie in Paris dedicated to Babka - the delicious braided  brioche - can now be found in the Southern Pigalle neighbourhood. And there's more to enjoy and discover than just this particular brioche too! 
65, rue Condorcet 
Sebastian Gaudard 
Ice cream, pastries, jams, chocolates... stop in to Sebastian Gaudard for a beautifully retro atmosphere as you discover all this and more. 
22 rue des Martyrs
Cedric Grolet
Pâtissier Cedric Grolet is a star fixture on the Paris pastry circuit, and now has his own boutique in the 9th arrondissement. Read all about it here!
35 Avenue de l'Opéra
Lafayette Gourmet
2 floors and 3,500m² of food makes for a gourmet playground at Galeries Lafayette's food hall, which carries everything from the major brands to small producers. Not to mention a whole host of delicious places to indulge - Yann Couvreur, La Maison de la Truffe, Eclair de Genie... take your pick!
35 blvd Haussmann
Printemps du Gout

The top two floors of Printemps de l'Homme has been a food destination since 2018, attracting stylish gastronomes with its mixture of produce and famous names. 350 suppliers and 2,500 referenced products scattered across 1,700 square metres? Sign us up. 
64 Boulevard Haussmann