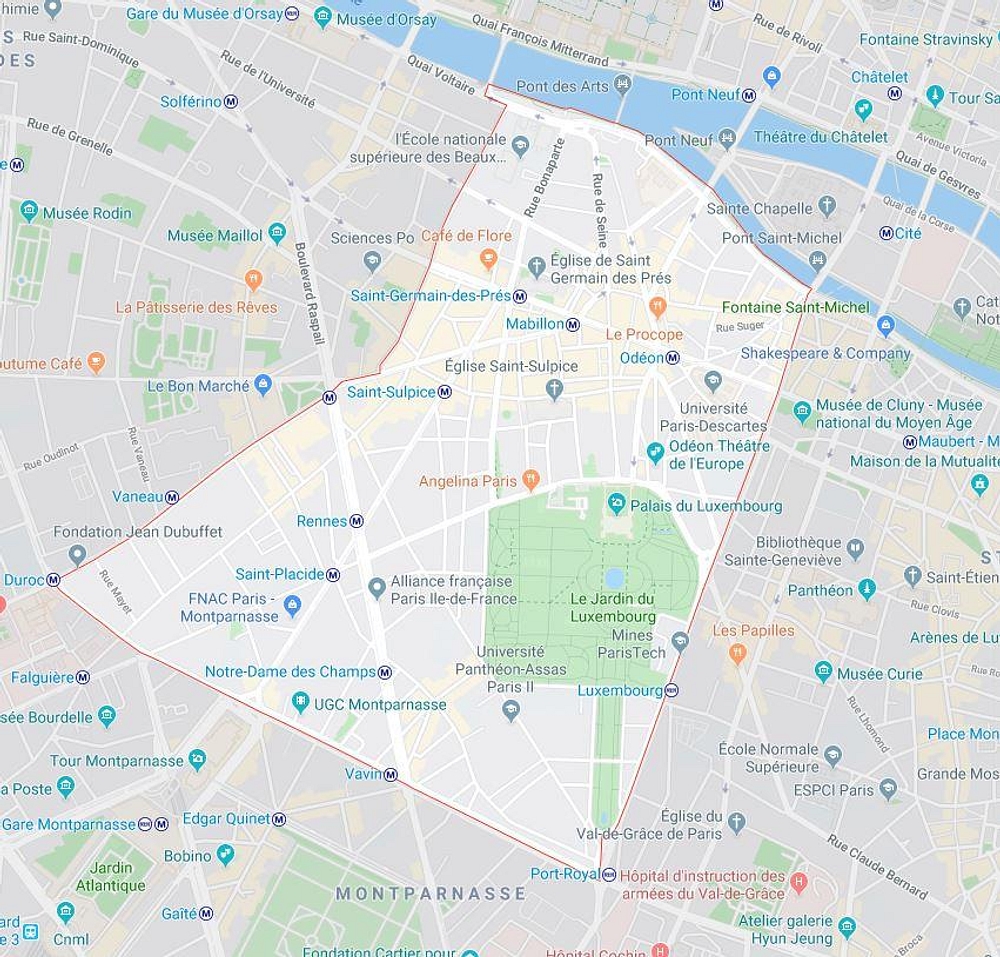 The Sixth : An Overview
Literary, educational, cultural, retail - there's no topic that the Sixth isn't an expert in. It's got the Hemingway haunts and the Simone de Beauvoir cafes; it's got the high-end boutiques, the art galleries and even the French Senate, not to mention the oldest church in Paris (which lends the Saint Germain des Prés neighbourhood its name). In short, the Sixth is quite the arrondissement. 
Oh - and it's got restaurants, bars and coffee stops in the mix too! Here are just a few of them, as a jumping off point, but before we get started....
A short disclaimer! As we all know, dining out is a very personal, nuanced affair, and our humble little list featured here - or indeed in any of our content - unfortunately cannot guarantee a spectacular, knock-your-socks-off, "Dear Diary" dining experience - as much as we would love it to! While we certainly aim to inspire, as always we recommend using these suggestions merely as a jumping-off point for your own Paris research. So with that out of the way - on we go! 
Restaurants
Josephine (Chez Dumonet)
If you like your menus classic, then this bistro won't disappoint. All the usual suspects are present, from the boeuf bourguignon to the confit de canard - not to mention the mosaic floors and red chequered tablecloths. 
117 Rue du Cherche-Midi
Shu
You may need to fold yourself in half to get through the door of this superb Japanese restaurant, but once you're inside this 17th-century cellar restaurant you can anticipate fantastic sashimi, sushi and kushiage / kushikatsu. 
8 Rue Suger
Semilla 
Funky industrial spaces meet thoughtful, clever seasonal cuisine. 
54 Rue de Seine
Huitrerie Régis
A no-reservations oyster paradise for those on the go. Stand at the bar and enjoy a crisp glass of white wine accompanied by beautiful oysters, or grab them to take away!
3 Rue de Montfaucon
Fish La Boissonnerie
Just across the road from its sister restaurant Semilla, this friendly bistro not only offers a great atmosphere but solid bistro fare and an excellent wine list populated by smaller, carefully chosen producers. Don't be fooled by the title - this isn't specifically a seafood restaurant, just an all-round local institution.
69 Rue de Seine
Le Procope
For a bit of Paris history, head to the oldest café in the city. Opened in 1686, you can still dine surrounded by memorabilia, or sit on the terrasse for a coffee and just watch the world go by. Full of atmosphere.  
13 Rue de l'Ancienne Comédie
Da Rosa
Perfect for a casual lunch or an Italian feast, this stylish address in Saint Germain is a great address to know - and it has a beautiful terrace to boot! Don't miss the Sangria...
62 rue de Seine
Le Bistrot d'Henri
The Boeuf Bourguignon here is something to write home about, but it's accompanied by a host of other bistro classics too. You'll be dining Paris bistro style, (elbow to elbow) but don't let that put you off!  
16 Rue Princesse

Claus Saint Germain
For those who love to eat breakfast all day long! Airy, stylish, chic breakfasts that is.
2 rue Clément
La Jacobine
In a lovely cobbled passageway just next to Odéon (one we explore during our Saint Germain Food Tour in fact) this lovely little restaurant is a bit of a gem. Gorgeous French food, friendly service, and book ahead to snatch one of just a handful of tables!
59 Rue Saint André des Arts
Cosi
For fantastic sandwiches and mountainous salads made with fresh, healthful, wholesome and not to mention moreish ingredients, look no further than this friendly lunchtime spot. 
54 rue de Seine
Little Breizh
Their Breton crêpes have been taking Paris by storm, and Little Breizh is the Sixth's little outpost for crêpes gallettes with style and substance! 
11 rue Gregoire de Tours 
Bars
Castor Club
I fyou love speakeasies you'll want to check out our Handy Map of the best spots in the city, but in the meantime you can start behind the unmarked door of the Castor Club. This wood-clad hideaway has the air of a hidden hunting lodge!
14 Rue Hautefeuille
L'Avant Comptoir
Step up the bar and order a glass of wine and some small plates at this perennially packed little institution. 
9 Carrefour de l'Odéon

Tiger
Gin, anyone? Homemade tonic, 11 signature cocktails and over 130 gin references? Where do we sign?
13 Rue Princesse

Bar du Marché
This fun-filled bar on the bustling corner of rue de Seine is a people-watching spot par excellence. 
75 Rue de Seine
Prescription
From the Experimental Team that first revolutionised the Paris cocktail scene, Prescription is the dapper grown-up of the bunch with its seasonal cocktails and sophisticated air. 
23 Rue Mazarine
La Compagnie des Vins Surnaturels
Speaking of Experimental, this wine-loving sister of Prescription is the place to sip meticulously chosen wines in the comfort of (what feels like) your own cosy living room. 
7 rue Lobineau
Coffee
Les Deux Magots, Cafe de Flore, Brasserie Lipp
You just can't mention Saint Germain des Prés without a nod to this triumvirate of iconic addresses. Pick one, stretch your wallet, watch the world go by, revel, repeat. 
LDM: 6 Place Saint-Germain des Prés
CdF: 172 Boulevard Saint-Germain
BL: 151 Boulevard Saint-Germain
Judy 
Freshly pressed juices, excellent coffee, squishy cushions, light-filled spaces, thoughtful food, organic goodness...
18 Rue de Fleurus
Marcello 
Oh boy what a terrasse! Leafy, cobbled, tucked-away, we love this little gem of an Italian hangout.
8 Rue Mabillon
Treize
You get the best of all worlds here - and that means enormous slabs of cake, tea and coffee, cocktails and even occasional live music!
5 Rue de Médicis
For your Sweet Tooth...
Arnaud Larher 
You will have heard us rave about the brilliance of France's MOFs (Meilleur Ouvrier de France) and the incredible skills they have, and we're not about to stop now! Arnaud Larher offers the most amazing desserts, tarts, treats and chocolates. 
93 rue de Seine
Pierre Hermé 
This King of Pastry brings his inimitable style to Saint Germain - best macarons in town! (Except for the ones you make with us of course)...
72 rue Bonaparte
George Larnicol 
We love this decadent chocolate boutique - which is why we always stop in there on our Saint Germain Food Tour! 
132 Boulevard Saint-Germain