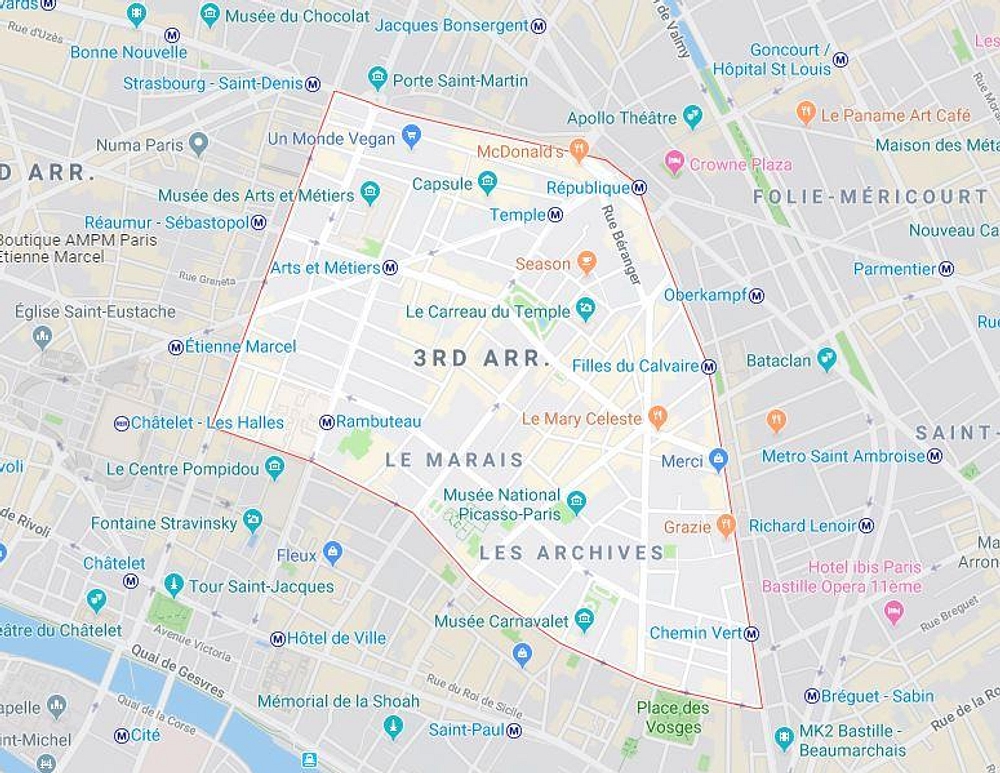 The Third : An Overview
The Third is the second smallest arrondissement (the first being the second...confused yet?) Let's just say that of the 20 arrondissements in Paris, the Third is one of the smallest! For the most part it makes up the northern Marais, reaching up towards the southern edge of the Place de la Republique, as seen in the map just here. Although already quite a historic district, there's a particular historical gem in the 3rd in the form of the oldest house in the city - find it at 52 rue de Montmorency - it was built in 1407! The Third is quite the fashionable neighbourhood, with dozens of boutiques, cool cocktail bars, and lovely restaurants to check out. 
A short disclaimer before we get started... as we all know, dining out is a very personal, nuanced affair, and our humble little list featured here - or indeed in any of our content - unfortunately cannot guarantee a spectacular, knock-your-socks-off, "Dear Diary" dining experience - as much as we would love it to! While we certainly aim to inspire, as always we recommend using these suggestions merely as a jumping-off point for your own Paris research. So with that out of the way - on we go!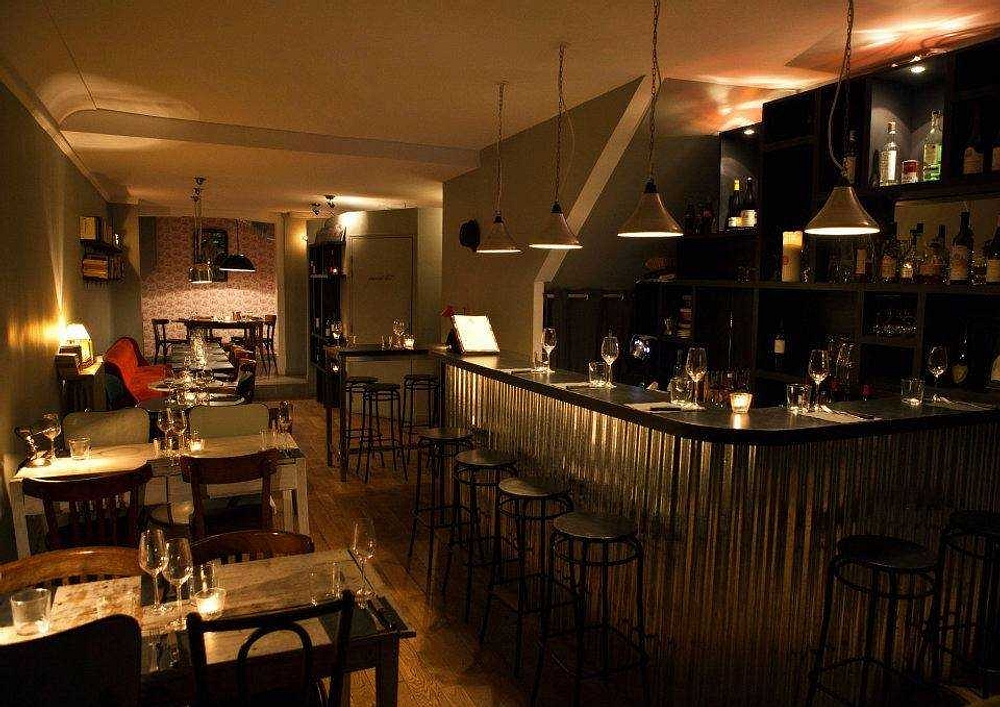 Restaurants
L'Aller Retour
When a restaurant tips itself as a haven for red wine and meat, it gets our vote. From the team behind the lovely Barav wine bar just nearby, L'Aller Retour sources the finest meats and - of course - offers a superb wine list to accompany them!
5 Rue Charles-François Dupuis
Season
Part coffee shop, part neo-bistro, this is a great address if you're in need of delicious fare with fantastic gluten-free options! Freshly pressed juices, freshly made sandwiches, pancake stacks, healthy breakfasts and wholesome lunches. 
1 Rue Charles-François Dupuis
Bo & Mie
Fans of this wonderful boulangerie and Salon de Thé will be delighted to know a second address has now opened up in the third! Viennoiseries, bread, beautiful pastry creations - all served in airy, chic-modern interiors. You can even take a seat and just while away your time with something delicious.
359 Rue Saint-Martin
Breizh
A bit of Brittany in the middle of Paris, Breizh now has outposts dotted across Paris - but this is the True Original. The humble galette (a buckwheat pancake) gets an upscale reboot here, with thoughtful, inventive fillings and delicious cider (the traditional accompaniment), all stylishly served by waiters in Breton stripes. 
109 Rue Vieille du Temple
The Beast
A Paris smokehouse just a few moments from Republique brings Texas to Paris at The Beast, where barbecue is king. A short, well-crafted menu makes for a mouthwatering read of BBQ chicken, ribs, pulled pork and brisket, accompanied by over 50 Bourbons - not in one sitting, we advise.
27 Rue Meslay

Bistro Le Carreau 
A beautifully appointed bistro, this stylish address is an any-time-of-day affair. Reading the paper with an espresso on the terrasse, catch up with a friend over lunch or dine in elegant style by night. Think artistic, structured plates with a fair price point.
1 Rue Charles-François Dupuis
Wild & The Moon
Stripped back in every sense, Wild & The Moon will delight anyone who really likes to know what they're eating - and what they're not. Gluten, for example, is off the menu, as are additives and HPP (high pressure processing), while taking center stage is organic, plastic-free, no-waste, delicious healthy dishes. 
55 Rue Charlot
Café Pinson
Another one for the health-hunters amongst you, this juice bar, cafe and restaurants offers organic, thoughtful food that will have you feeling impossibly virtuous - yet totally satisfied into the bargain. Expect an internationally inspired, tightly curated menu. 
6 Rue du Forez
Biglove
Gluten free pizza lovers rejoice! For you, pizza is back on the menu - and it's delicieux. No reservations here so a little tactical planning is required to snag a table - we recommend an aperitif nearby and then a surprise attack right at opening time - but it's fun, boisterous, and fabulous. 
30 Rue Debelleyme
SŌMA
Lovers of Japanese food will be well placed at SŌMA, where small plates make for a tapas-style dining experience. Watch the chef at work at the centre of the restaurant while sipping one (or more) of a dozen Sakes on offer.
13 Rue de Saintonge
Elmer
From the guys behind the wonderful Verjus - featured in our guide to the First Arrondissement of course - Elmer sees chef Simon Horwitz whipping up delicious seasonal creations which often draw on their amazing barbecue and rotisserie...
30 Rue Notre Dame de Nazareth
lstr
Is it a restaurant? Is it an oyster bar? Is it a cocktail bar? Yes, is the short answer. 
41 rue Notre Dame de Nazareth
Merci
When you want to shop and grab lunch, it's good to know you can do it all under one splendid roof. There's a lovely cosy book-store café here, as well as a funky basement cantine serving the freshest lunches and juices, and the cinema café just next door. 
111 Boulevard Beaumarchais
Les Enfants Rouges
This market (first opened in 1615) pairs fresh produce stalls with amazing dining options from all over the world, so you can opt for Italian, Moroccan, Japanese, Lebanese...
Trois Fois plus de Piment
A Sichuan restaurant with delivery and takeaway options, as well as lovely indoor seating for noodles, soup, raviolis and more. 
184 Rue Saint-Martin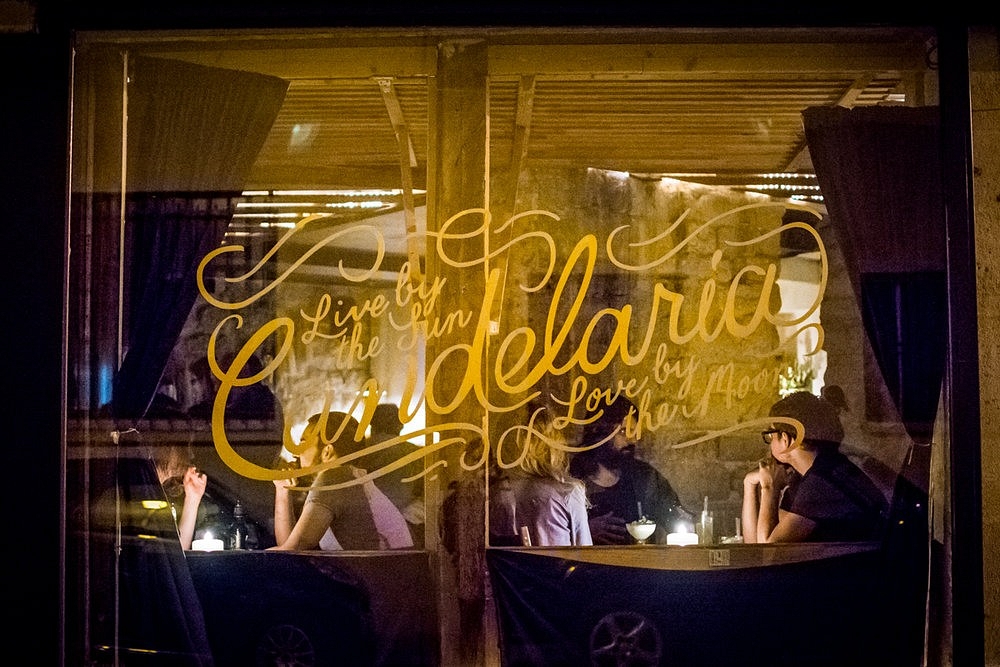 Bars
Le Barav
Order a glass of wine and a charcuterie or cheese plate and while away the early hours of the evening at this friendly wine bar by the team behind the nearby resto, L'Aller Retour. 
6 rue Charles François Dupuis
Candelaria
One of Paris' first speakeasies, Candelaria opened in 2011, hidden away beyond an unmarked door at the back of a tiny taqueria. The first address of Quixotic Projects - whose other hotspots include Glass, Le Mary Celeste and Hero, Candelaria is a staple of the Paris cocktail scene. Low-lit, sultry, you'll find a pretty young and trendy crowd beyond that door.
52 rue de Saintonge
Le Mary Celeste
Just around the corner from Candelaria lies Le Mary Celeste, with its laidback vibes, oysters and excellent cocktails. 
1 rue Commine

Little Red Door
A secretive little bar with excellent cocktails. Arrive at opening time to avoid a queue. 
60 rue Charlot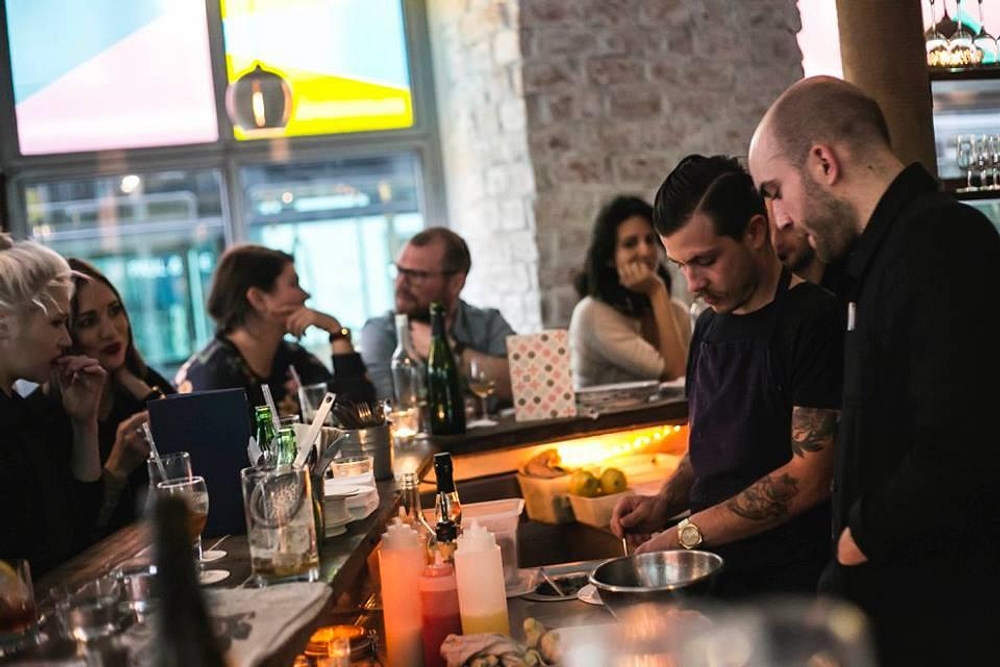 Coffee
You'll find all these and more in our Handy Map of the Best Coffee in Paris, just here.

Broken Arm
Diminutive yet bright and airy, this gorgeous little coffee shop also serves lovely cakes and treats, with views over the lush green park next door.
12 Rue Perrée
Boot Café
It might be one of the smallest coffeshops in Paris but it's certainly photogenic! Once an old shoe repair shop, Boot Café is a staple coffee stop of the Marais serving coffees made with Belleville beans. 
19 Rue du Pont aux Choux
Loustic
Loustic has its sights set on being one of the best espresso bars in the world, so why not pop in and see how they're getting on? To put it mildly, these guys know what they're about. You can indulge your inner coffee geek with the knowledgeable staff or simply enjoy a great brew no questions  asked - your call.
40 Rue Chapon
Strada
This cosy little café is a friendly local spot for a wide range of coffees and healthy wholesome dishes. 

94 Rue du Temple