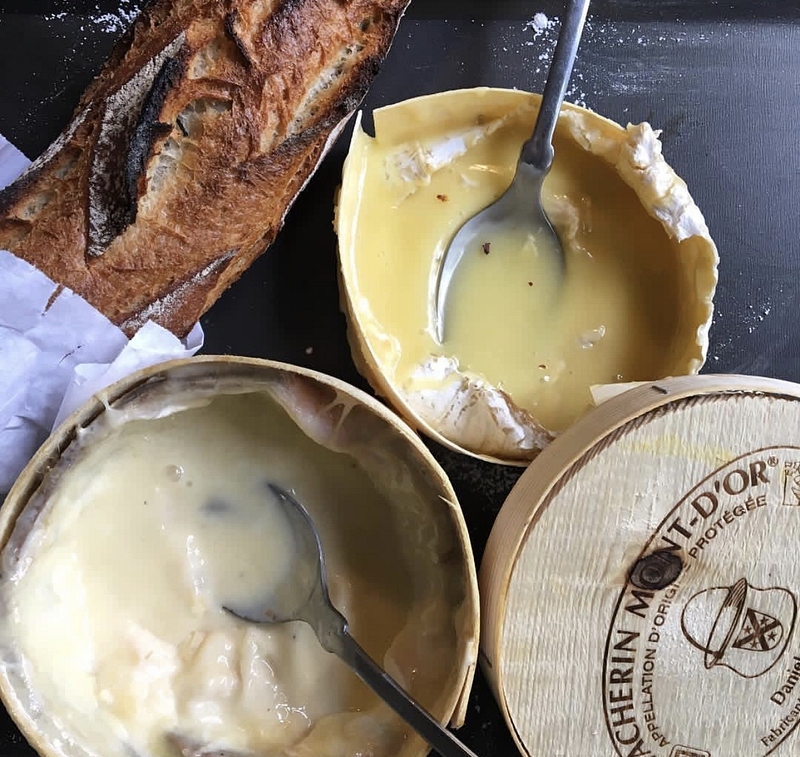 Mont d'Or is, in our opinion, the 'Roi' of French Fromage.  There are many ways to describe this holy grail of fromage : creamy, hearty, molten, robust, silky, gooey…delicate and light are not the first words that come to mind when you are thinking about this festive delight.
David Lebovitz did a beautiful piece several years back and it's a true classic. He describes it best – one of the words he used stuck with us – funky.  It is so fitting, and perhaps one of the few occasions we can use this word in the most endearing manner to describe this gorgeous creation.
We begin to see the little round wooden boxes appearing in 'les fromagers' around mid November. Mont d'Or is really seen as a seasonal specialty which we invite in to our kitchens when the temperature starts to drop, and it is one of the clues that the Holiday season in France is just around the corner.  On a chilly evening in Paris, we enjoy it best warm, heating it really does bring out its robust character so it is the perfect accompaniment to a cold winters night.
Hailing from Eastern France, Mont d'Or is named after the highest mountain in the Haut Daubs province, (Mont d'Or literally translates in to 'mountain of gold') – it is a washed rind cheese, cow's milk cheese.  The fromage was first created in the 18th century to use up the autumn-winter cow's milk, and as an AOP Fromage, the creation process is an exact one.  Only milk from the Montbeliard cows, fed on grass and hay, is used. To add to this, the cows must live at least 700m above sea level and there needs to be lots of them; for just 1 liter of cheese you need at least 7 liters of milk! Before being ready to serve up, the cheese is matured for 21 days and then transferred into its round wooden box, where it ages for another 2-3 weeks.
There is a Swiss version of Mont d'Or but be sure not to get them confused; both versions look similar, but you want to make sure to read the labels carefully before choosing one.  The French version (officially named 'Vacherin de Haut Doubs', not that you'll hear it being called this, as it will most likely just be referred to as Mont d'Or) obtained its AOC status in 1981. You can actually buy both lait cru (raw milk) and pasteurisé (pasteurized) versions, although we always opt for the lait cru.
Hearing the descriptions of Mont d'Or will be sure to set you on a mission to find it: a creamy, oozing texture with scents of leather, pine and hazelnut. Mont d'Or can be eaten at room temperature by the spoonful or with a baguette, but at La Cuisine our favorite is to serve it oozing and warm with a touch of garlic and white wine, with friends gathered all around!