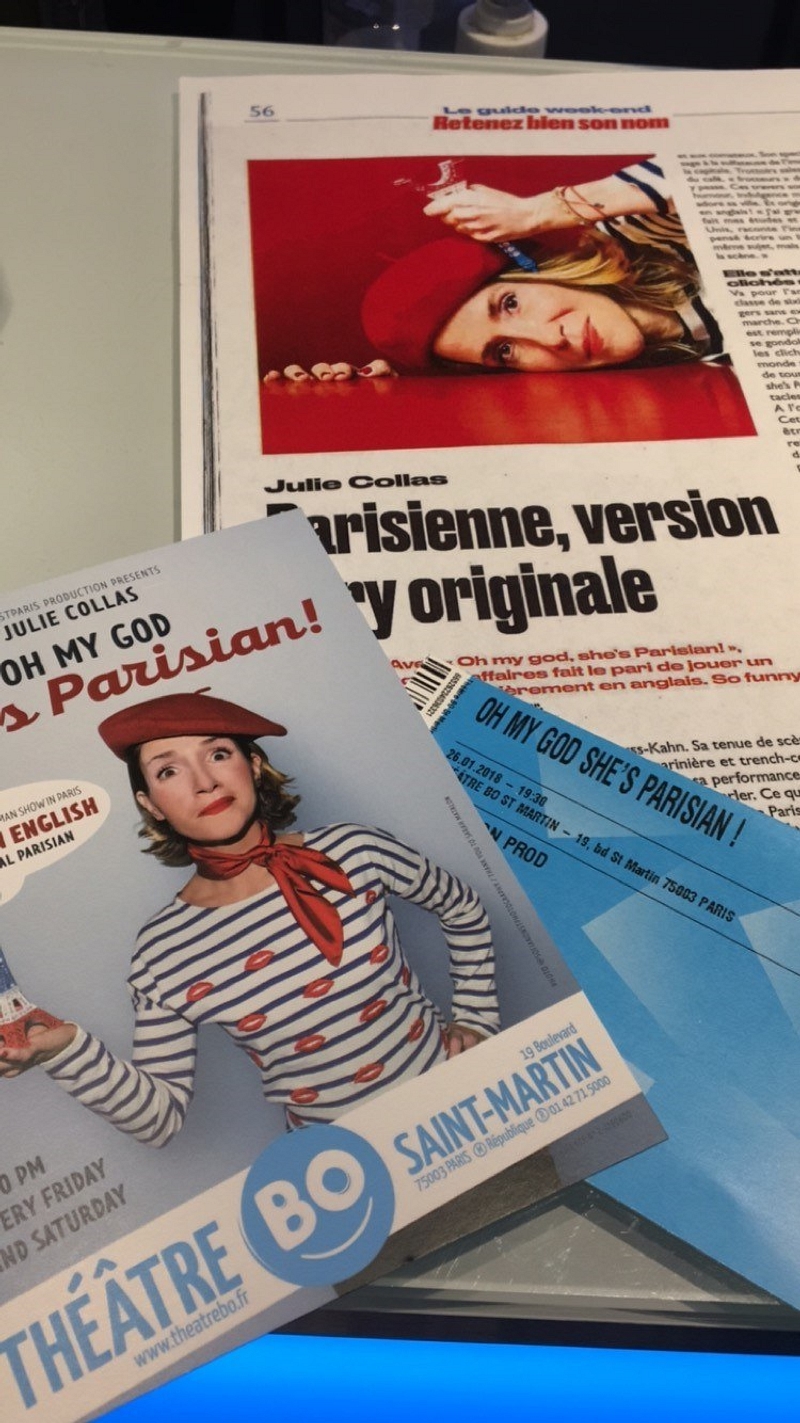 This month's 'Ask a Local' can't get any more local than a born-and-raised Paris gal - Julie Collas.
  
Julie is the Parisienne behind the first one-woman show in Paris – "Oh my god she's Parisian!" which takes to the stage every Friday and Saturday at the Theatre BO Saint Martin. The show changes often as Julie finds new inspiration and anecdotes to share with her audience, always leading to new laughs. 
Once a lawyer by trade, Julie now delivers her comedy show in easy-to-understand English, challenging Parisian stereotypes with her hilarious takes on characters including a waiter, a metro user, a crazy mother in law, and even the French President. If you've ever wanted a unique insight into life in Paris from a real Parisian – this is it! 
We recently attended Julie's show (which is just over an hour) and had a ball, so we wanted to catch up with her to find out what foodie tips she had for us in Paris. 
We attempted to grab a coffee at Buly Café on rue Saintonge, but given its popularity, bar seats were sparse, so we decided to meander around to BiBoViNo (because why have coffee when you can have wine?), the funky little wine address by one of our favourite markets - Marché des Enfants Rouges. This place is entirely dedicated to boxed wine - but don't judge yet! BiBoViNo was started by four sommeliers and wine-lovers, who have made their boxed wines not only affordable but great quality. There are around 24 varietals, so take a seat, order a selection of fromages or charcuterie, and embrace boxed wine in style! 
Now, back to Julie!
Julie Collas
Julie's Neighbourhood
Julie lives in the 17th arrondissement, close to the Arc de Triomphe (if you didn't know, the 16th and 17th are two of the biggest arrondissements in Paris - the 16th actually has two post codes!). It's an area in Paris that tends to be pretty residential, with typical Haussmanian propertries.
Like most Parisians, Julie shops at her local market - in her case that's the lovely Marché Poncelet. If you make your way to this area, you will find that there are a couple of bustling streets full of boutiques that spill out onto the pavement selling everything you can imagine including fresh flowers, seasonal vegetables, the freshest meats from the boucherie, and of course – fromage!

From Law to Laughs
Having spent a number of intense years in the professional corporate world in New York, Chicago and Paris, Julie realised that life is too short - so why not do what you really want to do? Always able to make fun of herself and see the lighter side of things after consulting with friends and family, she saw that her calling was in Comedy! Long story short, Julie decided to push forward, created her own production company, and launched the first one-woman stand up comedy show in Paris! Bravo Julie!  You'll find out much more if you visit her show!
The Sweet Side

She LOVES the Chou Pastry at Liberté Boulangerie and Patisserie, which is in the 17th, the first location being just near the Canal Saint Martin. It has a cool industrial look but with beautiful painted ceilings and marble counters.    
Julie's Signature Savoury Dish
Julie loves to make Petite Salé, a typical 'Grandma dish' that. It's such a heartwarming dish, with green lentils, smoked ham, carrots, onions… it's real comfort food. 
Le Brunch

If you take peek at Julie's Instagram account, you will find that she is either at a dinner party of some sort in to the wee hours (either hosting or attending), or she is checking out spots to eat. She is a big fan of Sunday Brunch so not far from Liberté, you will find her at Kasha in the 10th arrondissement - proclaimed as one of Julie's favourites, just a minute from the Canal Saint Martin. It's cosy and full of natural light, and they do fantastic crêpes (and cocktails!) 
Le Deal

So, the the deal is that we hope you discover Julie's show yourself*. She's one of the hardest working gals we know, and we are a big fan of anyone that is able to share, and of course poke a little fun at herself. Check out Julie's website here!

*worth mentioning that the laughs and language may not be appropriate for younger clients
FYI Addresses Mentioned
Maison Buly -  45 Rue de Saintonge, 75003 
BiBoViNo -  35 Rue Charlot, 75003 
Marché Poncelet - rue Poncelet, 75017 
Liberté -  39 Rue des Vinaigriers, 75010 
Kasha - 9 Rue des Récollets, 75010