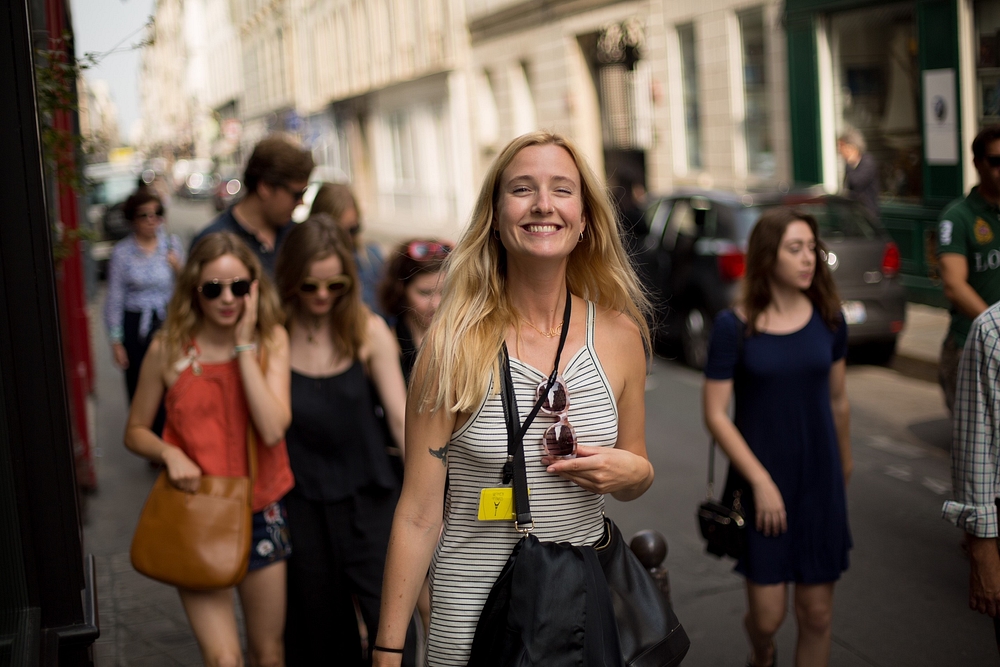 Tell us a bit about you - what brought you to France?
I came to Paris just over four years ago on a bit of a whim and motivated by a desire to perfect my French... now I work almost exclusively in English but I really fell in love with the city and don't plan on leaving anytime soon! It sounds cliché but Paris does really get into you like that. 
Tell me a bit about Women in Paris - what is the inspiration behind it?
My business, Women of Paris, offers walking tours focused on sharing the stories of influential, historical women. I've been guiding for about four years now and two years ago I just got fed up of always talking about men on tours and decided to start creating tours about women instead. On the face of it, Paris has a very male dominated narrative but once you start digging you discover that there are so many wonderful women who played a role in shaping Paris too. My aim is to shed light on these women and their stories and hopefully bring more equality to the perception of Paris in the minds of visitors and Parisians alike. 
Can you share a little bit about one of your favourite "Women of Paris"?
Currently I'm really into Mata Hari! She was an exotic dancer who became a sensation during the Belle Époque. Despite her pretty dark complexion she was actually Dutch and had no real formal dance training apart from spending some time living in the Dutch East Indies where she was exposed to Indonesian culture and traditional dancing. 
She moved to Paris and completely reinvented herself as an exotic dancer and artist's model. She understood the French obsession with all things oriental at the turn of the century and used it to her advantage to become an almost overnight success. I'm completely in awe of her resilience (she had a tough life!) and her ability to turn her life around - for me she embodies the vibrant and carefree spirit of the Belle Époque. She's also a complicated character and her story reveals a lot about the struggles of women for independence in the early 20th century. It's no wonder she's going to feature in my newest tour about women of the Parisian stage!

What neighbourhood do you live in and what do you love about it?
I live in the 11th arrondissement in a wonderful neighborhood with my 10-month-old puppy, Frida. I love the 11th for its unpretentious vibe, great cafés and good markets. I'm also a stone's throw from Le Marais, Paris' treasure trove of cuteness. 
What's your favourite market and what do you like to buy? 
I love the Bastille market especially if you get there early and have the best choice of the stands. I like to go with friends and eat oysters and drink wine (ok, we're usually not there that early..) and then grab some cheese and fruit for a picnic after. We once met a film actor who was manning an oyster stand. Paris is full of surprises like that. 
What are your favourite 'after work' spots in your hood (bars, restaurants)…if there is any place that you want to give a shout out to, please let me know where to link (website, etc)
I have to say I do spend a lot of after work hours at Martin Boire et Manger, not only because it's my incredibly local local (I live a few doors down) but also because the beer is cheap, the food is great and the staff are all exceptional. I like to go to a few places up the canal as well and Muscavado for a coffee and cake sometimes. 
Sweet or Savoury? And what is your favourite pastry or savoury?
It's tricky but I would say definitely sweet. I'm in obsessed with the chou a la crème from Popelini. Whipped cream is my biggest weakness. 
Find and Follow Women of Paris at the links below!