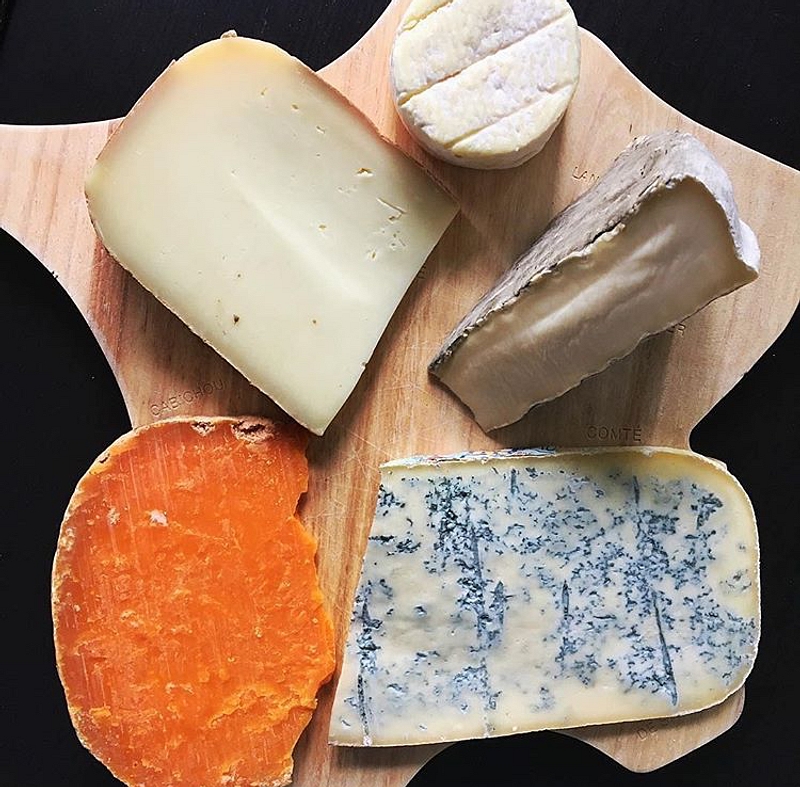 First rule is : There are no unbreakable rules for what should (and shouldn't!) feature on a cheese platter - that's what makes eating cheese so much fun. Having said this we know structure and guidelines are important, so here are a few to help you put together a plateau that will not only look beautiful but taste magnifique!
However, If you don't remember anything else, just remember the cardinal rule of : if you're serving a cheese course as part of a meal, here in France it should be served at room temperature, after the main course, before the dessert.
The Basics
Try to buy your cheeses at the last possible moment and ideally, choose a boutique where you have a chance to sample the cheese before you buy it. Choosing fromage is just as important as choosing products on the Market, do it with care and involve your Fromager in the selection. 
Things to ask / tell your Fromager :
- When you plan to enjoy the fromage, 
- What puissance (intensity) you enjoy them, 
- What is in season*, 
- What their suggestion is on how to progress eating them! 
If you are nervous about what to select, for the first go around, you may opt for those cheeses which have been awarded AOC or AOP status (take a look at our piece on labels here) - this means the cheeses you choose will have been held to rigorous levels of quality in both their production and presentation. If you do have cheeses in the fridge, remove them at least one hour before serving to give them a chance to reach room temperature before you serve them.
*yes indeed, there is a season for everything! Be sure to check back in, we are going to do another piece on this.
The Plateau
As a friend of ours never fails to remind us, "We eat with ours eyes first." The presentation of your cheeses should have the whole table saying oooohh with anticipation - so whether you choose something trendy like a chic slate, a rustic wooden board or a sleek marble platter, make sure your cheeses are beautifully presented to show off the thought you put in to them. A few ideas for you to play :
- Ensure a variety of milks : Vache (cow), Chévre (goat), Brebis (sheep). In most fromageries there are indications of the milks via little photos of the animals, etc.
- Try to ensure a variety of shapes, colours and textures : hard pressed, soft, washed rind, bleu, etc.

- Organise and present your plateau in a progression of tasting (mild to strongest), or mabye via shapes (smallest to largest), or by color, etc.
- Why not decorate your plateau with a few herb sprigs, wild flowers or seasonal leaves?
The Extras

Some cheeses pair beautifully with just a little extra punch of flavour. Dried figs, walnuts or paté de coing (quince) add a lovely je ne sais quoi to many cheeses and make them even more moreish (as if such a thing were possible!). A purist will enjoy Fromage toute seule (with nothing!), but it is very common of course to pair your cheeses with fresh, crusty bread rather than crackers or biscuits, to better appreciate the textures and flavours of your cheeses.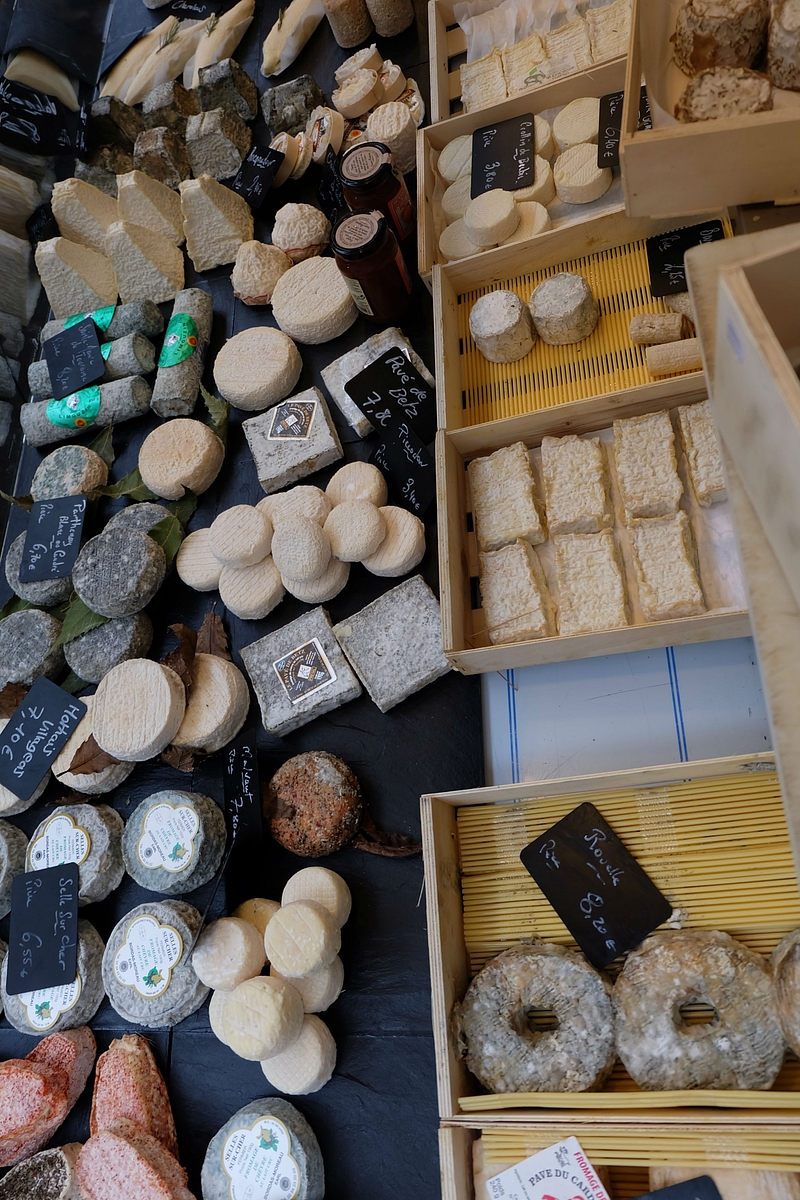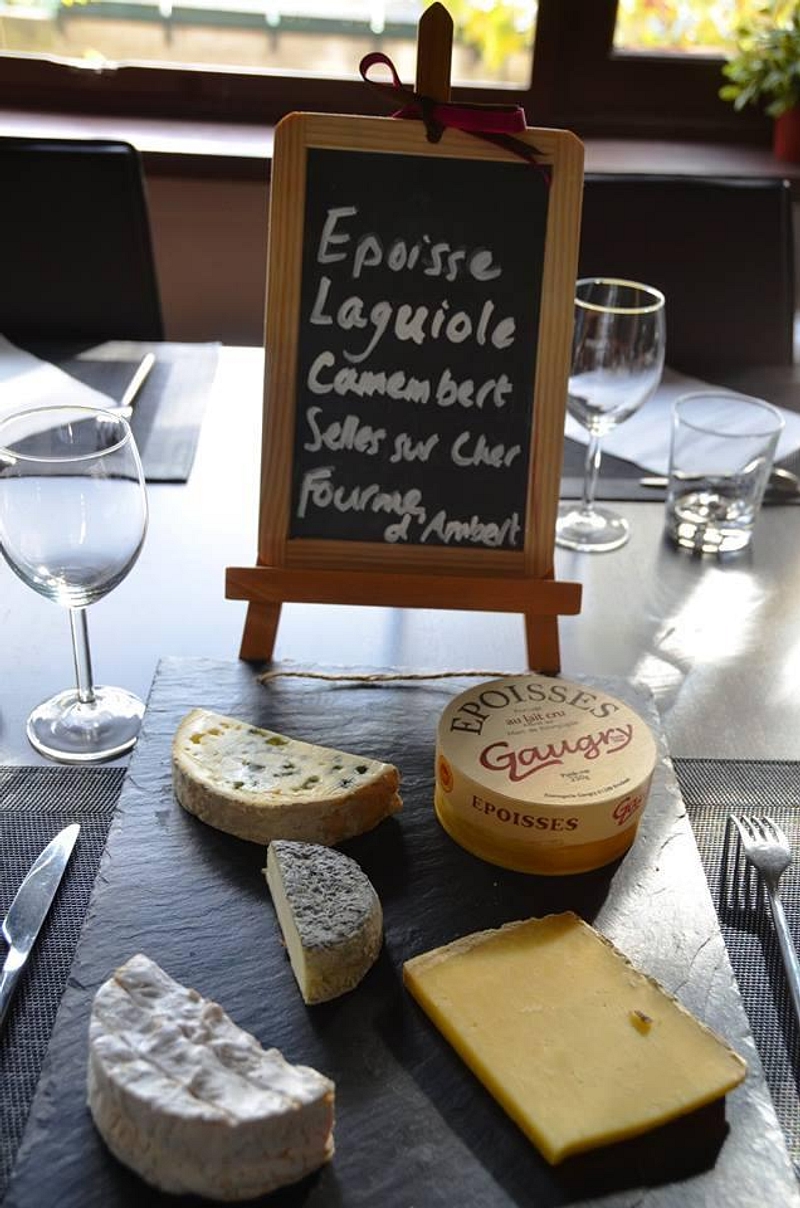 The Main Event(s)
Remember, one good chunk of cheese is better than a few small pieces that might dry out quickly or not go as far. Logistically, you're looking to have between 50 and 55g of cheese per person in a variety of textures, milks (cow, sheep, goat) and strengths, to give a diverse medley of cheese experiences. In this way, everyone - from the conservative cheese eater to the blue-cheese lover - will be satisfied.  A lovely French tradition is to buy the favorite cheese of your dinner guest, to let them know that you have thought about them.  Before serving, you might want to cut a slice of some of the cheeses to help your guests know how to continue cutting - for example, a wedge for a cylindrical cheese like a Camembert.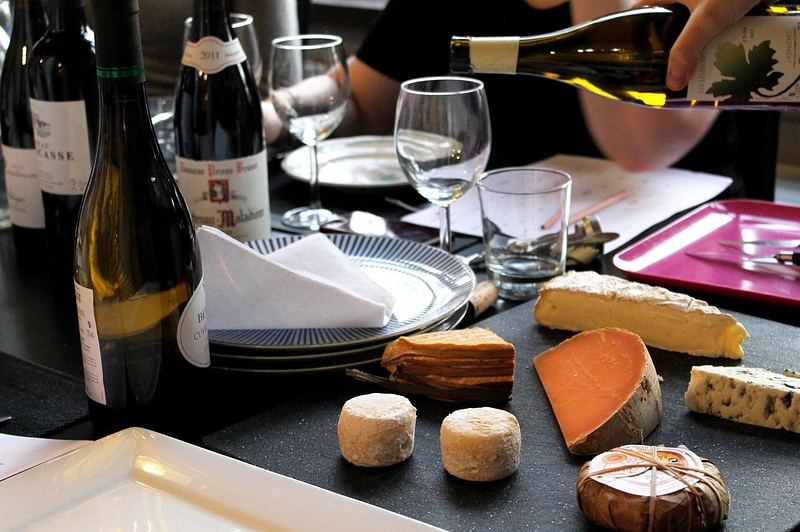 The Wine 

Of course, we can't talk about cheese without talking about wine! First thing's first, don't be intimidated by the prospect of having to "pair" cheeses with particular wines - while yes, there are wines and cheeses that really work together, there aren't any unbreakable rules that will have your guests gasping in horror! The point of cheese is to savour all those flavours while sipping a glass of wine. That being said, here are some general guidelines. Fresh cheeses, soft cheeses and those with a bloomy rind pair very well with dry, fruity wines and ciders. Washed rind cheeses really need a stronger, aromatic white wine to hold up to their flavour. For pressed rinds, go with red wines - the darker the cheese, the deeper and richer the wine can be. Blue cheeses pair wonderfully with sweet dessert wines or aromatic whites, the sweetness of which perfectly slices through the strong flavours of blue cheeses.  When in doubt, pair region with region - after all, what grows together goes together!