This is the best known washed-rind cheese in the whole of France. As far as cultural stereotypes go, Frenchies from outside this northern area of the country like to joke that those living there love this cheese so much that they'll even eat it for breakfast with their morning cup of coffee! To understand this better a French film to watch would be Bienvenue chez les ch'tis...
First off and back on topic, how to pronounce its name (these tricky French spellings never get easier!): MAHR-wahl and this cheese is named after the village where this was originally produced. It is said to have been created by French monks in the later half of the 10th century, and became popular among several of the Kings of the era, so we won't argue with this royal seal of approval. And, of course, it has also gained protected AOP status too making it the only one to be recognised in this way in the north of France...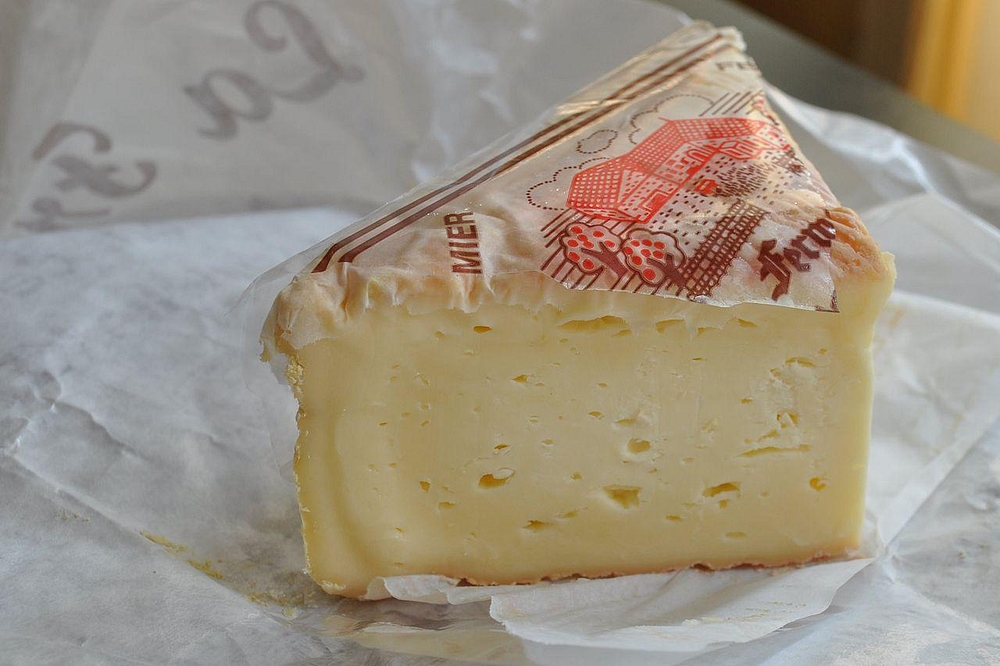 Somewhat unusually, Maroilles can be made with either raw or pasteurised milk (the tendency for most cheese in France is raw milk for a fuller flavor) and undergoes a ripening process of around 5 weeks. 
The manufacturing process begins in earnest once rennet has been added to the milk being used for the cheese, and this is then poured into moulds. The producers have a basic white cheese as their starting point. Next, the newly born Maroilles squares are removed from their moulds before being salted or brined, then covered in a fine natural flora which will develop throughout the ripening process to give the cheese its distinctive flavor and pungent smell. During this process the cheese is stored in special cellars which provide the perfect environment for maturation, with the farmers lovingly checking in on them over a period of two to five weeks to ensure optimum conditions. 
Maroilles has an easily recognisable orangey-red crust with fine lines running across it. Inside the cheese is a soft, pale yellow colour with few holes  and a slightly chalky centre: The unique smell? Well, there's no denying it even if it's wrapped up! It has a lingering flavour beyond the initial creaminess and makes a great addition to a plateau de fromage at the end of a meal. It's at it's best in late spring and across the summer but luckily can be found and enjoyed year round. 
Strong, hearty ales and ciders make an excellent drinking choice to accompany the delicious flavor of Maroilles, and this would have been one of the traditional choice. Additionally, crack open a beautiful bottle of eau-de-vie for an end of dinner tipple that pairs brilliantly. 
Be brave, this is a cheese with a bark much worse than its bite - it's well-loved across the country with good reason! Let us know what you think!