This is far and away one of our favourite events of the year. From mid-July until mid-August, the Parc de la Villette - where you'll also find the futuristic Philharmonie de Paris - becomes an huge outdoor cinema with a vast inflatable cinema screen. 
As the sun sets, Parisians drift onto the grass with picnics, blankets and bottles of wine to set up their temporary pitch and await the night's screening. Others head over to the old market hall to rent a deckchair and a thick red blanket to cosy up in for the duration of the movie - highly recommended if you feel the chill! You can hire a deckchair and blanket for just €7, while the screenings themselves - all 25 of them - are completely free. So it's not only one of the most Parisian summer experiences you can have - it's also a bargain!
This year the festival's theme is "Tomorrow", which is probably why it opened on Wednesday July 17th with Blade Runner 2049! In August you can choose from Wall-E, A River Runs Through It, Snowpiercer, Children of Men, Erin Brokovich and many more. You'll find the complete schedule listed below. 
To get to the Parc de la Villette, take Metro Line 5 (orange) to Porte de Pantin, and you'll see the crowds making their way towards the grass just between the Philharmonie and the large market hall with its red neon sign. What's more, there are some lovely bars and restaurants to enjoy before the movie starts - La Petite Halle is a great stop, with an indoor-outdoor vibe, great cocktails and easy-going dining. 
The festival closes on Sunday August 18th with a cult classic - the original Bladerunner - adding a lovely cyclical aspect to this film festival.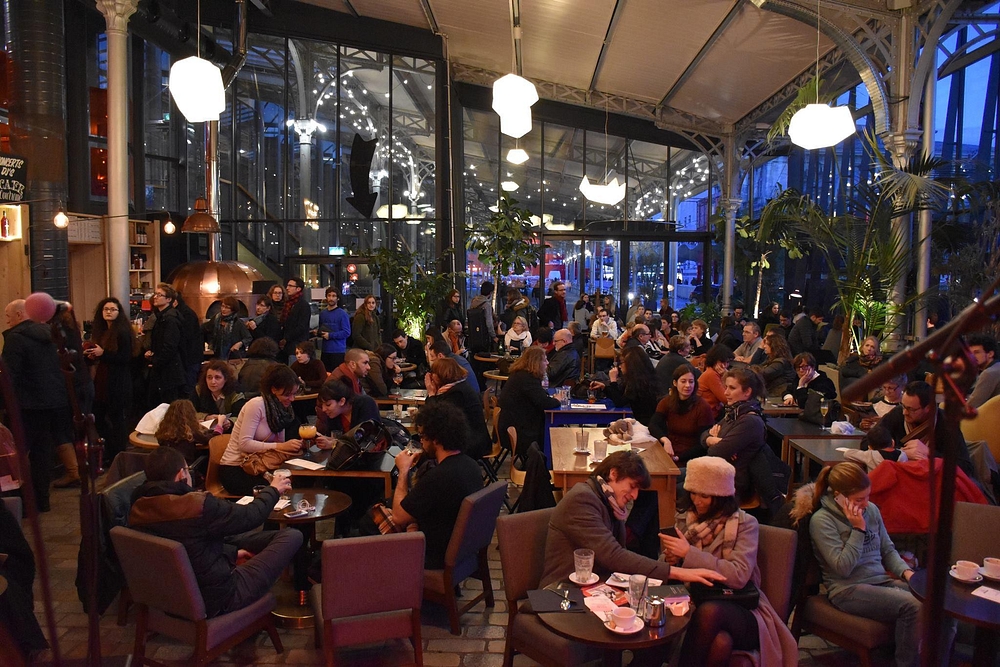 The Full Schedule
Wednesday July 17, 2019:
Blade Runner 2049 - Denis Villeneuve - 2017 - 2h13
Thursday July 18, 2019:
Arte goes karaoke mode
Friday July 19, 2019:
Tomorrow - Cyril Dion, Mélanie Laurent - 2015 - 1h58
Saturday July 20, 2019: Kids movie day 
Ponyo - Hayao Miyazaki - 2009 - 1h41
Sunday July 21, 2019 :
Jeremiah Johnson - Sydney Pollack - 1972 - 1h50
Wednesday July 24, 2019 :
Bloody Milk - Hubert Charuel - 2017 - 1h30
Thursday July 25, 2019 :
The Red Turtle - Michael Dudok de Wit - 2016 - 1h21
Friday July 26, 2019 :
Her - Spike Jonze - 2014 - 2h06
Saturday July 27, 2019 :
Just Before Losing Everything - Xavier Legrand - 2012 - 30 mn
Gattaca - Andrew Niccol - 1998 - 1h46
Sunday July 28, 2019 :
Modern Times - Charlie Chaplin - 1936 - 1h23
Wednesday July 31, 2019 :
The Rendez-Vous of Déjà-Vu - Antonin Peretjako - 2013 - 1h28
Thursday August 1, 2019 :
Captain Fantastic - Matt Ross - 2016 - 1h58
Friday August 2, 2019 :
Snowpiercer - Bong Joon-Ho - 2013 - 2h06
Saturday August 3, 2019 :
La Fugue - Jean-Bernard Marlin - 2013 - 22 mn 
Wall-E - Andrew Stanton - 2008 - 1h37
Sunday August 4, 2019 :
A River Runs Through It - Robert Redford - 1993 - 2h03
Wednesday August 7, 2019 :
The Congress - Ari Folman - 2013 - 2h03
Thursday August 8, 2019 :
Oslo, August 31st - Joachim Trier - 2012 - 1h36
Friday August 9, 2019 :
Isle of Dogs - Wes Anderson - 2018 - 1h42
Saturday August 10, 2019 :
Corps perdu - Lukas Dhont - 2012 - 17 mn
Ready Player one - Steven Spielberg - 2018 - 2h20
Sunday August 11, 2019 :
Lost Horizon - Frank Capra - 1937 - 2h01
Wednesday August 14, 2019 :
The Gleaners and I - Agnès Varda - 1999 - 1h22
Thursday August 15, 2019 :
Erin Brockovich - Steven Soderbergh - 2000 - 2h11
Friday August 16, 2019 :
Children of Men - Alfonso Cuaron - 2006 - 1h50 - forbidden to people under 12
Saturday August 17, 2019 :
Je sens le beat qui monte en moi - Yann Le Quellec - 2012 - 32 mn
Under the skin - Jonathan Glazer - 2014 - 1h48
Sunday August 18, 2019:
Blade Runner - Ridley Scott - 1982 - 1h57