When the weather starts to get chilly in France we are all about comfort food, which but of course, involves cheese! Tartiflette is a traditional dish from the Savoie and Haut Savoie region of France. This gratin dish is made with sliced potatoes, onions, a healthy gulg of white wine, and lardons, then topped with an entire round of Reblochon cheese that's been cut in half before bring placed in the oven.
The word tartiflette is probably derived from the regional word for potato, tartiflâ " and was actually developed in the 1980s by the Union Interprofessional Reblochon to promote sales of reblochon.
Reblochon gets its name from the French verb reblocher, which literally translates to 'pinch the cow's udder again.'  Yes, here in France, we actually have multiple verbs for milking cows! Back in the 14th century, farms were taxed on how much milk their cows would yield.  Therefore, it became a regular practice for farmers to hold back a bit of milk and avoid high taxes.  They would then reblocher their cows and use the creamy, rich leftovers for themselves.  Today, Reblochon remains just as rich as in the past, with a matière grasse, or fat content of 45%.
If you're having trouble finding reblochon, raclette or a strong triple cream brie should do the trick!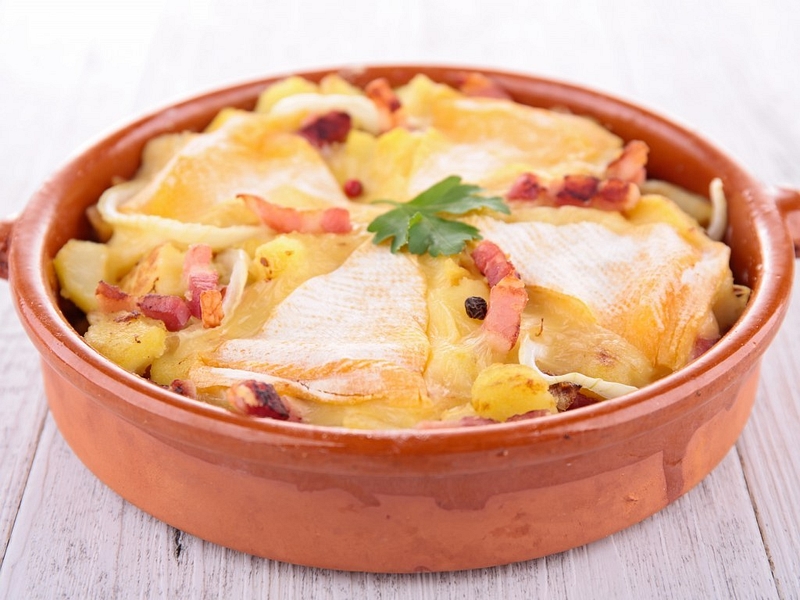 Tartiflette au Reblochon
30g butter 
1 kilo baking potatoes, peeled and sliced 
200g lardons fumé (or smoked bacon, chopped) 
200g white onion, chopped 1 round of reblochon, cut in half salt, pepper 
A healthy glug (or two!) of white wine (about 60ml or so!)
Preheat oven to 180°C (375°F). Butter a casserole dish and set aside.
Add the sliced potatoes to a pan of salted boiling water cooking until just tender.
In a large saucepan, melt the remaining butter and sauté the lardons until crispy (about 10-12 minutes). Transfer to a plate topped with kitchen paper. Add the chopped onions to the pan and cook until translucent.
Add the wine to the pan, stirring until slightly reduced. Scoop out the potatoes and add to the sauce stirring to coat.
Layer half of the potato mixture into the casserole dish, sprinkle with some of the lardons, and then top with one half of the sliced Reblochon. Repeat the layers, ending with the other half of Reblochon and the remaining lardons (in the picture above the Reblochon was cut into stripes to better fill the dish). Bake about 20 minutes until golden brown and bubbling.
Tartiflette is great with a simple salad with a Classic French Vinaigrette.
Bon Appetit!