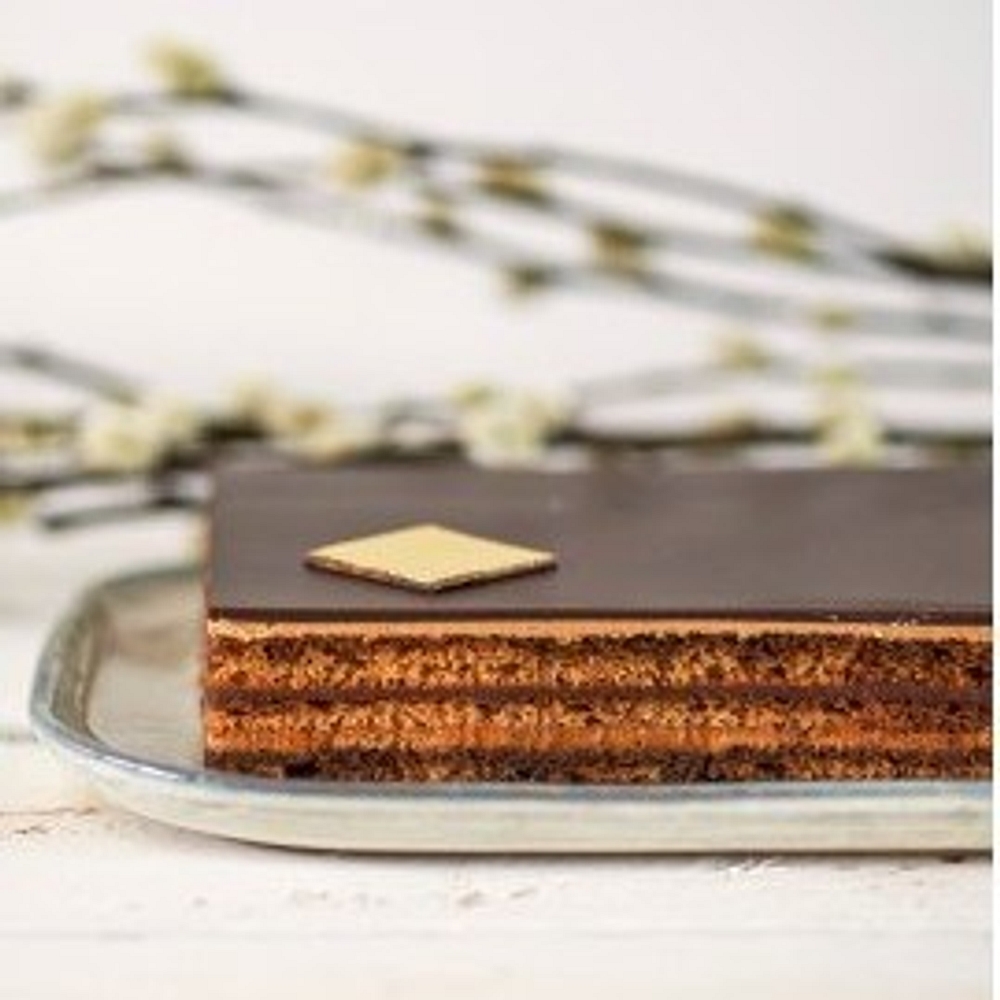 Perhaps one of the most technical, elaborate cakes in the French repertoire, the Opera is in a league of its own. It's a cake defined by its thin layers of various delicious components - almond sponge sponge (known as Joconde) soaked in coffee syrup, buttercream, ganache, and topped with dark chocolate icing. It's a thing of beauty, and if you're a chocolate and coffee fan, you're going to love it. 
The Opera is actually a relatively recent addition to the Paris pastry scene, unlike the ancient macaron or the honey-coated canelé. It was only in around 1955 that the Opera was first created, although its grand name might have tricked a few people into thinking it's been around a lot longer!
For its creator we must look to Cyrique Gavillon, a pastry chef extraordinaire at a rather famous pastry institution - Dalloyau. His creation took cake to a whole new level; a decadent, richly flavoured dessert in a rectangular shape. 
Known for its avant-garde creations, Dalloyau opened its "Maison de Gastronomie" in 1802 on the rue du Faubourg Saint-Honoré, but by that point they'd already been supplying Versailles with delectable treats since 1682! The original Paris boutique remains, still showcasing Gavillon's ingenious creation to this day, though these days the recipe calls for 70% cocoa chocolate blend from Venezuela and Italian roast coffee, which gets our vote. 
Why is it called an Opera? Good question! The legend goes that when Cyrique's wife, Andrée, saw the finished article she said it reminded her of the stage at the Opera Garnier - the name stuck! 
There are competing theories of course, as there always seem to be when it comes to the invention of a classic. Gaston Lenôtre, another famous name still found in the Paris pastry world, claimed the discovery in 1960. But then perhaps it was Louis Clichy - a famed pastry chef who claimed to have unveiled the Opera cake - his newest creation - at the Paris Culinary Exhibition of 1903? All we know is that Dalloyau is usually the establishment credited with the Opera - but as we know, history is written by the victors.
You'll find Dalloyau: 101, rue du Faubourg Saint-Honoré, Paris 75008