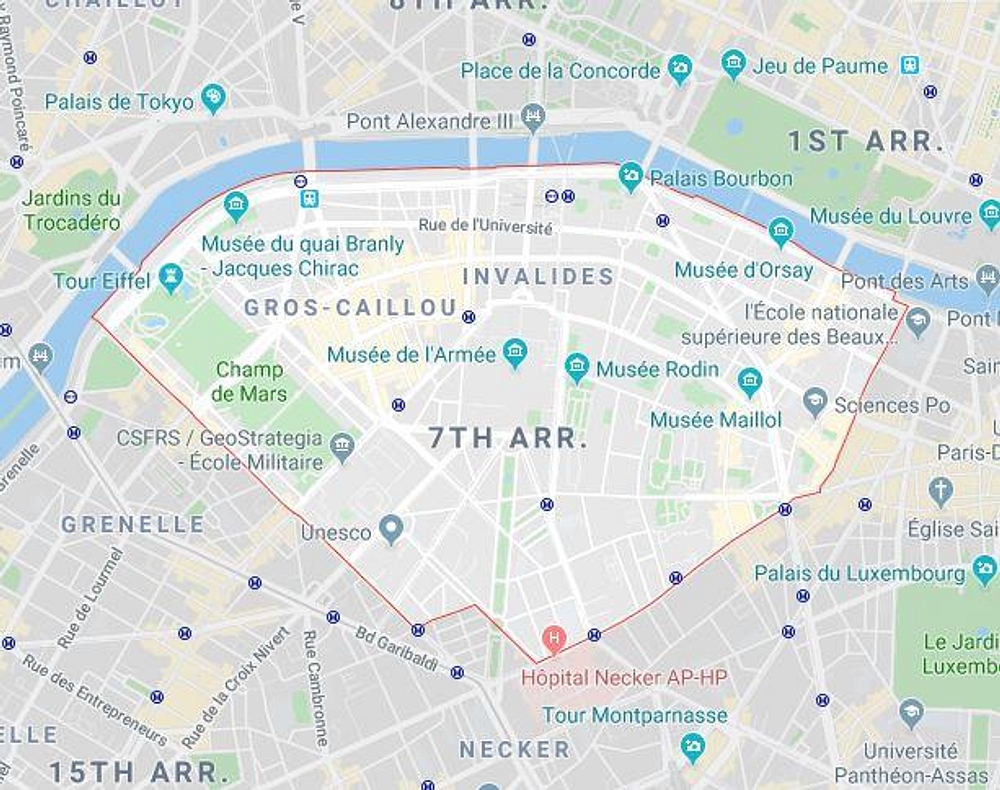 The Seventh : An Overview
There are so many icons in the Seventh Arrondissement it's easy to forget there are some other fantastic things to discover too - like food and cocktails and coffee! While it has to be said that the Seventh is not a go-to arrondissement for gastronomy (unless you're in search of some high-end Michelin Star action) there are still some gems to pick out if you're staying in the neighbourhood! 
Are we missing something? Let us know! We love receiving your recommendations and we update our guides on a rolling basis, meaning we welcome suggestions with open arms! Feel free to contact us with your own discoveries in Paris, we'd love to hear from you!
A short disclaimer! As we all know, dining out is a very personal, nuanced affair, and our humble little list featured here - or indeed in any of our content - unfortunately cannot guarantee a spectacular, knock-your-socks-off, "Dear Diary" dining experience - as much as we would love it to! While we certainly aim to inspire, as always we recommend using these suggestions merely as a jumping-off point for your own Paris research. So with that out of the way - on we go!

Restaurants
Chez l'Ami Jean
A long-standing staple of the 7th thanks to its inventive bistronomie cuisine by chef Stéphane Jégo. Save space for the rice pudding. 
27 rue Malar
La Fontaine de Mars 
Opened in 1908 on the lovely rue Saint Dominique, this classic Paris bistro serves all the classics - cassoulet, foie gras, confit de canard, andouillette, filet de boeuf...
129 rue Saint Dominique
Pottoka

For a little Basque influence, Pottoka leans towards the fancy in what is - let's face it - quite a fancy side of town. A great option for an upscale yet affordable lunch with style.
4 rue de l'Exposition  
Plume 
A tiny little restaurant with an understated sense of style, Plume is another great spot for an elegant lunch with imagination, beauty and flair.   
24 Rue Pierre Leroux
Bistrot Belhara
Sometimes, you just need a refined neighbourhood option with a cosy feel and high-quality ingredients. This might just be it. 
23 rue Duvivier 
Something a little fancy...
Arpège
This address needs little introduction - Alain Passard's celebrated hymn to the natural goodness of vegetables. 
84, Rue de Varenne
Divellec
With a grand location overlooking the Esplanade des Invalides, this elegant, modern fish restaurant has the son of triple Michelin Star chef Bernard Pacaud at its helm -Matthieu Pacaud. So you'll be in very good hands while you enjoy the very good food.
18, Rue Fabert
Sylvestre Wahid**
A modern, luminous restaurant (illuminated further by its two Michelin Stars), Sylvestre Wahid is not your stuffy gastronomic experience but a luxurious taste adventure.  
79 Rue Saint-Dominique
Loiseau Rive-Gauche*
Refined, elegant Michelin Star dining - it might stretch your wallet but it might just be worth it...  Expect fascinating, thought-provoking tasting menus. 
5 Rue De Bourgogne
Le Jules Verne
Of course we couldn't mention the 7th without featuring Le Jules Verne, Frédéric Anton's restaurant atop the Eiffel Tower. If you can make peace with the price tag, you're promised something very special.
The Eiffel Tower 
Bars
l'Eclair
On the lovely rue Cler, this cosy bar with laidback beach-house vibes serves great cocktails in a laidback low-lit setting. Opt for the terrasse if you want to watch the world go by. Also available for breakfast, brunch, lunch, dinner...
32 rue Cler  
Au Sauvignon
Great for a glass of wine and some charcuterie, this classic little neighbourhood bar and restaurant is a local favourite. 
80, rue des Saints-Pères
Fitzgerald 
This may be a restaurant but behind a hidden-ish door you'll find a great cocktail bar for pre-dinner drinks, speakeasy style. Speaking of which, if you're looking for a map of Paris' speakeasies, you'll find one amongst our Handy Maps.
54 Boulevard de la Tour Maubourg
Gatsby
Speaking of speakeasies, Gatsby is another drinking den with some secretive style, just a few minutes from the Eiffel Tower. 
64 avenue Bosquet 

Rosa Bonheur sur Seine
Why be by the Seine when you can be on it? This sister bar to the famous Rosa Bonheur in the Buttes Chaumont is a huge barge that's great for early drinks or late night parties. Also a good lunch spot when it's a little quieter!
Quai d'Orsay, Port des Invalides 
Honourable Mentions
La Grande Epicerie
Of course not all food addresses are restaurants! Explore your gastronomic side with an adventure in the Bon Marché's sister epicerie, with everything your heart desires.  
38 rue des Sèvres
Lastre Sans Apostrophe
A master of all things Paté, this amazing boutique is the work of Yohan Lastre - check out his creations on Instagram right here.
188 rue de Grenelle
rue Cler
One of the most popular streets in the 7th, rue Cler is a pedestrianised street with everything you need to fill your Paris kitchen, from fromageries and boulangeries to tea shops, cocktail bars, bistros, gift shops and more. 
rue Saint Dominique
Another major artery of the 7th arrondissement, rue Saint Dominique has more of an upscale shopping atmosphere to it with plenty of boutiques, as well as cafes, bars and bistros to punctuate your retail therapy. 
Coffee
Coutume 
One of the big names on the roastery circuit, Coutume's beans appear in restaurants and cafés across the city - but nowhere are they more at home at Coutume's own café! Industrial chic and with plenty to recommend it - coffee and foodwise - this is an oasis of good coffee in a pretty barren coffeescape!
47 Rue de Babylone
Bleu Olive
Owned by a group of friends, this family-friendly café also doubles as a little boutique for lovingly selected epicerie items and lovely bits-and-bobs. Homely and chic, it's a café with good vibes just a few minutes' walk from the Eiffel Tower. 
184 Rue de Grenelle
Zia
Open seven days a week, this coffee shop and casual café is a coffee and brunch highlight of the 7th.  
22 avenue de Tourville