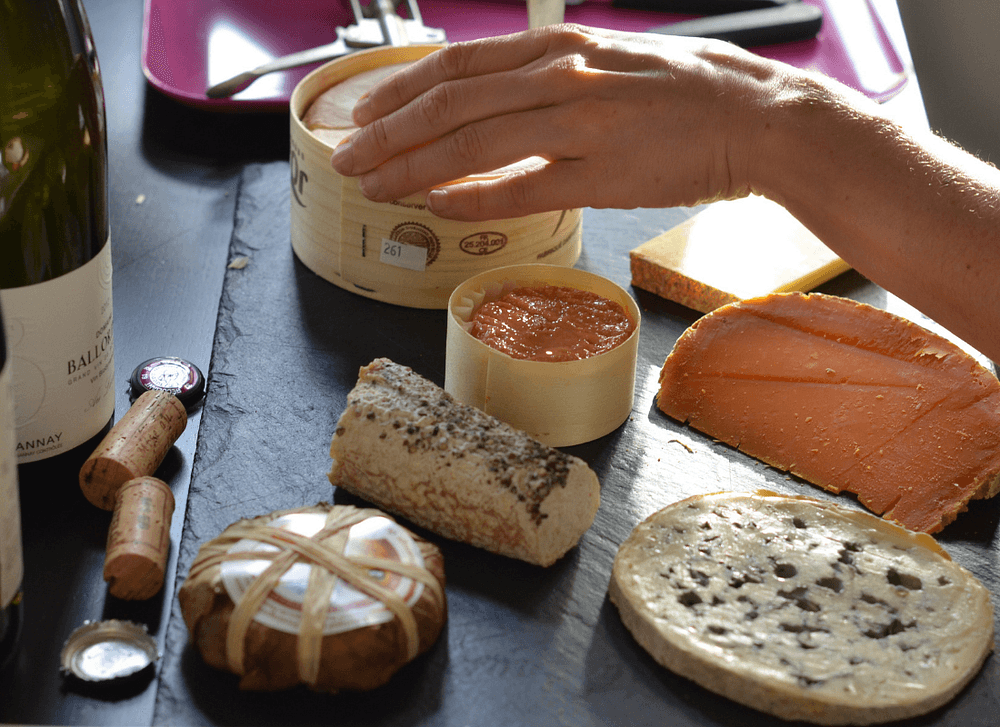 One of our first stops au marché is évidemment for le fromage and naturally, we want to talk about it. To identify your favorite stand, you may see a sign that says : Fromagerie, or you may see a sign that says Crèmerie - so keep an eye out for both.
It's easy to get overwhelmed by just the sheer abundance of cheese varieties produced in France, and it can be hard to narrow it down! Keep in mind these points when you are shopping for Fromage : 1) Like all products, Fromage is seasonal too, so ask what is it in season, 2) For some cheeses (usually the softer varieties) they will have different variations of maturity. Don't hesitate to tell them how strong you like your fromage, and when you plan on eating it - most likely they will pick a different fromage for eating today, than eating in two days, 3) If you are building a fromage plate, opt for different milks, textures and colors...and let the fromager advise you on the order to enjoy them. Moral of the story, let the experts do what they do best, they will be ever so happy to advise!
Just as a little refresher, Fromage in France is traditionally made from three different milks: cow, goat and sheep. While the cheese display might look stupendously packed and not particularly newbie friendly, most fromagers will group each seperate milk type together. To bring a little order to things, here's a little 'Where is Waldo' trick using well-known cheeses that you probably already know and love (don't worry though, if you don't recognize them, there are labels, phew!) : find the Camembert for the cow's milk section, the Roquefort will lead you to the sheep's milk and lastly the Crotin is your cue for Goat's milk. Still with us?
Now that you can roughly sort each milk section, here comes the elephant in the room: what's the difference? Well here's the thing.. it's a loaded question. With well over 250 to 1600 varieties of french cheeses, there are a lot of factors that affect the taste: the breed, what they are eating, how the cheese is processed, the aging process etc.. but worry not! There is a general rule of thumb for the taste of each milk type. Goat Cheese contains a protein that produces small curds with a texture that crumbles easily. They are distinctly whiter in color compared to the other milks from the high levels of Vitamin A. It's characterized as a light cheese that is overall bright, slightly acidic and delightfully tangy. Young goat cheese is soft, creamy and highlights the tanginess of the milk, and as it ages, the texture becomes more crumbly and earthier in flavor. Sheep Cheese contains a high fat content which gives it its buttery, nutty, rich flavor. Need we say more? And if you like gamey, young sheep cheese would be the perfect choice for you! The last of the herd is Cow Cheese - an easy crowd pleaser. Out of all three milks, while there is a slight earthiness, cow's milk is mild, neutral and doesn't have a distinct flavor that would ruffle anyone's feathers - making it an easy cheese to like and enjoy with even the pickiest of eaters.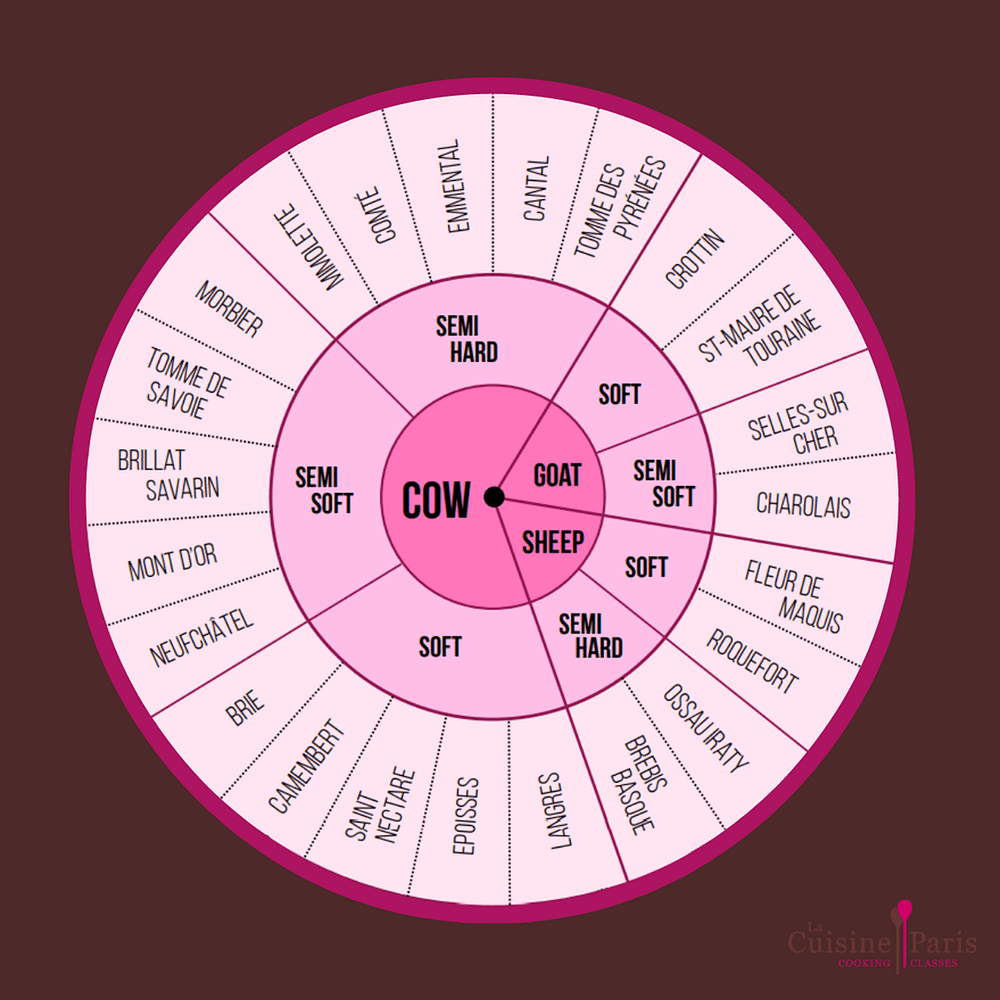 Another way to pick your fromage is by your preference in texture, whether you like them soft, semi-soft or hard. As most people don't buy a whole wheel of cheese at a time (although we would be quite capable of it!), your fromager will use the 'open' cheeses as their display fromage to show off their inner goodness - giving you a good indication of the texture. If you are a fan of the delightful one-slice-and-it melts-on-your-plate kind of cheeses, be on the lookout for the sunken small round cheeses sold en entier (as whole) for obvious gooey reasons.
Here are some of our favourite cheeses for you to try!
If you like soft cheeses: Saint-Félicien - perfect choice for the lovers of the creamy rich fromages! This cow cheese has an earthy, mushroomy, nutty flavour that is best enjoyed between April and September with a chilled bottle of Sancerre or a light, fruity red. Learn more here.
If you like semi-soft cheeses: Maroilles - the best known washed-rind cheese in the whole of France! It has a lingering flavour beyond the initial creaminess and makes a great addition to a plateau de fromage at the end of a meal. It's at it's best in late spring and across the summer but luckily can be found and enjoyed year round. Learn more here
If you like hard cheeses: Comté - a popular favorite and found in every french household at any given time! We recommend tasting Comté at different stages in the aging process (12, 24, 36 months - you can even find 48-month aged if you are really keen!) to fully understand the incredible evolution of the cheese - from sweet and mellow to rich, strong and salty. There are so many flavor subtleties in this cheese depending on which you buy, but you'll find that buttery, creamy and nutty flavors are always there! Learn more here.
But even after all of this, you still aren't quite sure what to order or just simply want to try something new,  your fromager is there to help! A great way to get a conversation going is to ask what's in season. Eh oui, just like produce, artisinal cheese is ruled by seasonality. A perfect example is the winter cheese: Mont d'Or (If you have ever joined us for our Market Class in the winter months, there's a high probability that you made Mont d'Or au Four with us). 
Here are some essential sentences to know when you're ordering cheese at a fromagerie: 
Quels fromages sont en saison? - What cheeses are in season?
Qu'est-ce que vous me conseillez? - Do you have any recommendations?
C'est quel type de lait le Saint-Nectare? - what type of milk is Saint-Nectare?
Quel fromage va bien avec du vin rouge? - What cheese pairs well with red wine? (FYI depsite common belief, White Wine is often a better pairing than red! But the important things is that you do what you enjoy!)
Est-ce possible de goûter le comté 12 mois? - Can I have a sample taste of the comté 12 mois?
Qu-est ce que vous avez de crémeux/sec/très frais? What do you have that is creamy/aged/very fresh?
J'aimerai un camembert en entier -  I would like a whole camembert wheel.
Un demi du Morbier s'il vous plaît - A half wheel of the Morbier please.
Un quart de Reblochon, merci! - A quarter wheel of Reblochen, thanks!
Une tranche de Beaufort s'il vous plaît - A slice of Beaufort please!
Un peu plus / Un peu moins - A little more / A little less
C'est tout, merci! - That's all, thank you!
----------------------------
** For round cheeses: You can order it whole (en entier), in half (un demi) or a quarter (un quart).
** For Hard cheeses: You can order a slice (une tranche) and before the fromager makes the final cut, he shows you the slice to which you can ask for more or less (un peu plus / un peu moins)!
----------------------------------------------
Interested in all things fromage? Click here to see all of our cheese-related blog posts!
Knowing how to navigate a market can be daunting if you don't know what-is-what and the proper etiquette.. pas de problème! Check out our insider tips and tricks here.
Check out our blog post where we listed all the marchés you can visit in each arrondissement! Find it here.