When it comes to the history of the Baba au Rhum, the first clue as to its origins can be found in the name. The word "Baba" doesn't sound very French, does it? That's because while Baba au Rhum might have been first made in France, it has definite links to eastern Europe - Poland, to be precise. The origins of Baba au Rhum come from the babka - a yeast cake that can still be found in Poland and Ukraine. In fact, Baba means "grandmother", while babka means something more affectionate roughly translating to "little grandmother."' So how did a Polish cake make it to France? And how did it get soaked in rum?
It all comes down to an exiled king. After a turbulent (and brief) reign, Stanislaus I of Poland fled to Alsace in 1709. To cut a long and complicated story short, Stanislaus had swiped the throne from King Augustus II (with the help of the Swedes), and when Augustus returned to reclaim the throne, Stanislaus quite sensibly made himself scarce. While in exile, he had the good sense to marry his daughter Marie off to Louis XV of France. As an exile, he also brought the original version of the babka with him. So it was surely only a matter of time before someone had the good sense to pour alcohol all over it.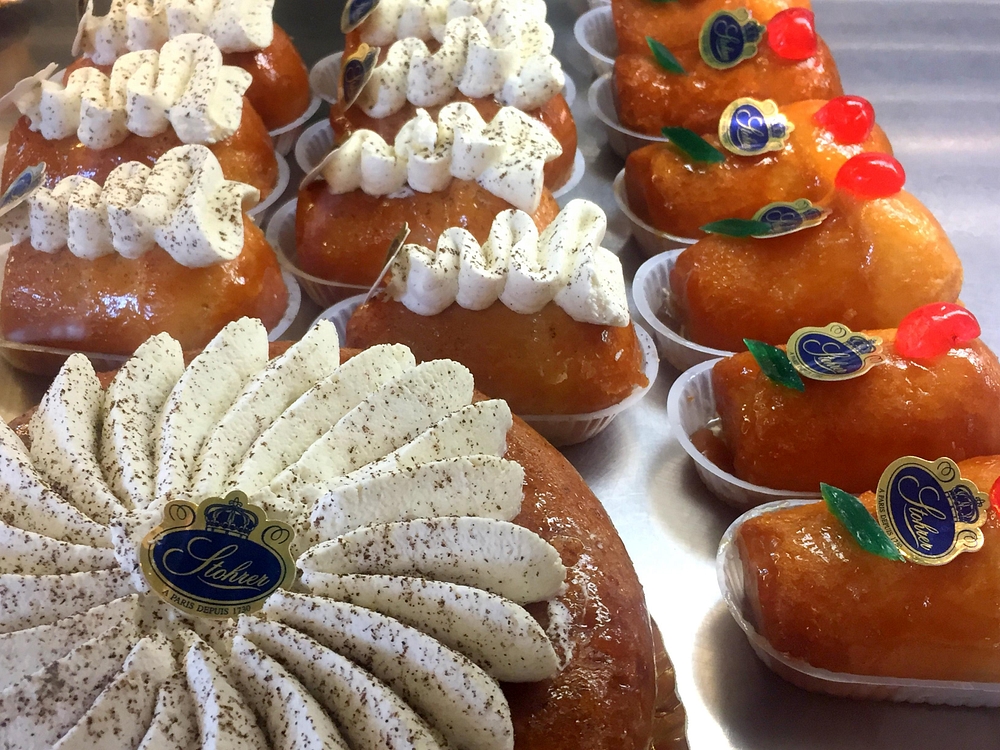 Stanislaus may have had an entire team of pâtissiers, but one in particular would find his place in the history (and recipe) books. That pâtissier was Nicolas Stohrer, and his pastry shop has remained on the lovely rue Montorgueil since it opened in 1730. Incidentally, we visit this historic Paris address (very) regularly, as part of our Les Halles Food Tour. There are a few theories as to how the Baba embarked on a new chapter in its history by being steeped in rum, but chief amongst them is that Stanislaus was dismayed to find a babka he had no doubt been looking forward to eating had become too dry. It was Nicolas Stohrer to the rescue, and he cleverly soaked it in Malaga wine. Obviously Stohrer made a very positive impression on the family, as when Marie, now Queen of France, moved in to her new low-key, humble, no-big-deal house called Versailles, Nicolas Stohrer went with her. 

In wasn't until 1835 that - as legend has it - one of Stohrer's descendants swapped out the Malaga wine for rum and the Baba au Rhum was officially born. 
Want to make your own Baba au Rhum? We can help you there! It's part of our lovely Grand Classics Class, during which you make not one but four classic French recipes - Madeleines, Creme Brulée, Tart au Chocolat and the sinful Baba au Rhum itself! Why not join us next time?
You can find Stohrer at 51 Rue Montorgueil