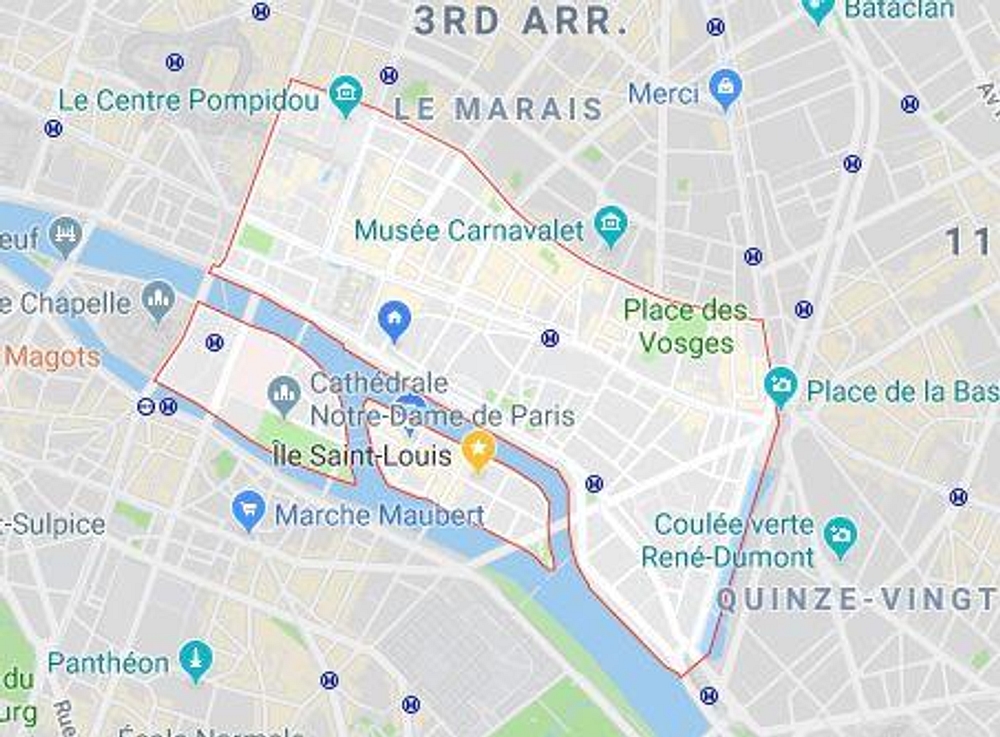 The Fourth : An Overview
The Fourth incorporates our own neighbourhood of Hôtel de Ville (so named for the stately City Hall of Paris), but also the Marais, the Ile Saint Louis and a large part of the Ile de la Cité, meaning there's lots to discover in this one arrondissement! 
There's a lot of history packed into the fourth, with old mansions, narrow streets, beautiful gardens and even mediaeval towers to discover. All that history jostles comfortably alongside trendy bars, high-end boutiques and old bistros - meaning you can have the best of all worlds. 
The Ile de la Cité is more administrative and sober than sociable, home to the stunning Sainte Chapelle, the Conciergerie and the Palais de Justice, while the Ile Saint Louis has a much more laidback atmosphere with its lovely boutiques, cheesemongers, wine stores, bars and crêperies. The Marais, across the Seine to the north, is historically the Jewish district but also the hub of Paris' LGBTQ scene- the social life of the area is paramount, making it a great place for a night out.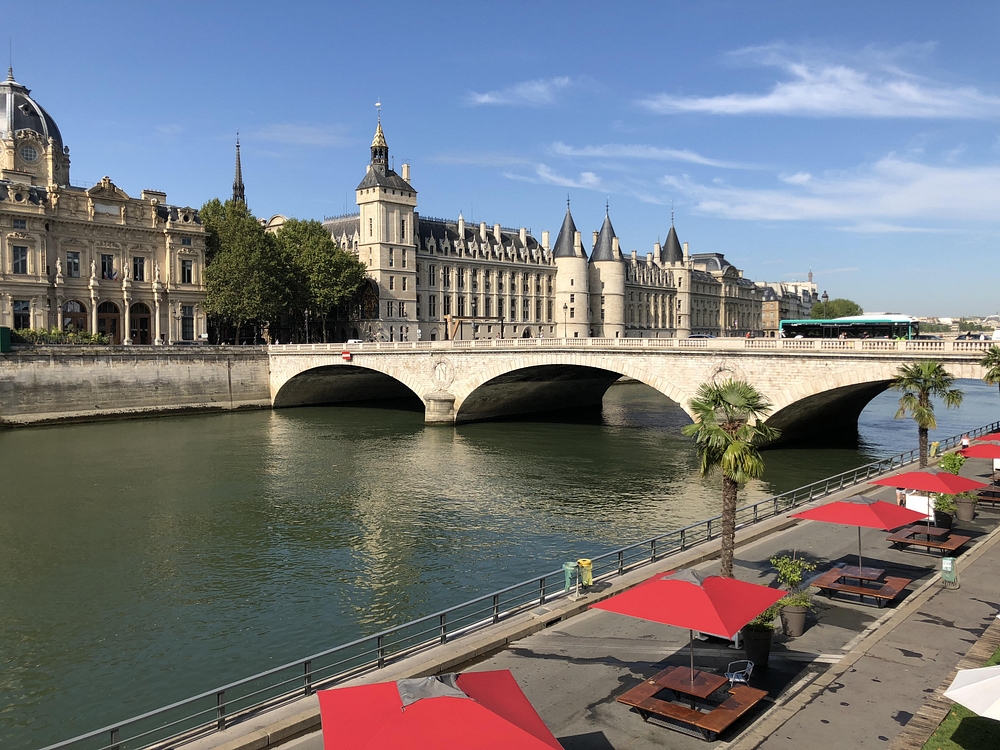 A short disclaimer before we get started... as we all know, dining out is a very personal, nuanced affair, and our humble little list featured here - or indeed in any of our content - unfortunately cannot guarantee a spectacular, knock-your-socks-off, "Dear Diary" dining experience - as much as we would love it to! While we certainly aim to inspire, as always we recommend using these suggestions merely as a jumping-off point for your own Paris research. So with that out of the way - on we go! 
Restaurants
La Cerise sur le Pizza
A friendly little pizzeria that delivers crispy, delicious pizzas in a relaxed, laidback atmosphere. 
32 Rue Saint-Paul

Le Temps des Cerises
Like a little house on the corner, this accomplished bistro serves a thoughtful home-cooked menu in a typical bistro setting. Popular with locals and in-the-know visitors alike. 
31 Rue de la Cerisaie

Le Saint-Régis
This is an entry into all categories: bar, cafe and restaurant, so a great all-rounder to know about on the beautiful Ile Saint Louis. Perfect for a stylish lunch. 
Bofinger
This 1864 restaurant of course made it onto our Historic Restaurants in Paris round-up - it's all about Alsace cuisine, Art Deco beauty and fantastic seafood. 
5-7 Rue de la Bastille
Miznon
There are no reservations here so you can expect a hopeful queue on busy days, but if you're lucky you can sample pitta breads stuffed with all kinds of deliciousness. The grilled cauliflower has become something of an urban legend around Paris (though thankfully, it does actually exist). 
22 Rue des Ecouffes
L'As du Falafel
If you just can't face the line at Miznon, join the one at L'As - it moves ten times quicker and you'll have a fistful of the best falafel in Paris before you can say please can I have more fried aubergine PLEASE.
32-34 rue des Rosiers
Les Philosophes
One of the mainstays of the Marais neighbourhood when it comes to bistro dining, Les Philosophes is always a solid, reliable option - and we all need more of those in our lives.
28 Rue Vieille du Temple
La Loire dans la Théière
Always bustling, this tea room and lunchtime haven is a dreamy place for enormous slabs of home-baked quiche, hot chocolate that is, essentially, a jug of melted chocolate, and a dozen-or-so colossal cakes. Check out the sideboard layered with baked temptations - warning: some of them might be hiding behind the biggest lemon meringue pie you've ever seen in your life.
3 Rue des Rosiers
Le Trumilou
This is our 'restaurant next door' and an understated local address for quintessentially French fare. Boeuf Bourguignon, steak frites, the whole nine yards - and very affordable it is too. 
84 Quai de l'Hôtel de ville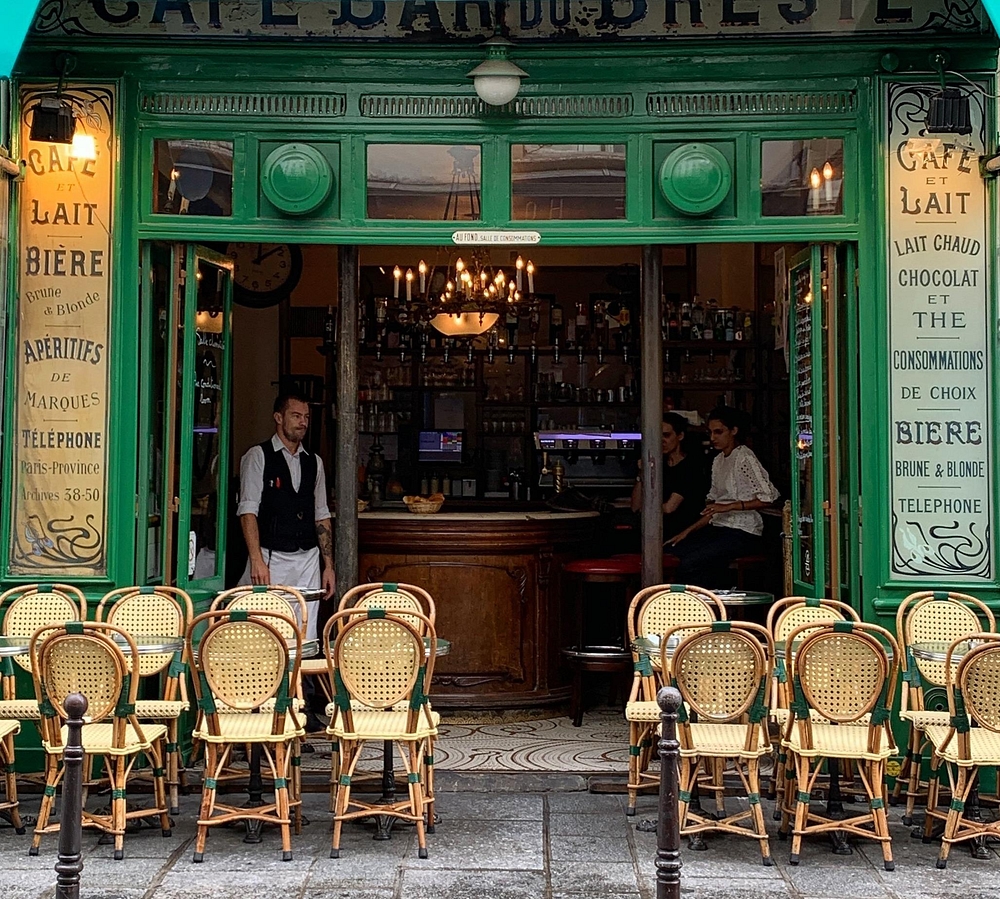 Bars
Sherry Butt
Barely lit, this cocktail bar is the place for sophisticated dates, late-night night-caps and discerning drinkers. 
20 Rue Beautreillis
Les Nautes
If you like to be amidst all the bustle and beauty of the riverside, les Nautes is the perfect place to grab a pint or a glass of rosé and watch the world (and the Seine) go by. A summertime spot.  
1 Quai des Célestins
Le Perchoir Marais
Atop our favourite department store, the BHV Marais, this trendy rooftop bar opens at 8pm and has its own dedicated entrance - don't be surprised if there's a queue by that time though! 
33 Rue de la Verrerie
La Belle Hortense
Part bookshop, part wine bar, we love pulling up a stool for an afternoon glass of wine at this little spot. 
31 Rue Vieille du Temple
Le Pick-clops
This colourful corner bar in the Marais is a fun, festive spot at all times of the day and night. Les planches (platters of cheese, meat or a mixture of the two) are well-priced and mountainous, and drinks are temptingly priced. Look out for the blue and yellow awning.
16 Rue Vieille du Temple
Vins des Pyrenees
This restaurant has a secret weapon, in the form of an upstairs speakeasy that resembles a beautiful film-set for a black and white movie. 
25 Rue Beautreillis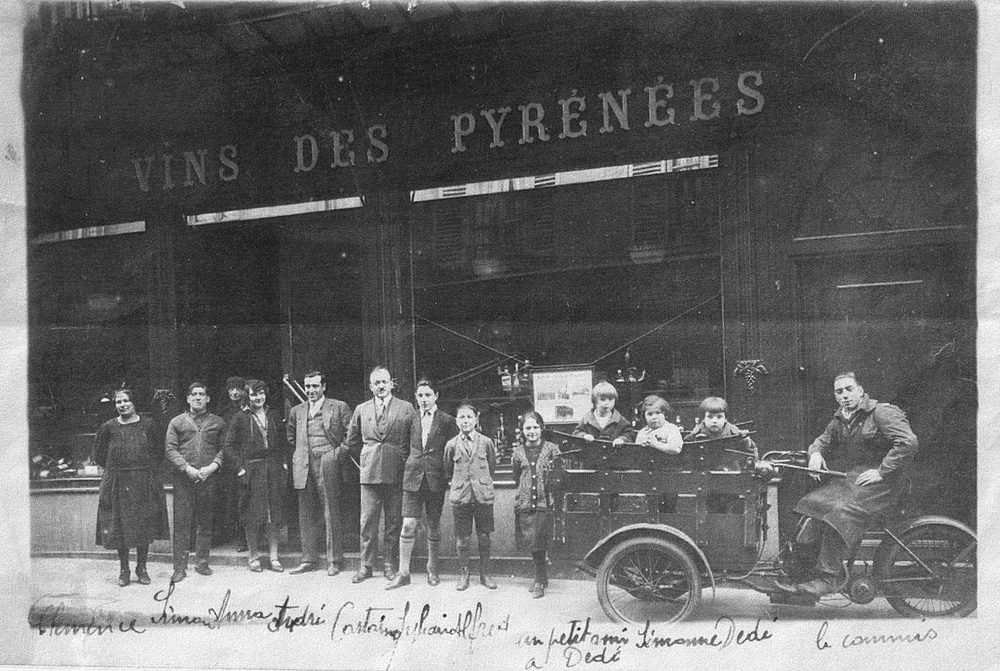 The Best of the Rest
Une Glace à Paris
The first Meilleur Ouvrier de France (MOF) in ice cream, Emmanuel Rayon is essentially a wizard of frozen things. The price point is higher, of course, but it's so worth it. Click the link for more ice cream in Paris.
15 Rue Sainte-Croix de la Bretonnerie
Berthillon
It's an ice-cream icon, so you should certainly try it. There are various spots on the Ile Saint Louis that sell Berthillon ice cream so you don't necessarily have to go to the original, but if you want to do the full tea-room experience, you'll find it at the address below.
15 Rue Sainte-Croix de la Bretonnerie
Au Petit Versailles du Marais
We had to put in our favourite local bakery, where the bread is truly and consistently fantastic. As is everything else on offer! This beautiful bakery is under the auspices of Christian Vabret, a MOF, and - in our humble opinion - is one of the best in Paris. 
1 Rue Tiron
Vinosfera
A lovely wine store just a couple of minutes from us here at La Cuisine, you'll find friendly, helpful advice (in English if needed) to find the perfect tipple for a Parisian dinner party or Seine-side picnic. 
11 Rue François Miron
Pierre Hermé
Macarons are the mainstay of Pierre Hermé, the pastry chef who almost single-handedly revamped this quintessentially Parisian pastry. To read all about the magic of macarons, click here, or maybe join us for a Macaron Class next time you're in town!
Coffee
You'll find all these and more in our Handy Map of the Best Coffee in Paris, just here.
Caféothèque
One of the original coffee experts of Paris, Caféothèque was opened in 2005 and marked the beginning of a changing coffee landscape in the city. Roastery and café, this is where it all started!
52 Rue de l'Hôtel de ville
Le Peloton
Our friends at Le Peloton are always ready with a warm welcome and English-speaking service for those in need of it! Not to mention an expertly crafted coffee and waffles served straight from the iron with moreish toppings! One of our favourites. 
17 Rue du Pont Louis-Philippe
Yellow Toucan
A great address to know if you're visiting the beautiful neighbourhing Place des Vosges, this bright little coffee shop also serves delicious pastries, fresh juices and wholesome lunches. 
20 Rue des Tournelles