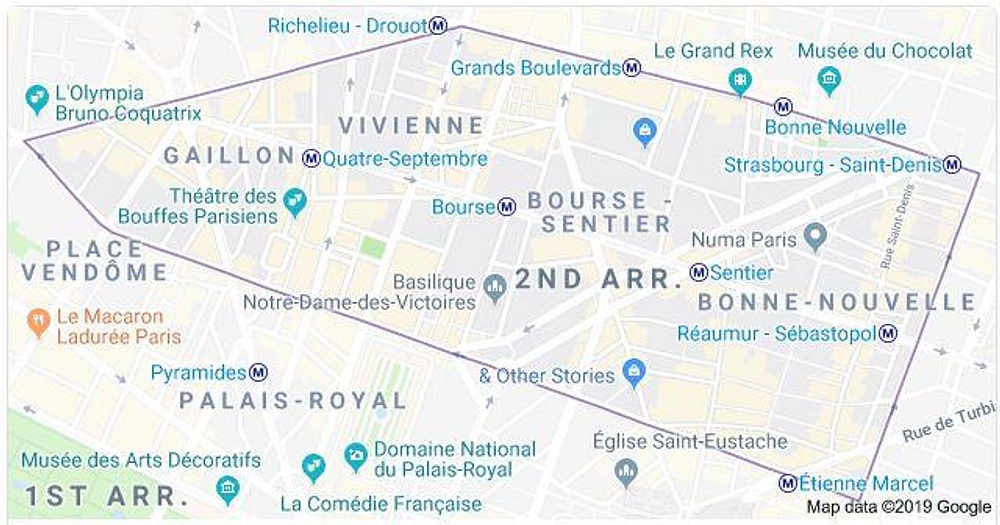 The Second : An Overview
This is a great arrondissement to wander through and just explore. Stroll down the long and bustling rue Montorgueuil to pick up some fresh ingredients or watch the world go by from one of the many streetside terrasses, climb to the top of the Tour Jean-Sans-Peur - a mediaeval tower which just casually nestles into its surroundings, as it has done for the last 610 years. 
Spend an afternoon discovering the gorgeous covered passages of Paris to find antique stores, old book shops, beautiful restaurants and art galleries, and explore the little streets around Sentier to find tucked-away pockets of local Paris life. The neighbourhood is centred around the Bourse - the Paris Stock Exchange - which lends some areas of the neighbourhood a well-to-do air, but the beauty of the Second lies in its eclecticism. Here you'll find everything from historic market streets like the rue Montorgueil to trendy up-and-coming thoroughfares like the rue Saint Denis; everything from grand bistros to great street food - not to mention Stohrer, the oldest patisserie in Paris...it's all up for grabs. 
Food & Drink in the Second
Now, on to the main event - food and drink in Paris's Second Arrondissement! Whether you're looking for somewhere to eat, grab a coffee or searching for a lovely spot for a cheeky cocktail, we have a list that will keep you coming back to The Second time after time to tick them all off! 
Restaurants
A short disclaimer before we get started... as we all know, dining out is a very personal, nuanced affair, and our humble little list featured here - or indeed in any of our content - unfortunately cannot guarantee a spectacular, knock-your-socks-off, "Dear Diary" dining experience - as much as we would love it to! While we certainly aim to inspire, as always we recommend using these suggestions merely as a jumping-off point for your own Paris research. So with that out of the way - on we go! 
Sushi-B
Sushi with a Michelin Star means really good sushi - but with only 8 seats and an excellent reputation, you may want to move quickly to snag a spot at the beautiful marble table. 
5 Rue Rameau
Frenchie
One of the hottest tickets in town ever since it opened back in 2009, Frenchie is still going strong and earned its first Michelin Star in 2019. Seasonal, inventive plates where the freshest ingredients take centre stage every time. 
5 Rue du Nil
Twinkie
A mecca for brunches and breakfasts, Twinkie often advertises its popularity in the form of a queue of hungry weekend diners on the trendy rue Saint Denis. American, British, French and Israeli breakfasts mean you can eat your way around the world without leaving your seat.
167 Rue Saint-Denis
Kuccini
With a loyal local following, Kuccini serves great Italian food in a friendly, relaxed setting perfectly suited to the trendy rue Saint Denis it calls home. Time to live la dolce vita with ingredients sourced direct from Italy - one word: burrata.  
165 Rue Saint-Denis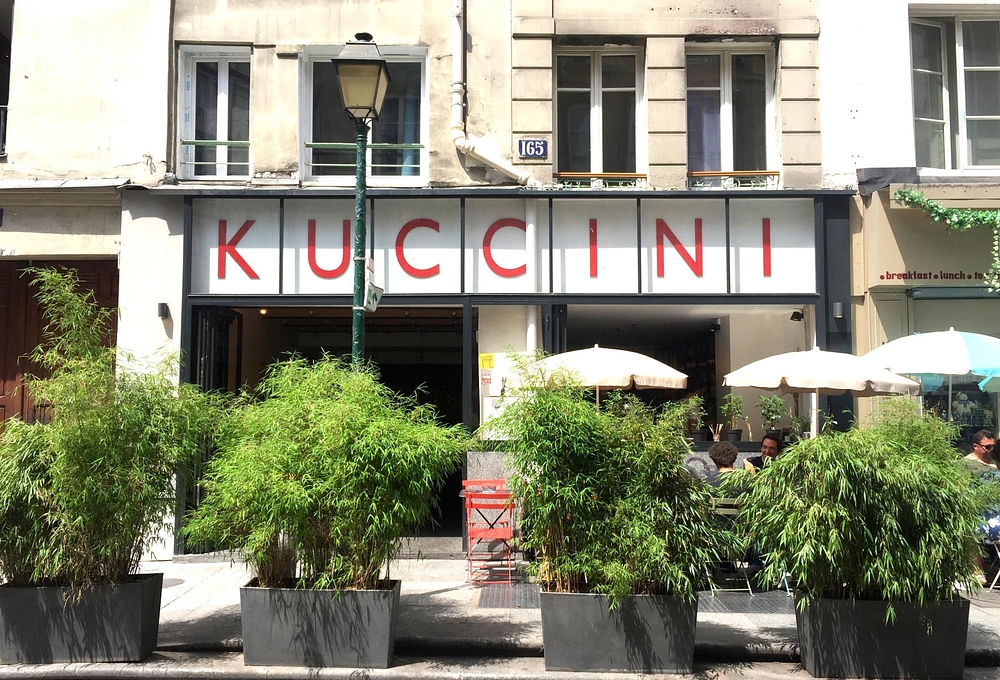 Sunday in Soho
Bright and airy, Sunday in Soho promises to serve good vibes along with its cafe-deli-bakery offering: think healthful, innovative bowls, lots of good stuff on toast, great coffee, international inspiration, and toasted banana bread with ricotta and honey....yes please.
7 rue Saint-Marc
Johanna's Fish & Chips
Who says you can't get fish and chips in Paris? On this little street just off the buzzy rue Saint Denis, you'll find this long-standing fish and chip shop with casual seating at high tables - the perfect address to satisfy a classic comfort food craving. 
30 Rue Saint-Sauveur
Clémentine
Simple, home-cooked food, delivered in generous portions. Clémentine is a French bistro with heart, serving the classics.
5 Rue Saint-Marc
Pizza Popolare
Part of the endlessly popular Big Mamma group (which has earned a loyal following thanks to its excellent Italian fare and achingly trendy vibes) Pizza Popolare serves up moreish pizzas in a buzzy setting of shared tables, open kitchens, cocktail shakers and leather booths. No reservations. (And don't worry, you're cool enough, you can go.)
111 Rue Réaumur
Shandika
For those looking for a culinary adventure, why not stop off in Sri Lanka on your next Paris trip? To go or to eat in, this homemade Sri Lankan street food is a feast. 
6 Rue Léopold Bellan
Bistrot Vivienne
A classic bistro, the Bistrot Vivienne's beautiful facade gives way to classic interiors within - while the terrace is a dream, situated within the glorious Galerie Vivienne, one of Paris' few remaining covered passages. Seasonal, traditional, classic. 
4 Rue des Petits Champs
Daroco
Another gem in the Galerie Vivienne, Daroco is housed within the former HQ of Jean Paul Gaultier and boasts a beautiful architectural setting in which to feast on Italian cuisine. Start with an aperitivi and antipasti, continue with pizza or pasta, finish with Tiramisu. Perfecto (that's Italian, right?)
6 Rue Vivienne
Breizh
This popular Breton haven is a must for crêpes and gallettes, where the French classic gets a little fancy. Chic Breizh restaurants can also be found in the 6th and 4th, but this newest addition puts you right at the top of the foodful-street that is rue Montorgueil. Perfect for a stylish lunch.
14 bis Rue des Petits Carreaux
Aux Crus de Bourgogne
A new hotspot that already looks like a well-established classic, serving everything you know and love about Paris bistro cuisine. Steak frites, pâté en croûte, crêpe Suzette...all served with side dishes of mirrored walls, oodles of natural light, red velvet banquettes, brass accents, just off the hustle and bustle of rue Montorgueil. 
3 Rue Bachaumont
Gallopin
Belle époque loveliness in the heart of Paris' theatre district, Gallopin is known for its classic French cuisine, reasonable prices and historic setting.
40 Rue Notre Dame des Victoires 
For something a little fancy...
Pur'-Jean François Rouquette
One Michelin Star cuisine within the Park Hyatt Paris Vendôme, minimalist plates, a stylish muted atmosphere, a price tag to match all the above. 
9 rue Coquillière 75001 Paris
Caffé Stern
Ok...just ONE more spot inside a beautiful covered passage. Caffé Stern finds a home inside a 19th-century letterpress shop and offers an innovative take on Italian cuisine. 
47 Passage des Panoramas
Bars
Experimental Cocktail Club
Generally known as ECC, the Experimental Cocktail Club has taken Paris - and the world - by storm, but this address marks the very beginning of their story. Fantastic cocktails, speakeasy vibes, beautiful people. 
37 Rue Saint-Sauveur
Frenchie Wine Bar
A genius idea by Frenchie (given the scramble for a table at their restaurant on the same street), Frenchie Wine Bar gives you the chance to savour small plates over a glass of wine in an atmosphere of organised chaos. Get there early (6.30pm) or late. 
6 Rue du Nil
Harry's New York Bar
A staple of the Paris drinking scene since Gershwin composed An American in Paris in the piano bar downstairs and some clever person invented the Bloody Mary, Harry's New York Bar is a classic. Follow in the footsteps of Chanel, Humphrey Bogart and Hemingway, and enjoy a little Paris history with your cocktail. 
5 Rue Daunou
Le Petit Vendôme
This lovely little local bar is always bustling, and is a great address to know about in the Opera neighbourhood. Classic dishes, good wines, a great atmosphere, stop in for the perfect apéro. 
8 Rue des Capucines
Le Pas Sage
The French love a pun, and this little spot translated as "The Not Wise" is also located in a Passage, hence the double meaning. This little wine bar sits opposite its twin restaurant, but we love savouring a platter of meats or cheeses with a lovely glass of wine and watching the world go by from the little bar. 
145 Rue Saint-Denis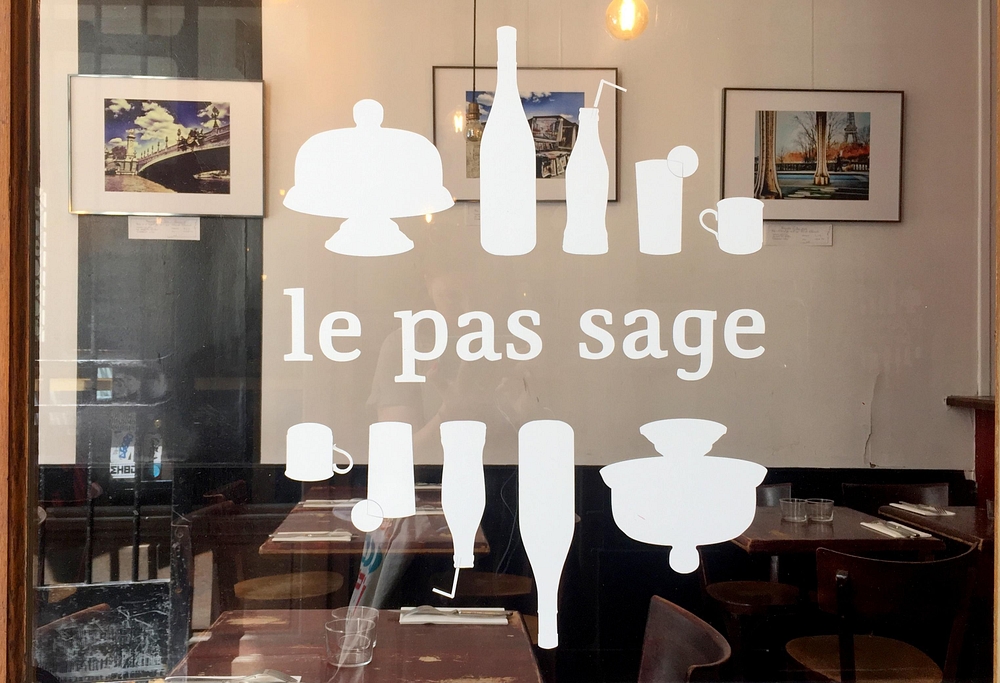 Danico
Hidden away within the trendy Daroco restaurant, this funky bar will please the cocktail connoisseurs amongst you. Especially the trendy ones.
6 Rue Vivienne 
The Hoxton
Sip a glass of wine in the chic Planche Wine Bar or opt for a Moroccan-inspired cocktail in the colourful, homely Jacques' Bar. 
30-32 Rue du Sentier
Hotel Grands Boulevards
Head up to the hotel's rooftop bar, The Shed, for al fresco drinks and rooftop views, or enjoy the Shell with its dusky shades of pink and cocktails by the original Paris experts - the Experimental Group - in fact, the whole hotel is their ingenious creation.
17 Boulevard Poissonnière
Ma Cave Fleury
This little bar and natural wine store is perfect for a casual, relaxed apéro - more specifically, a delicious glass of Champagne. Convivial, affordable and often very good fun. 
177 Rue Saint-Denis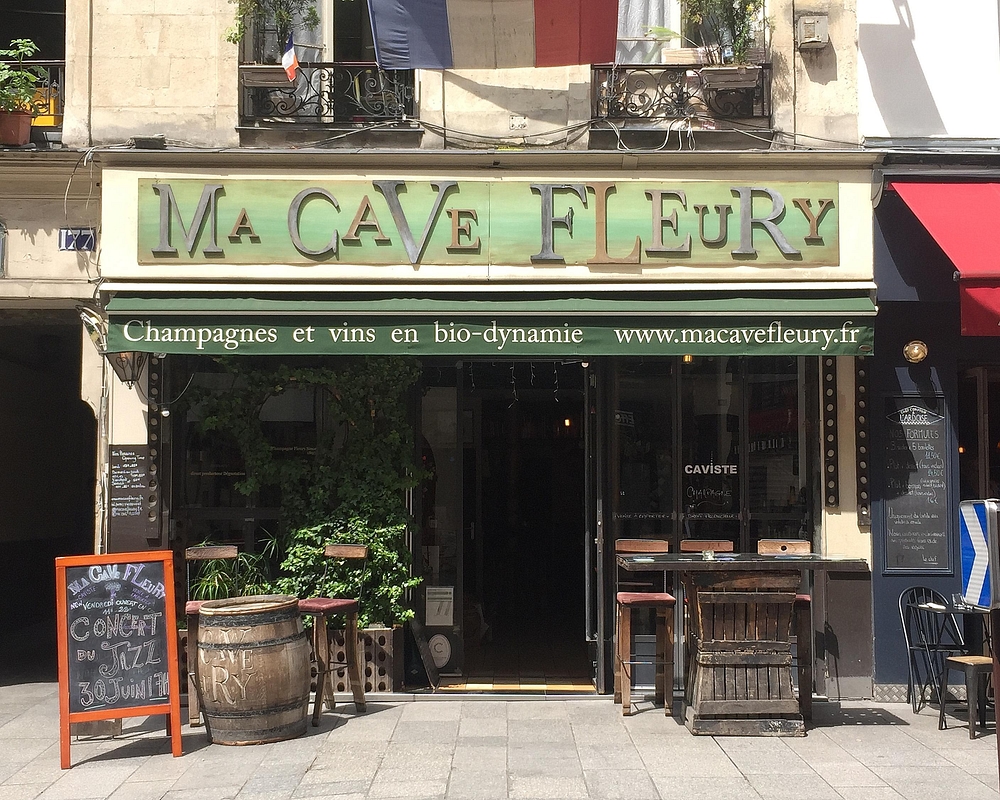 Coffee
Lockwood
Cafe by day and cool cocktail bar by night, the street-level hangout of Lockwood hides a bigger secret - an intimate underground stone cave with cosy nooks that are perfect for a special occasion.
For our complete map of Coffee in Paris, click here! 

5 Rue Villédo, 75001 Paris