Galerie Vivienne
This beautiful passage has got to be one of our favourites. Just a few moments from the gorgeous Palais Royal, the Galerie was built in 1823 and has a lovely variety of stores inside, from drop-dead-gorgeous bookstores like one pictured above, to classic bistros and one very trendy Italian restaurant - Daroco - housed in the former flagship store of Jean Paul Gaultier. Natural light pours through the glass roof, beautiful original mosaic floors lead the way to art stores and tea rooms and antique stores, and the whole things is just mind-bogglingly lovely. 
4 rue des Petits-Champs, 75002 Paris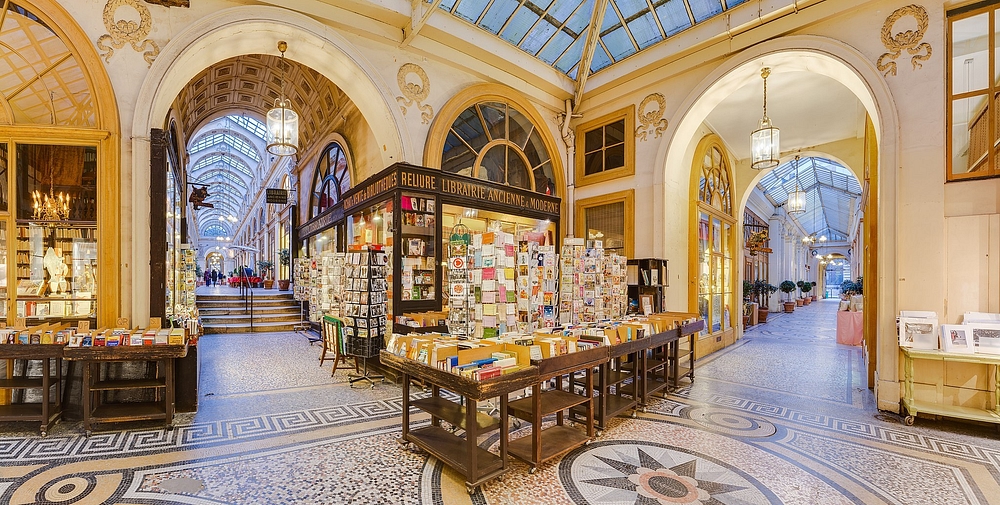 Passage des Panoramas
Leading to the lovely Passage Jouffroy (see below) the Passage des Panoramas is the perfect place to begin an exploration of the Paris passages safe from the rain! One of the first passages to be built in Paris, this 1799 gem is home to an array of stamp and coin collecting stores, but there are also some other discoveries to make - such as the weird and wonderful collection at Tombées du Camion (literally meaning: Fell off the back of a truck)! There's the lovely wine bar and bistro Racines, where the Italian-inspired menu is always market-fresh and the wines are usually natural. Don't miss the chance to peek through the window of Victoria Station restaurant - where a train carriage from the 1930's creates a unique setting for dinner! Banquette seating, overhead luggage racks, softly glowing lamps - it's like looking into the past through the little window in the passage. A little disclaimer here: we're not really recommending this as a great place to eat in Paris - just a great thing to take a peak at!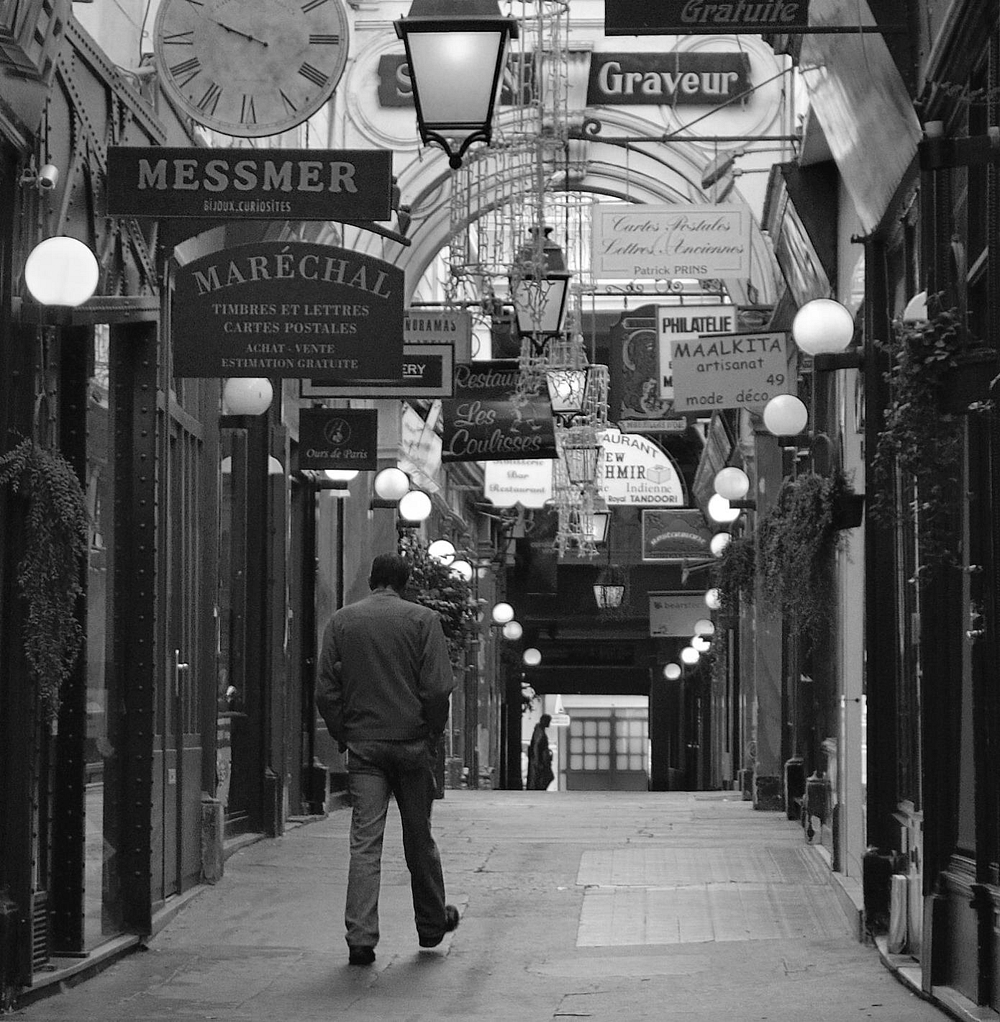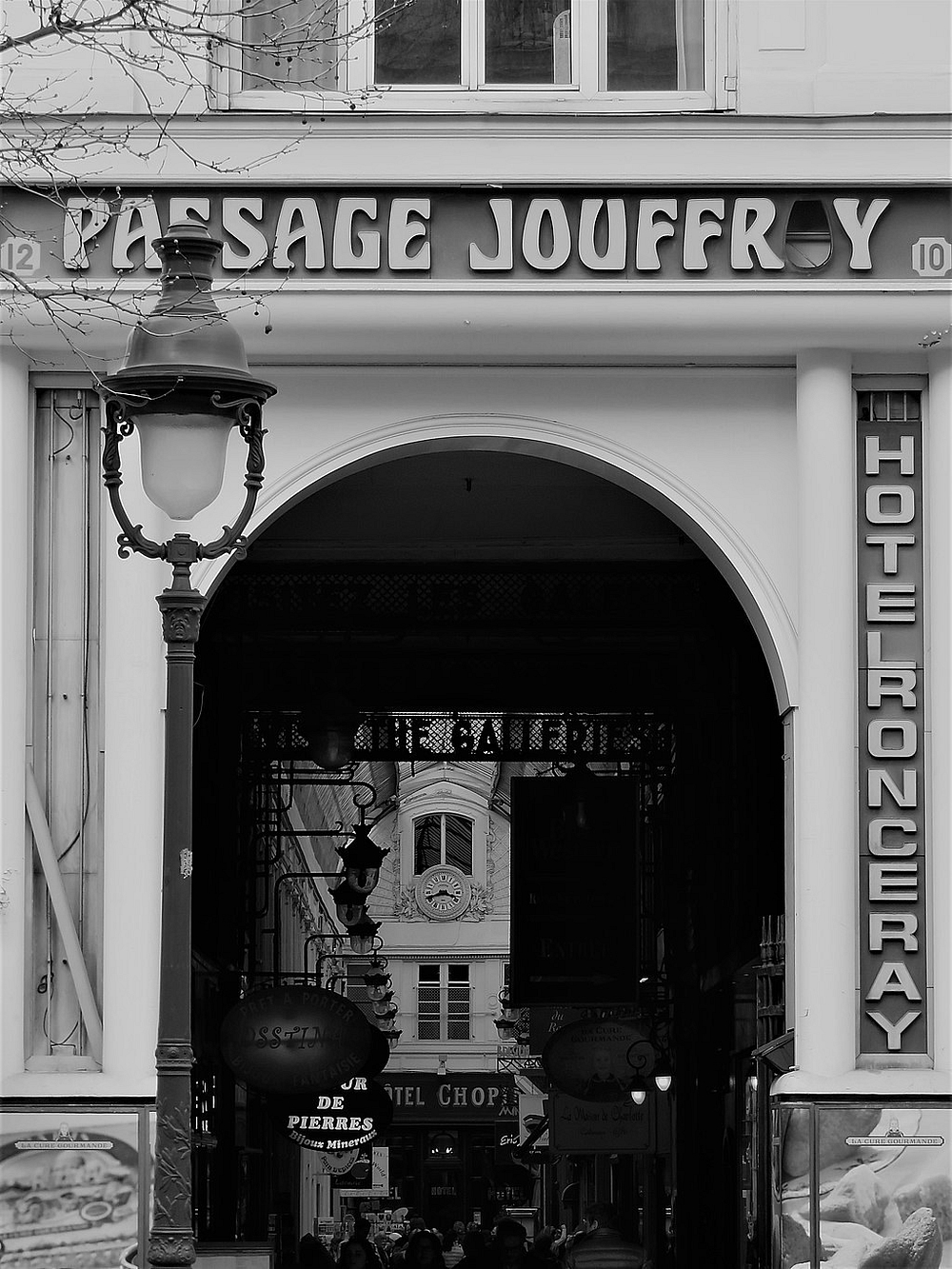 Passage Jouffroy
Built in 1836, Passage Jouffroy has been one of the city's most popular covered passages for over a century. This beautiful covered walkway is actually a continuation of the Passage des Panoramas (see above) so you can explore both passages in one trip to the bustling Grands Boulevards neighbourhood. This is the first passage to have been built entirely in metal and glass - and it was also the first to have a heated floor! With its beautiful curved glass roof, cast-iron details and marble floors, the Passage Jouffroy offers an eclectic collection of stores that are so much fun to discover. Make some magical discoveries for children at the old-school Pain d'Epices toyshop, where you'll find an incredible array of doll's house paraphernalia - anything you can think of, they have it here in miniature. Discover a world of walking-can curiosities at the gorgeous Galerie Fayet - just in case you even needed a cane that could double as a violin, or a sword, or an absinthe flask (as Toulouse Lautrec preferred). Well who wouldn't? Then there are the old bookstores such as Librarie du Passage, opened in 1850, the photography boutiques, antique furniture stores, beautiful tea rooms like Le Valentin, art restorers, and more. It's a real time capsule, so step back into the 19th century at your earliest convenience. 
Passage du Grand Cerf
Arguably the most beautiful of Paris' covered passageways, the Passage du Grand Cerf was built in 1825 and retains all its old-world charm. If you're the crafty sort, this lovely Passage (best accessed from the rue Saint Denis) will delight with its yarn stores and sewing boutiques, while stores dedicated to quirky homewares might tempt. Just at the entrance you'll find Le Pas Sage, a lovely wine bar that's perfect for a sneaky afternoon verre de vin.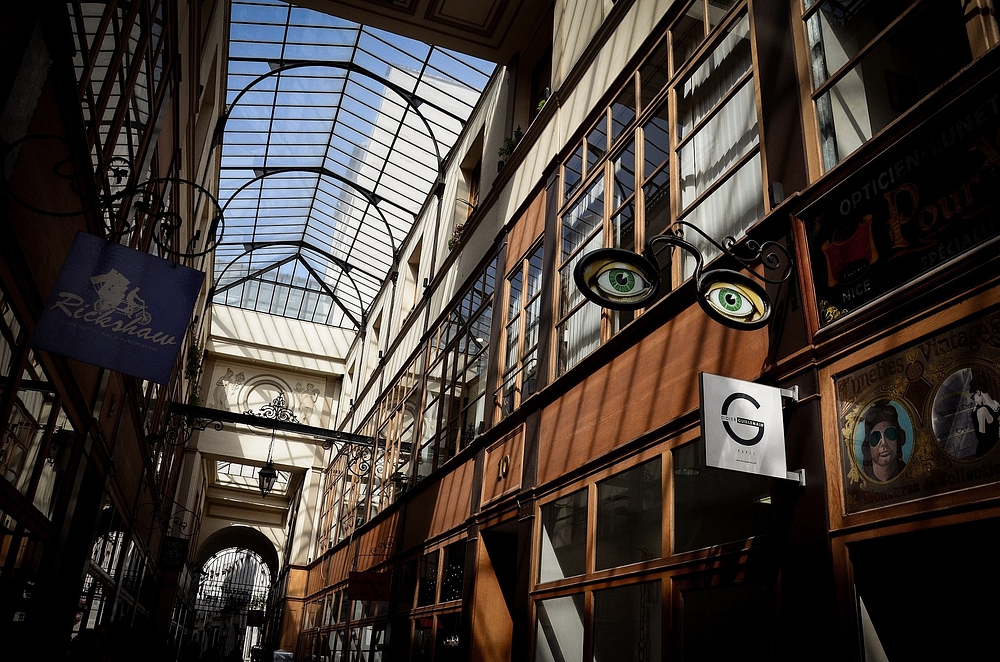 Passage Choiseul
Popular at lunchtime thanks to its array of little eateries, Passage de Choiseul also boasts bookshops, jewellery stores, art galleries and even a theatre - the beautiful Theatre des Bouffes-Parisiens, founded by the composer Jacques Offenbach in 1855.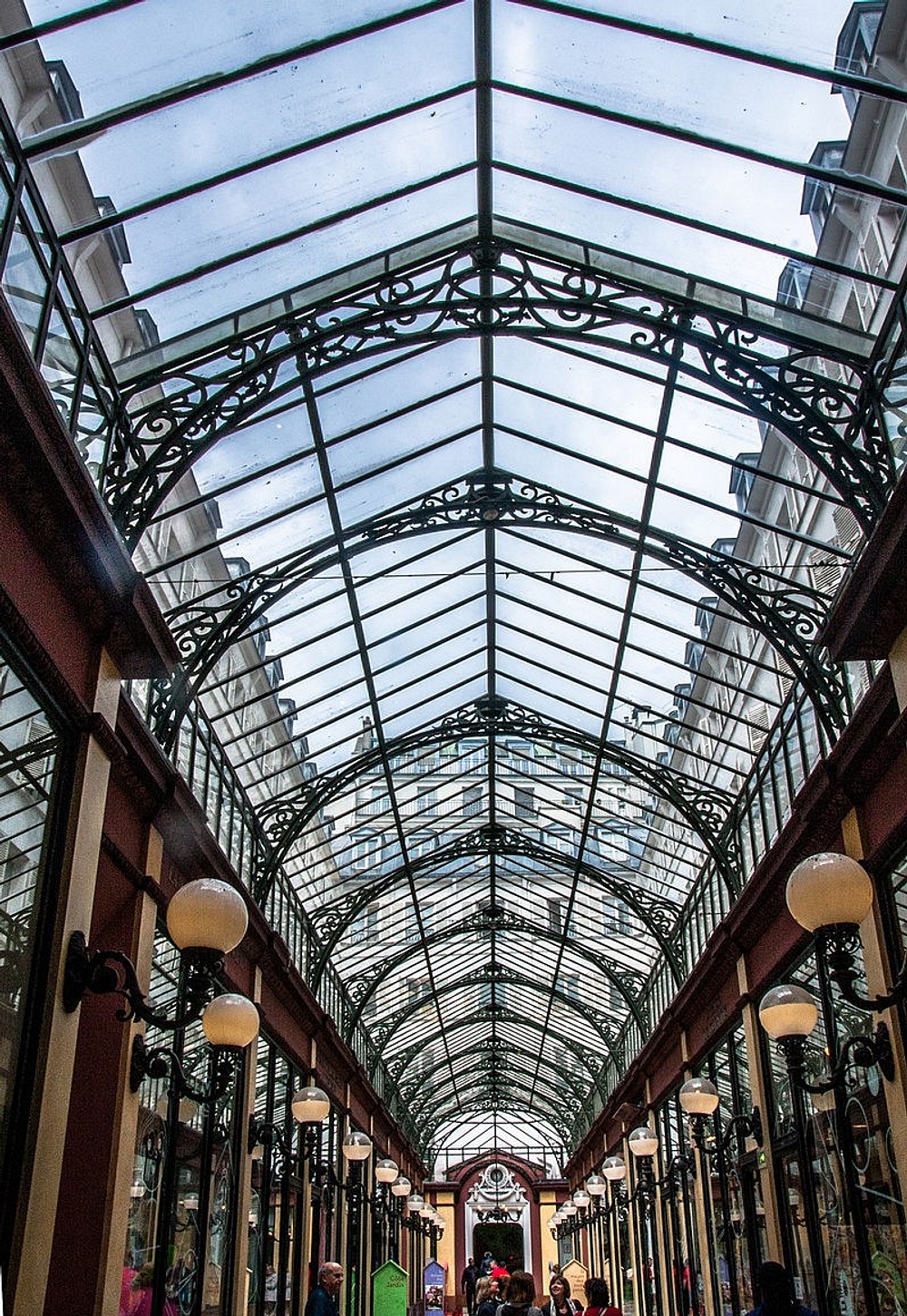 Galerie Véro-Dodat
There's a mixture of old and new at smaller Galerie Véro-Dodat, where chequerboard tiles and beautiful old lamps lead all the way to the glitzy creations of Christian Louboutin store, where it's not unusual to see a queue of fashionistas. Also in the mix are antique and musical instrument stores, with every store framed by beautiful wooden window frames. It may be a little passage but if you find yourself in the Les Halles or Palais Royal neighbourhoods, it's really worth a stop!