Nothing says 'Christmas' like the twinkling lights, log cabins and vin chaud of Paris' beautiful Christmas markets - and you have a few to choose from this 2018 including some brand new locations!  
Hotel de Ville
We are so excited about this particular Village de Noël (Christmas village), because it's pretty much our local Christmas market! It will be taking over the huge square in front of the beautiful City Hall of Paris - the Hotel de Ville - from the 14th December - 6th January. There'll be a forest of sapins - Christmas trees - a little market selling objects made in France, a cute train weaving its way around the square and even a nostalgic carousel with wooden horses! We're so pleased this beautiful spot will once again be the site of some beautiful festive celebrations.
December 14th - January 6th 
Hotel de Ville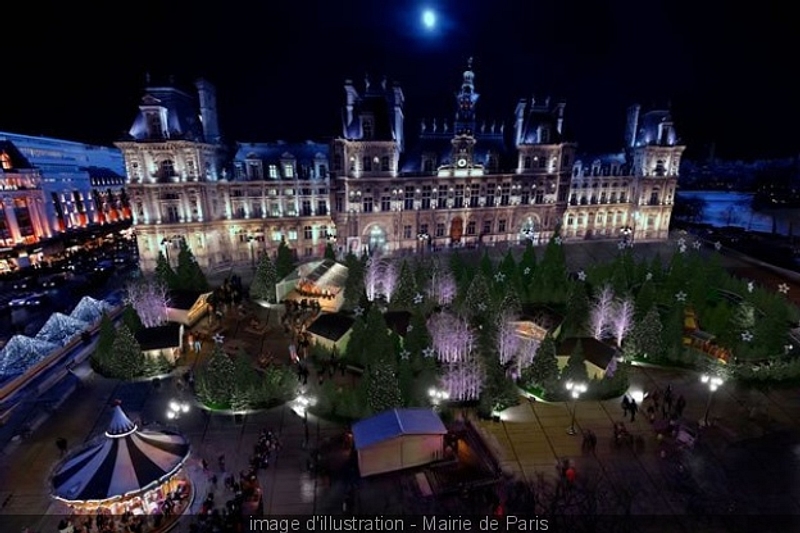 La Magie de Noël in the Tuileries Garden
As any avid followers of the Christmas Market scene in Paris will know, the annual Champs Elysées market is no longer - and we have to say we are delighted with the 2018 replacement - La Magie de Noël in the Tuileries! This year, for the first time, the beautiful gardens will host a lovely Christmas market of 100 chalets featuring 80% French products and wines - great news for those in search of genuine French finds. On top of that, there'll be carnival rides, an ice-skating rink, glittering fairy lights and visits from Santa - Christmas galore!
24 November - 6 January 2018
Jardin des Tuileries, 75001
Marché de Noël Notre Dame 
Notre Dame hosts its artisanal Christmas markets in the beautiful square René Viviani, a stunning location which is - in our humble opinion - one of the most beautiful in Paris. The markets are nestled between the beautiful cathedral, and the Seine. That moment when the sound of church bells ring through the markets, and the smell of roasted chest nuts fills the air, really brings the festive spirit to life!
The market showcases some of France's finest artisans; offering a showcase of art, jewellery, and other products which make perfect Christmas gifts. Grab yourself some mulled wine and wander the little marketplace before popping into nearby Shakespeare & Co. to pick up a book or two. Perfect. 
14 to 23 December 2018

Square René Viviani
2 rue du Fouarre,
Paris, 75001
Marché de Noël Saint-Germain-des-Prés
Saint-Germain-des-Prés is an ideal location to visit any time of the year. During the Christmas period, it's even better. Located just next to the Saint-Germain-des-Prés church, 30 or so small wooden cabins are set up along the street and invite passers-by to enjoy the festivities in this artistic Christmas market.

These Markets are ideal for the admirers of art and the history of Paris.The area plays a huge part in Paris' artistic history, with some of the most iconic cafes in Paris which were the meeting points for some famous writers and artists - like the Café de Flore frequented by Pablo Picasso, and the Deux Magots, a favorite of Ernest Hemingway.
Among the boutiques and art galleries of the area, the Christmas markets are full of music and Christmas fair, which is perfect to enjoy the best Christmas decorations Paris has to offer.
From 1 December to 31 December 2018
Place Saint-Germain-des-Prés
75006 Paris

Traditional Alsace Christmas market at Gare de l'Est
This is one of the best Christmas Markets in Paris in terms of Food!

Showcasing the best food from Alsace, which is the north-eastern region of France bordering Germany and Switzerland, this Christmas inspired markets offers the most amazing delicacies during the festive period.
Think gingerbread and brioche with jams and confectionery, or amazing cheeses with foie gras, cured meats, sauerkraut, and wines! The culinary haven of all Paris Christmas markets. You can stroll the markets enjoying the atmosphere, located just outside Gare de l'Est, and sample all the good products and discover new flavours thanks to the many Free tastings!
Free tastings program for 2018:
December 5: Kougelhopf, sweet brioche specialty
December 6: Männele, small gingerbread or brioche men eaten for St Nicholas Day
December 7: Schiffelé, salted and smoked pork shoulder
December 8: Alsatian duck or goose foie gras
December 9: Gewurztraminer* from Alsace
December 10: GingerbreadsDecember 11: Riesling from Alsace
December 12: Alsatian charcuteries
December 13: Crémant d'Alsace*
December 14: Bredele, small cakes prepared throughout Advent and enjoyed during the Holidays
December 15: Alsatian whiskey
December 16: Alsatian jams
December 17: Pinot Noir* from AlsaceDecember 18: Munster, famous soft rind-washed cheese with a strong smell but sweet taste
December 19: Pinot Gris* from Alsace
December 20: Grumbeerekiechle, potato pancakes
December 21: Saint-Louis craft beer*


December 5th - 21st 2018
Gare de l'Est
Place du 11 novembre 1918,
75010 Paris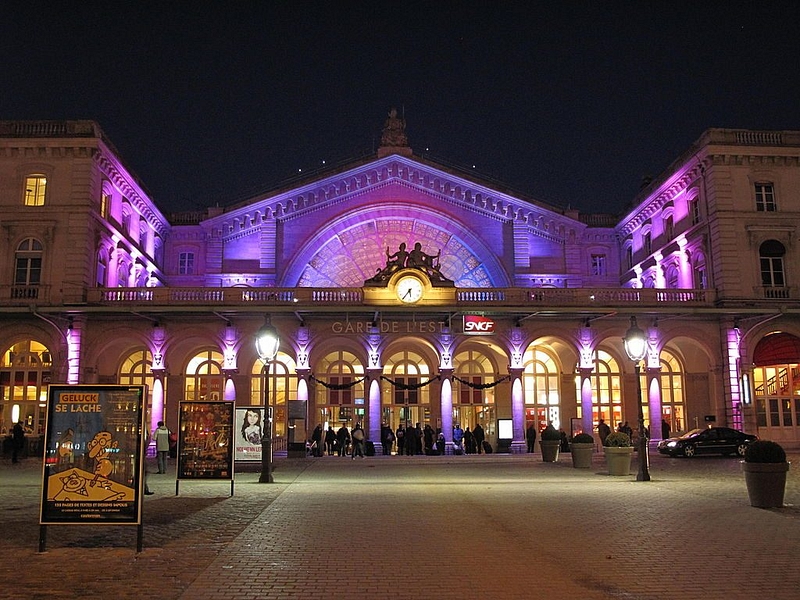 Christmas Village on La Défense Esplanade
Christmas on a gigantic scale! Perfect for a festival, family stroll.

The beauty of the Christmas markets at La Defense is that the whole 10,000 m² esplanade is filled with a staggering 250+ Christmas-themed stalls, selling everything from delicious food and amazing decorations, gifts and artisanal produce and so much, much more.
There are enough options for Children and grownups to enjoy with over 400 square meters of festive fun like shows and Christmas decorations, including all the family favorites of a Christmas village and a Santa Photo booth, to a dedicated section for those interested in French craftsmanship and exhibitors show-casing their savoir-faire.
An unmissable event!

From 23 November 2017 to 28 December 2017
76 Rue de la Demi Lune, 
92800 Puteaux
Marché de Noël des Champs de Mars
It's unbeatable for that picturesque Christmas market.

This market has the greatest Christmas centerpiece decoration of all the Christmas markets in France… The Eiffel tower.
Located underneath the Eiffel tower, Paris really outdoes itself in terms of Christmas decoration and atmosphere. This Christmas Village is filled with the traditional wooden cabins, selling everything from Christmas gifts, to delicious festive foods, and it even has its own Ice Skating rink! 
This market really represents the Christmas market that Parisians deserve. 
December 2017 - January 2018
Parc du Champ-de-Mars - Quai Branly 
Avenue de la Motte Picquet, 
Paris 75007.
Marché de Noël des Abbesses
The perfect example of a more typical Christmas market for Parisians. Experience Christmas as a true local!

This means that this market is a lot smaller affair, filled with local products and producers and packs tons of charm! This market won't offer as much as the others, but caters more to the locals and tourists of the area. 
In the small square of Jéhan-Rictus, where groups of children are always playing year round, this market offers the ideal Christmas experience for younger kids with a Parisian Carousel, special shows dedicated to a younger audience, and your must have Christmas treats like hot chocolate !
Follow this up with a stroll through the charming Montmarte and a view of Sacre-Coeur, and you have a perfect Christmas day.
From 21 November 2017 to 02 January 2018
22 Rue des Abbesses, 
75018 Paris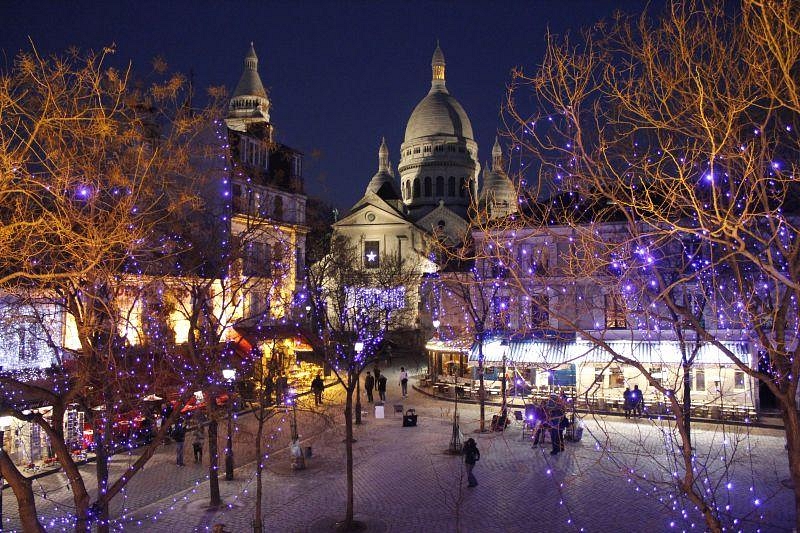 Marché de Noël Village Bercy
The charm of experiencing Christmas in a small French Village, right in the heart of Paris.
Bercy Village is sometimes referred to as the faux French Village of Paris. During the 19th century, all the surrounding buildings were warehouses for small wineries. Now they have been renovated into charming boutiques and restaurants, preserving the true history of the area while providing charming modern day comforts.
During the festive Season, the Bercy Villages transform into a Christmas wonderland.
Installing festive decorations and an impressive lighting show, the atmosphere becomes magical. With the history of the buildings, it feels like you have been transported to a small regional town in the French country side, and offers a truly charming Christmas experience for the entire family, with several events proposed, especially for children, workshops, and walking tours.
From November 16 2017 to January 15 2018
Bercy Village, 
Paris 75012