Born in a Battle. We're just not sure which...
There are a couple of stories to choose from when it comes to the creation of the croissant, but one detail remains consistent through all of them: the croissant was invented during a battle. 
Which battle? Good question. Maybe it was the Battle of Vienna in 1683 when Austria defeated the Ottoman empire, the flag of which features a crescent shape not unlike - you guessed it - a croissant. In this version of events, the story goes that the bakers of Vienna were staying up long into the night (an occupational hazard for bakers to this day!) when in the still of the night they heard Ottoman forces tunneling beneath their ovens during the siege of the city. They raised the alarm, saved the city, then created croissants to celebrate! In another Vienna connection, there is also of course that catch-all title of Viennoiserie.
Or maybe the battle goes even further back, to the triumph of the Franks over Umayyad forces at the Battle of Tours in 732. Back then the croissant would have been taking the form of the Islamic crescent, not the Ottoman. 
Or maybe there was no battle. Perhaps the croissant's ancestor was in fact the 13th-century Austrian pastry known as Kipferl, which was slowly developed until it got flakier and fatter and softer and Frenchy-er - a pastry evolution that eventually brought us the croissant. 
The Croissant in France
Whether the croissant is an Ottoman crescent, an Austrian or an Islamic one, the point is - it certainly wasn't French. So how'd that happen? In a rather neat theory, it has been suggested that we have the ill-fated Marie Antoinette to thank for the introduction. On arriving in France at the age of 15, the future queen missed kipferl from her native Vienna and thus introduced it to France, requesting French bakers to make her a new version of the treat. Cue the kipferl-croissant evolution! Et Voilà.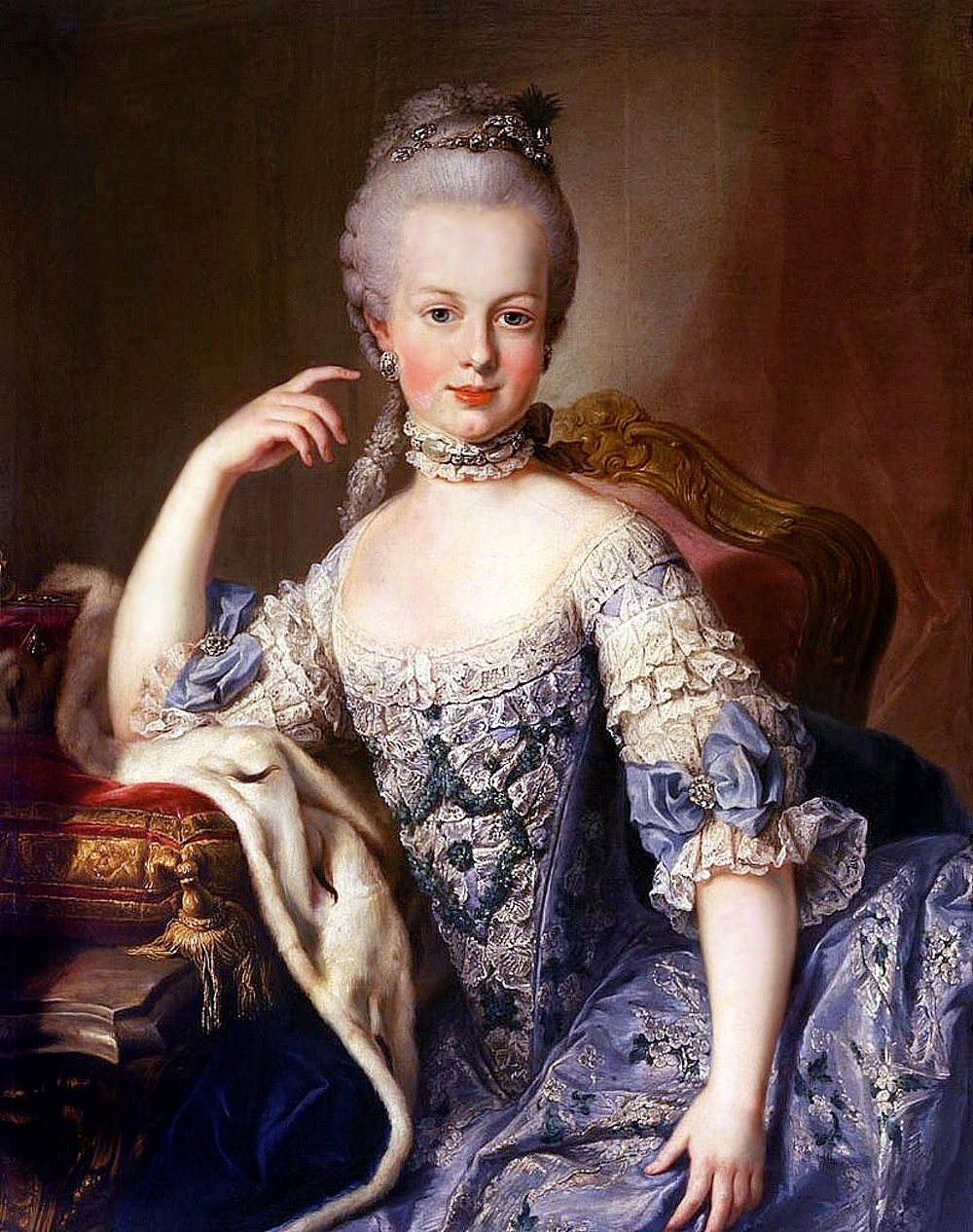 If not awarded to Marie Antoinette, the credit for introducing kipferl to France must go to August Zang, the artillery officer whose Austrian bakery opened on 92, rue de Richelieu in 1839. His pastries were a thing of wonder across Paris, and it is Zang's kipferl that many believe prompted the creation the croissant. As a side note, it was the entrepreneurial Zang who introduced the Viennese steam oven to France, which revolutionised baking and became the standard - so who knows?
Luckily a photograph of Zang's bakery has survived. And here it is!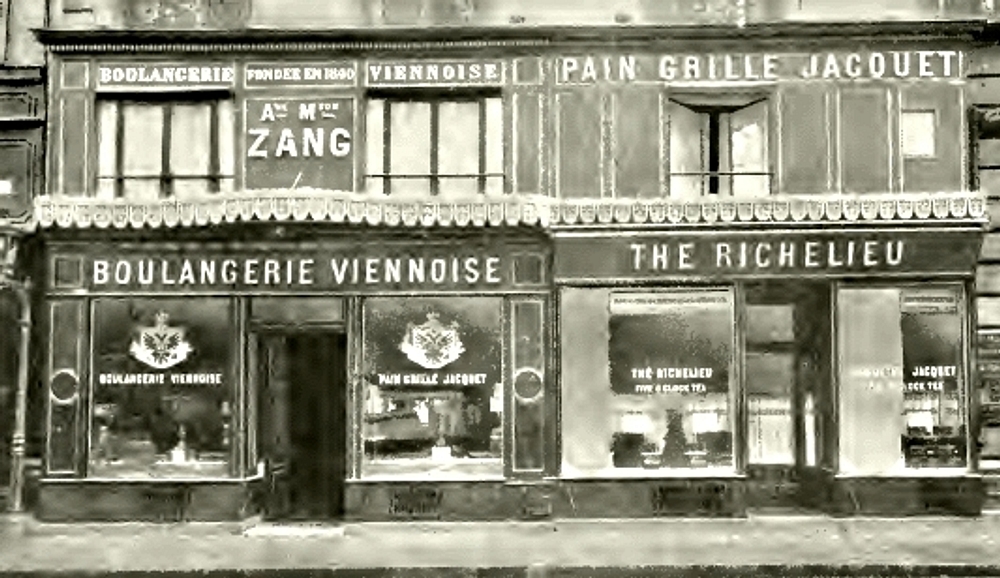 The Croissant in Print
You won't find a printed recipe for croissants until 1905, when Joseph Favre published his Dictionnaire Universel de Cuisine. The recipe - which includes almond powder and sugar, and isn't particularly croissant-like - came 52 years after the first mention of croissants, which appears in print in 1853. But it wasn't until the following year that the quintessential method of lamination appears, making for a recognisable croissant recipe in the Nouvelle Encylopédie Culinaire. The printing of a recipe however does not necessarily mark the true beginning of the croissant craze - how else could Charles Dickens himself have mentioned "the dainty croissant on the boudoir table" in his periodical All the Year Round in 1872? By then, croissants were obviously a common sight.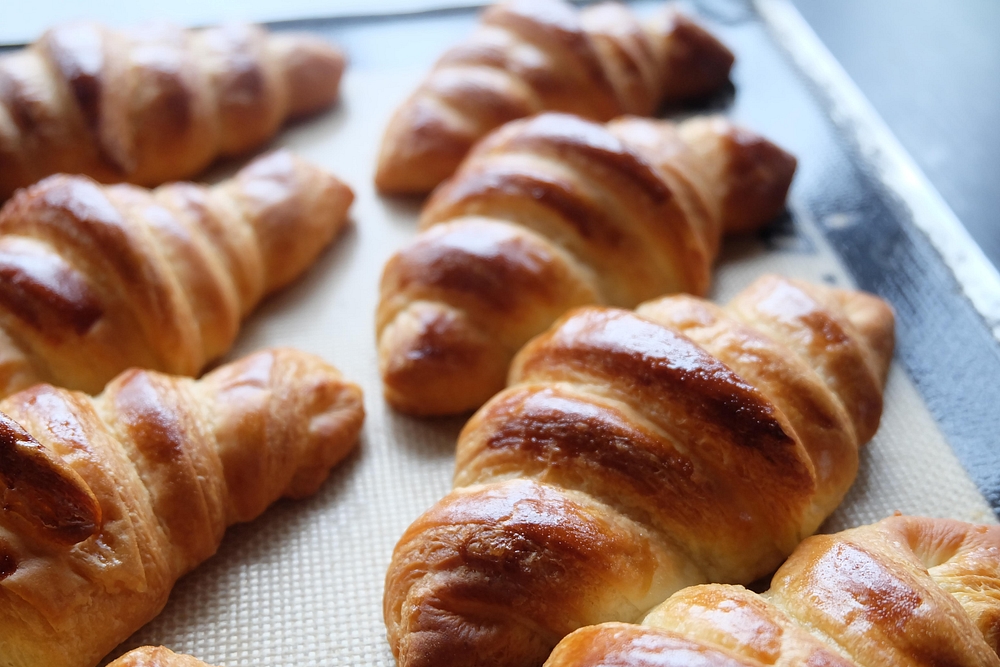 What makes them so good?!
Butter! In order of importance, any self-respecting croissant recipe should begin with butter, then move on to a dash of butter, continue with a pinch of butter, then list a bit more butter and then I suppose we'll add a bit of flour and yeast and water but mostly? Butter. Not just any butter though! What makes croissants so heavenly is that they're made with butter with a high fat content - (85 - 87%). 
How should I eat them?
As they are. None of this butter and jam malarkey (we're looking at you, Britain). After all, did we mention how much butter is already in there? It's a lot. Like a fabulous baguette, a croissant needs no embellishments, and if you ask for butter with your croissant in Paris the response may be somewhat befuddled. Now, we're not saying that cutting open a croissant and adding a layer of ham and cheese and baking it for a little while is wrong (heck if that's wrong, we don't wanna be right) we're just saying that from your local boulangerie or Paris cafe, you want your croissant straight up, unadorned, in all its glory. 
Where can I find the best croissant? 
We're glad you asked. Those of you who have joined us recently for our French Market Tour & Cooking Class at Marché Maubert may have even already tasted it! The award for 2018 for the Best Croissant in Paris went to La Maison d'Isabelle, located on Place Maubert. The all-important decision is made each year in August, and we're already excited to find out who the 2019 winner will be! Other great names to look out for on the Paris Croissant scene are Cyril Lignac, Farine & O., Maison Pichard and Laurent Duchêne. 
La Maison d'Isabelle: 47ter Boulevard Saint-Germain (Place Maubert), Paris, 75005
Cyril Lignac: 2, rue de Chaillot, 75116 Paris
Farine & O: 153, rue du Faubourg Saint-Antoine, 75011 Paris

Maison Pichard: 88, rue Cambronne, 75015 Paris
Laurent Duchêne: 2, rue Wurtz, 75013 Paris