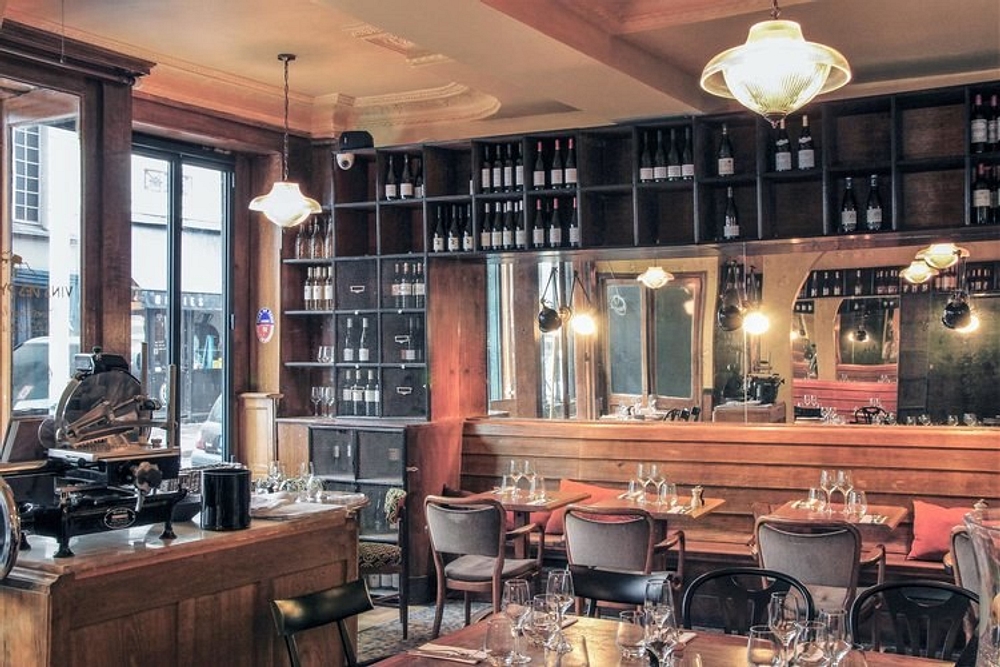 Aux Vins des Pyrénées has been a Parisian institution since 1905. There's an irresistible blend of old-world charm and modern style here, from the wooden bar and well-stocked wine shelves, to chic banquette seating, Chesterfield sofas and gorgeous vintage touches at every turn. 
In the heart of the Marais district, between the Place des Vosges and Quai des Célestins, Vins des Pyrénées still boasts its wooden facade and glass sign with golden script, holding on to a little of its long history both inside and out. 
Located on rue Beautreillis - the same steet where Jim Morrison and Charles Beaudelaire lived and Cezanne had his studio - Vins des Pyrénées is surrounded by the history of the quartier (neighbourhood). What's more, this elegant wine bar has some new trendy tricks up its sleeve! 
Upstairs, where the founding family once lived for the generations, you'll now find a cosy "apartment" packed with vintage furniture and home to a speakeasy style cocktail bar and a beautiful terrace. You're welcome!
Foodwise, you're looking at a well-curated, thoughtfully prepared menu which ranges from sharing platters ideally paired with a bottle of wine, to a full à la carte menu. 
On Vins des Pyrénées website, you can find the latest menu, the full carte des vins and even book your table online so that you don't miss out on the chance of an indulgent coup de Champagne amidst the hustle and bustle of the Marais. 
25 rue Beautreillis, 75004 Paris