Why have one Christmas log when you can have a whole pile of them? Chef Pâtissier Pascal Hainigue of Le Burgundy clearly agreed when he created this intricate creation. Inspired by those who work with their hands Pascal Hainigue expresses his love of nature and the seasons with this simple yet touching design. On the taste side of things, we're talking hazelnut biscuit a creamy vanilla interior, chocolate mousse and a crunchy chocolate 'bark'. 
€90 for 6-8 people
At Dalloyau it's all about nostalgia, traditions and sharing this year, with this cute row of wintry houses conjuring up home, belonging and memories. There's caramelized dried fruit waiting under a thin shell of milk chocolate, as well as Ile de France honey, a little fleur de sel, biscuit, milk chocolate chips, chocolate mousse and spiced shortbread. Sign us up! 
109€ for 8-10 people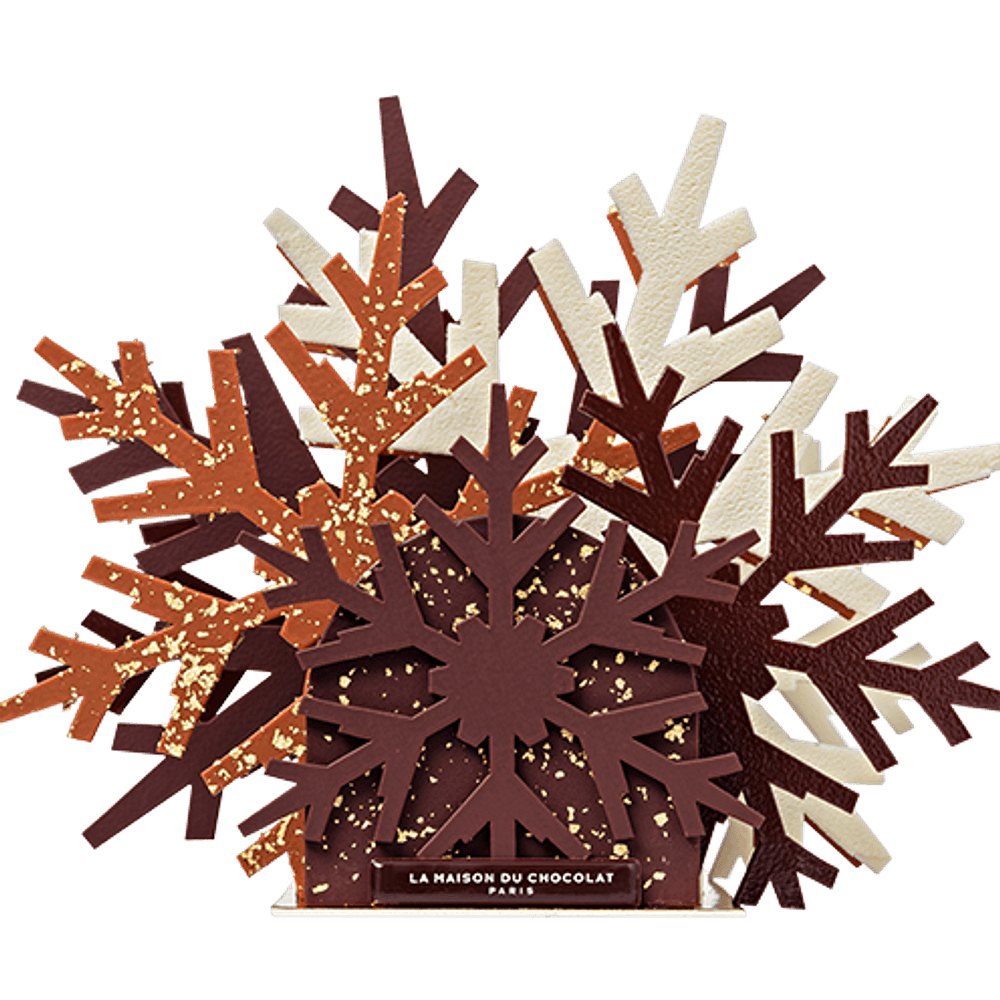 We have to confess we just love this design from Nicolas Cloiseau of La Maison du Chocolat, which has a beautiful array of snowflakes (don't carry it home on the Metro at rush-hour for goodness' sake!) Of course given the makers, this is a seriously chocolate-y affair, with Madagascan chocolate mousse reveals crunchy pear, confit de cassis, crunchy chocolate biscuit and more besides!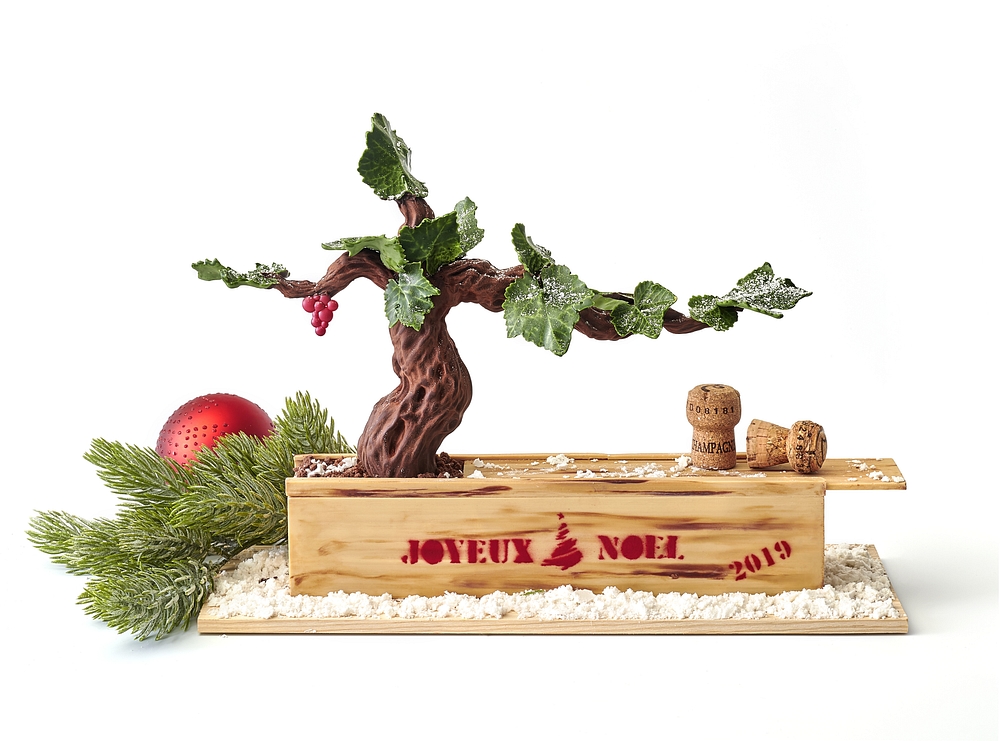 At The Peninsula, Chef Pâtissier Dominique Costa draws inspiration from the vineyards of France for this amazing work of edible art - yes, that's a "wine box" with a Pinot Noir vine growing from it complete with leaves and grapes! And it tastes pretty good too, with almond praline, Dulcey chcoolate, gingerbread biscuit, pear, vanilla mousse and caramelised almonds! We love the amazing details that have gone into this delicate Bûche - bravo Dominique! 
6-8 people, €118 - and as with most Bûches you'll need to reserve at least 48 hours in advance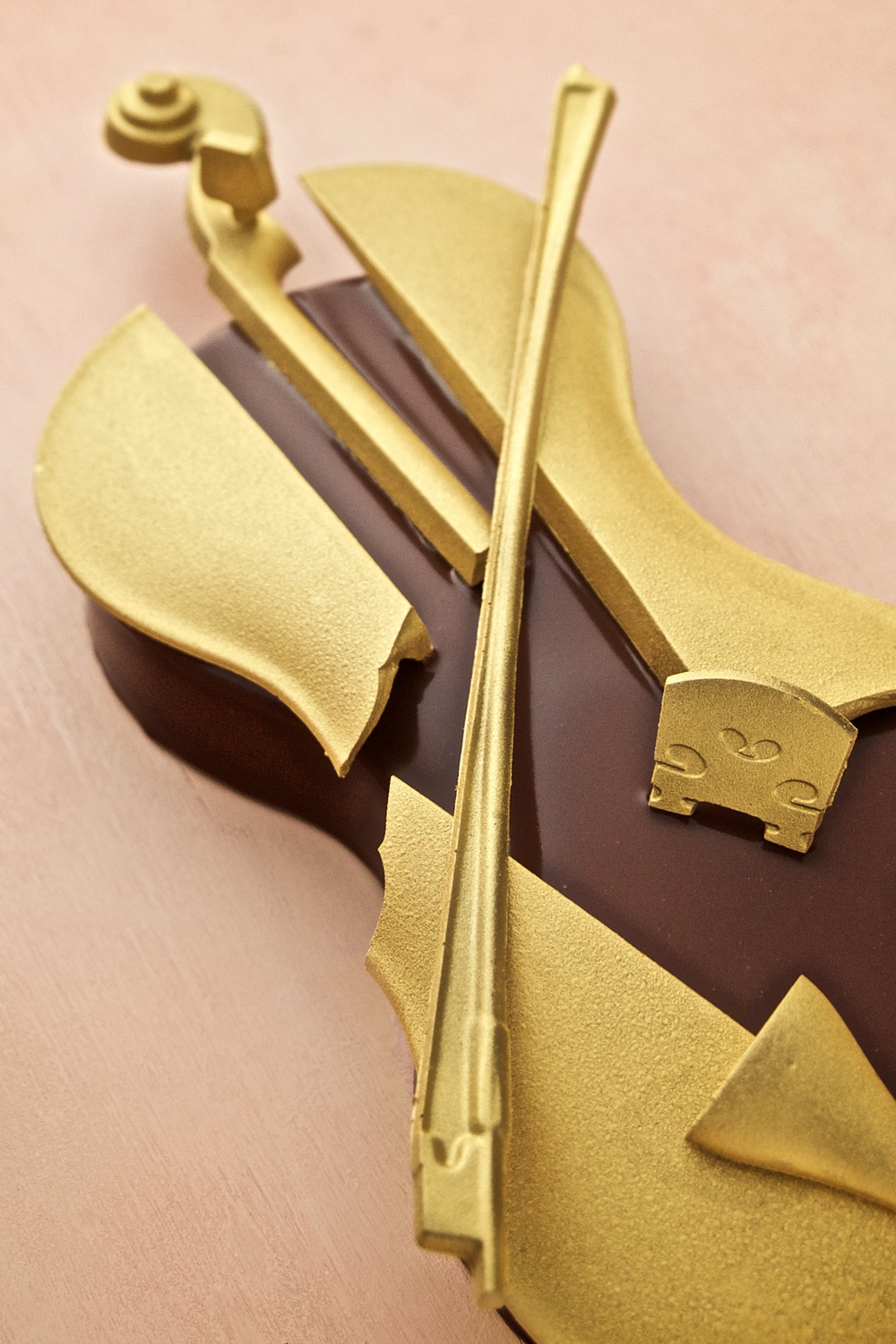 We had to include images of both the Christophe Michalak entries for 2019, as we loved them both in completely different ways! Above we have the beautiful "Violin", inspired by the Franco-American artist Arman, who is known for his sculptures of 'deconstructed' violins. So voila! This year we have a gorgeous edible hommage to the artist in the form of pecan praline and delicious dark chocolate mousse. It also has the benefit of being gluten free!
8 people, €78
Michalak also offers a second range of Bûches this year, that have a bit of Pop Art or Comic Strip magic about them! Fun and funky, they come in three flavour and colour choices - so prepare to have a difficult choice on your hands! Also gluten free.
6 people, €48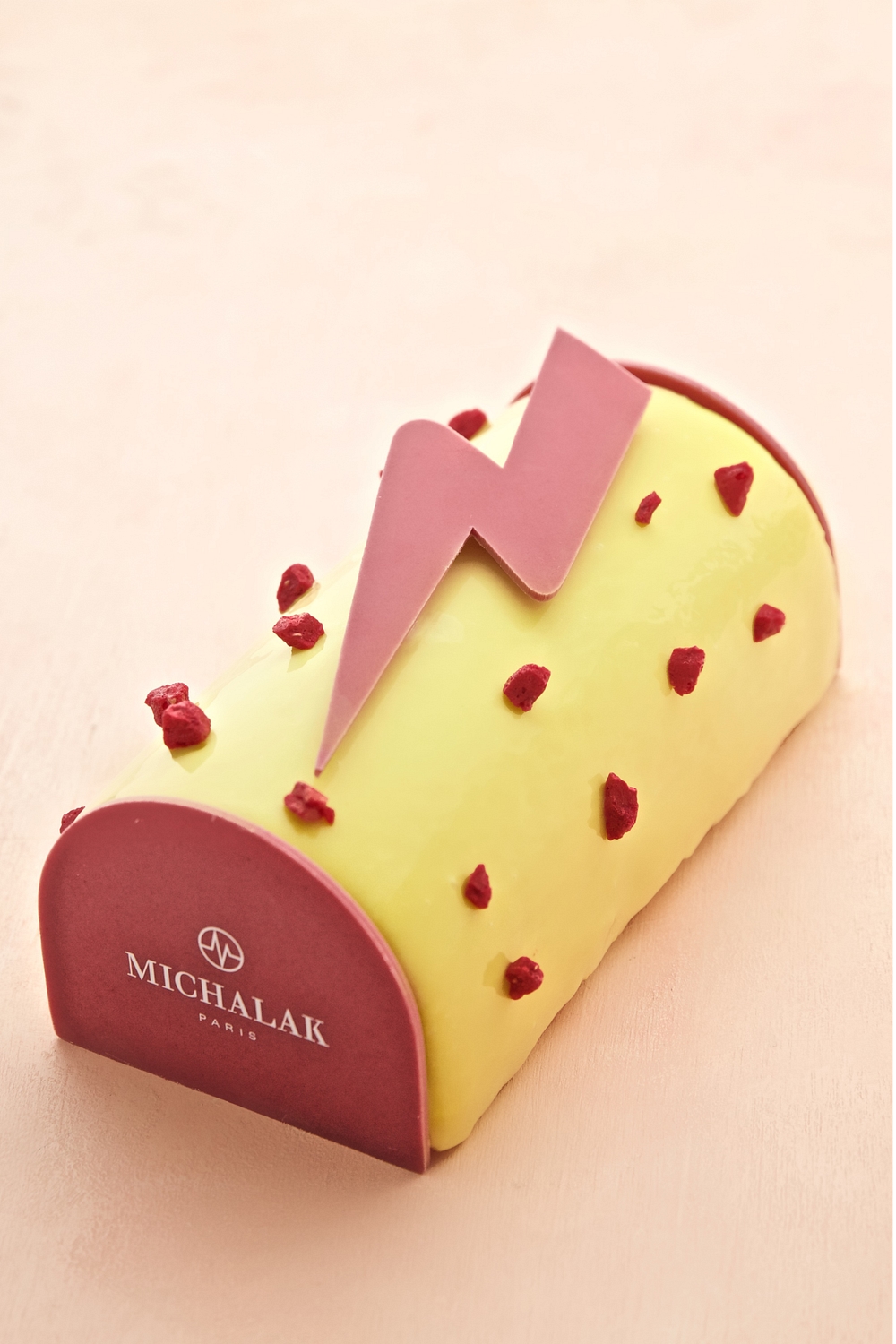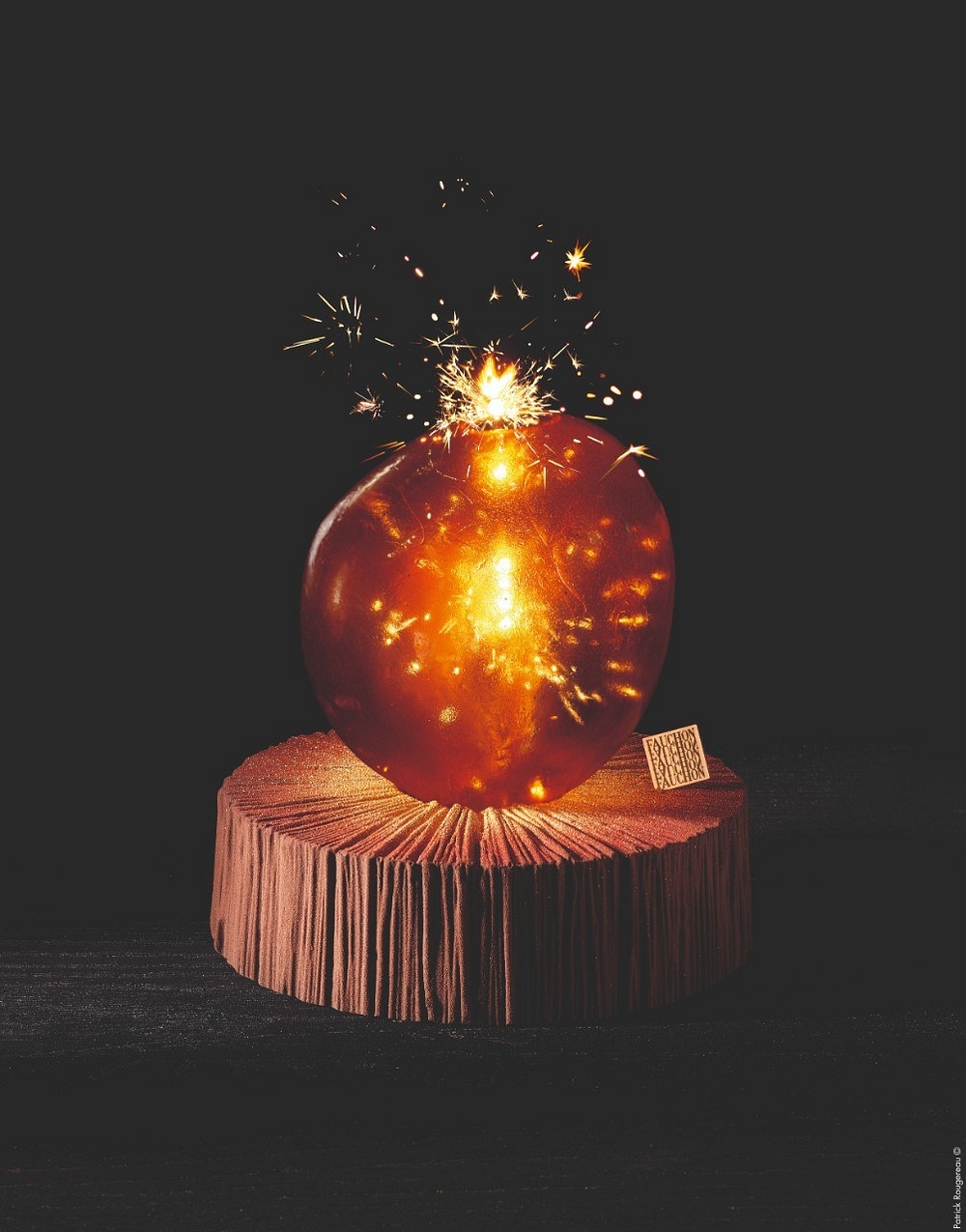 If you opt for François Daubinet's Yule Log this December, everyone will be in for a great show! Check out this stunning photograph of his creation in action. Called "Incandescence" (and we can see why), this Bûche certainly has the wow factor - that's a blown sugar sphere sitting atop a circular Yule Log, based on flambéed banana, with rum mousse, banana compote, soft cake and crunchy biscuit. Amazing! 
€130
Sophie de Bernardi's has created a tower of pink baubles for Café de la Paix this year, in soft sparkly pinks - which hints at the flavours of rose that await within! The amazing thing about this creation is that you can enjoy a whole host of surprising flavours thanks to the different layers of the Bûche - each reveals new surprises! Look out for chocolate shortbread, goji berry, chocolate, and vanilla mousse with wild rose... 
6 people, €75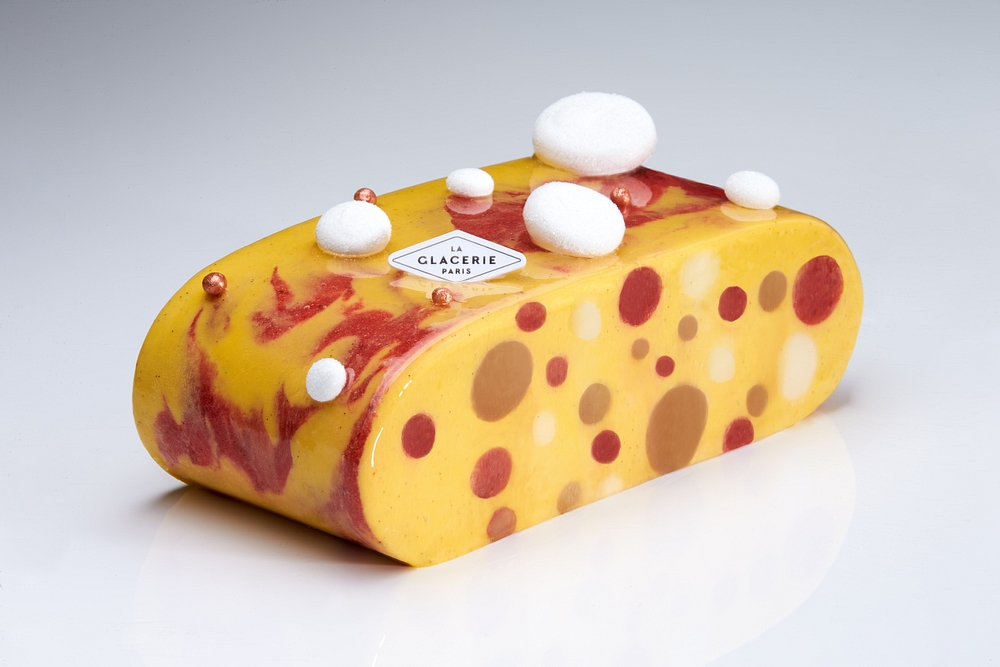 David Wesmaël is the Meilleur Ouvrier de France behind this colourful entry for 2019, called the Bûche Céleste! La Glacerie is of course a lovely ice cream mecca in our neighbourhood of the 4th arrondissement - which means yes, your Bûche de Noël will be a frozen affair! This year there will be just 150 of these creations to snap up, so you'll have to act fast to get your hands on this creation of coconut praline, banana mousse, strawberry sorbet and confit of mango and passion, bringing a little tropical taste to your festive table. 
6-8 people, 58 €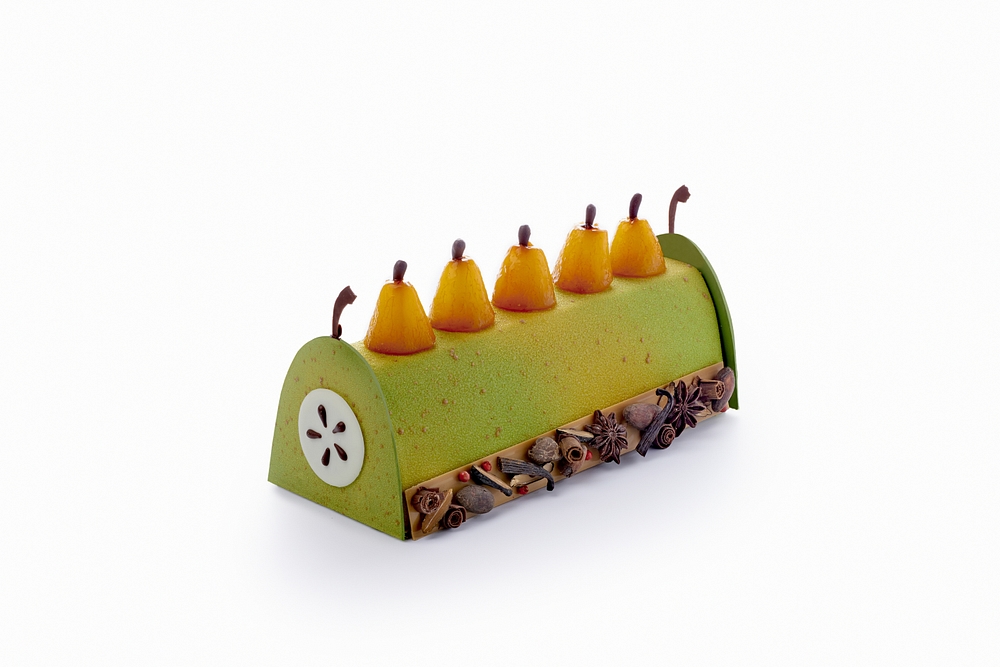 A bold entry from the Park Hyatt for 2019, this inventive creation is by Chef Pâtissier Jimmy Mornet and celebrates the sudashi - a small green citrus fruit native to Japan. Very little known outside of its native country, the sudashi is sashaying onto the Paris Bûche scene coupled with pears (an ingenious pearing)! The pear confit smooths out the sudashi mousse's acidic notes while lemon biscuit, pear syrup and crunchy almonds join spiced speculoos and gingerbread to complete the feast!
Available from the 19th December or to order from the 1st. 
80€ for 6-8 people.