The Peninsula, L'Écrin by Dominique Costa
Pastry chef Dominique Costa takes us to Asia with his imaginative bûche de Noël, which reveals itself like a gift waiting to be fully unwrapped. It's no hardship to delve into this particular present - what awaits is a chocolate mousse with notes of smoked sandalwood, a core of mandarin fondant and a buckwheat crisp topped with creamy caramel. 

Serves 8, €98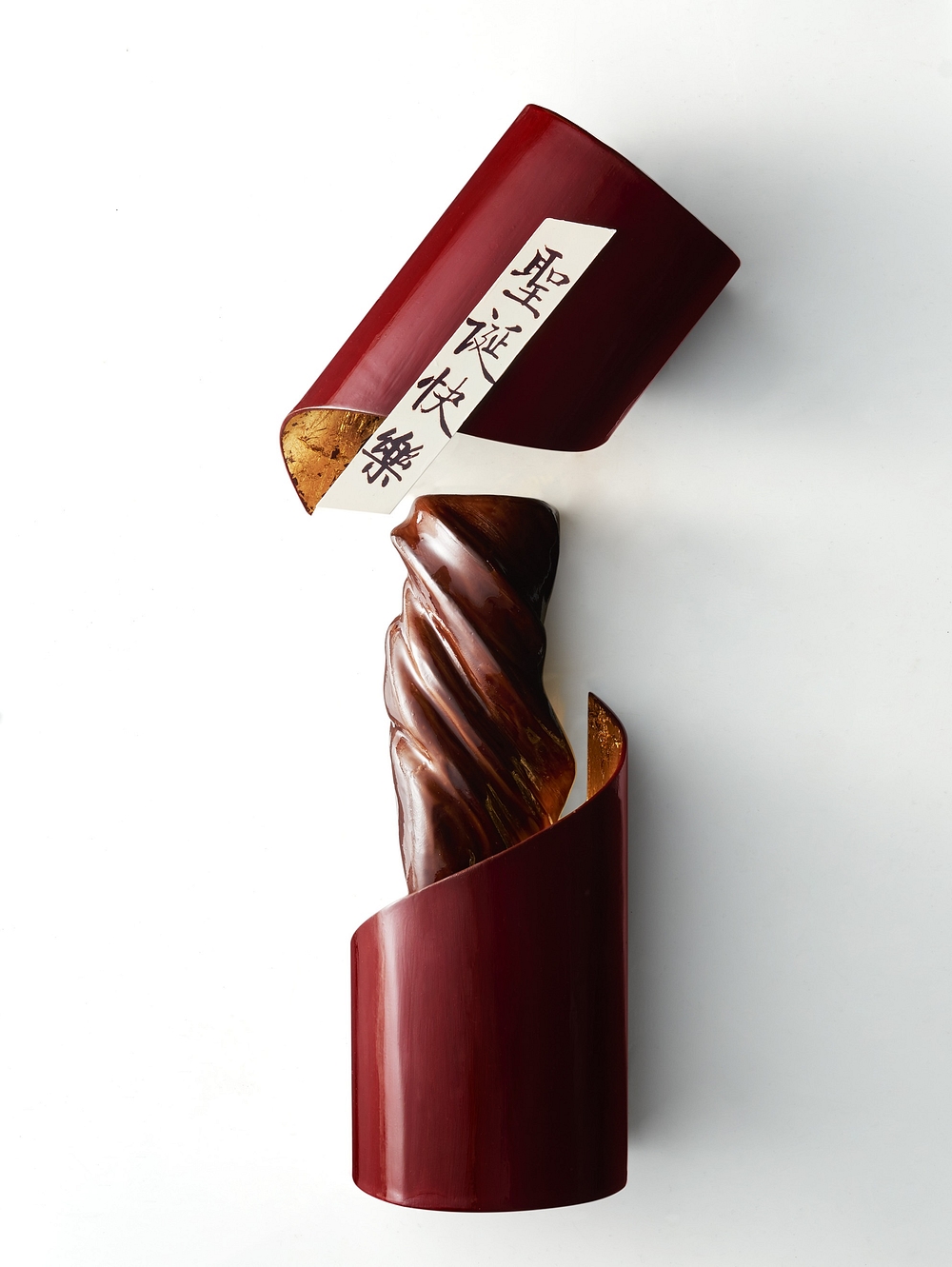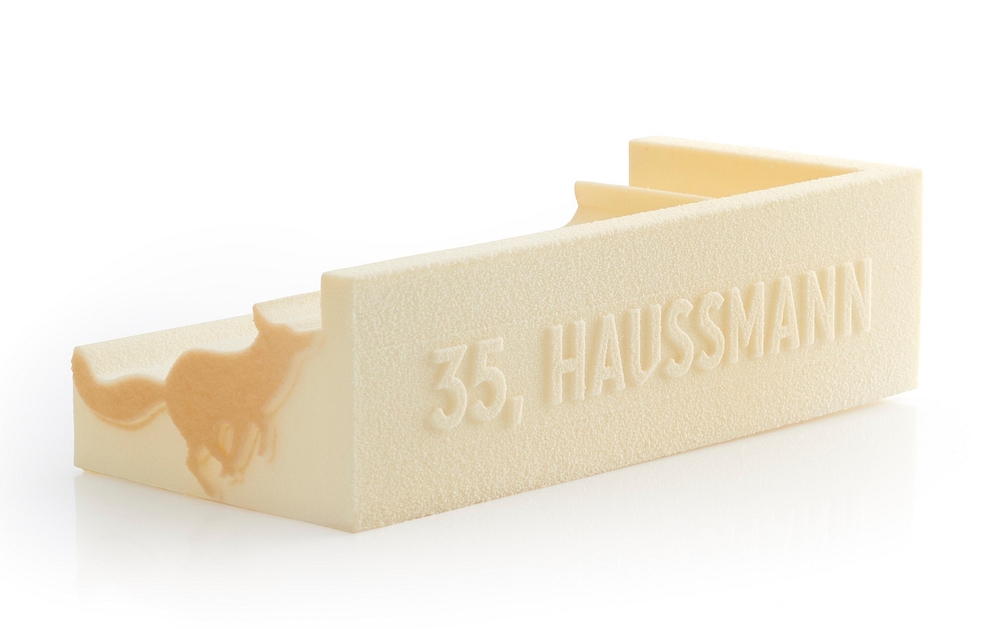 This year Yann Couvreur is spoiling us with an array of Bûches de Noël that range from the beautifully classic to the architecturally inspired - like this gorgeous 2018 entry, La 35 Haussmann. Taking its name from the address of Yann Couvreur's boutique within Galeries Lafayette, this elegant creation really delivers the wow factor. Simple and refined, Yann Couvreur's Bûche de Noël is all clean lines in white-chocolate, but hidden within is a world of flavour - almond biscuit, a feather-light almond-milk mousse, mandarin compote and a touch of fleur de sel. Our favourite touch has to be the ingenious inclusion of the Yann Couvreur logo - the running wolf - which adds a lovely sense of fluidity and movement to the architectural lines, don't you think?
5 people : €39
George V at the Four Seasons by Maxime Frédéric 
Oh golly, we had a little thrill of wonder when we first saw Maxime Frédéric's creation for the beautiful George V at the Four Seasons. What a labour of love this is - how could anyone bear to break into it? Still, those who do will be amply rewarded, with 210 individual scales making up this delicate pine cone of Madagascan chocolate with notes of caramel, pine nuts and smoked wood. But that's not all. Some of the layers reveal hidden "crowns" of chocolate which are the official Bûches de Noël, so it's like a beautiful edible puzzle with hidden secrets. 
Enjoy this Bûche de Noël as part of Tea Time at George V, priced at €95
Like a row of shiny baubles waiting to be hung on the Christmas tree, La Glacerie's 2018 Bûche de Noël is a burst of glossy colour and fun. This yule log is particularly special because it marks MOF David Wesmaël's debut on the annual Paris Bûche de Noël scene - Wesmaël opened his ice-cream boutique La Glacerie in our neighbourhood just this year (we are forever in his debt). What's even more exciting is that you can personalise this particular Bûche - just choose five flavours and you've got something completely unique and tailor-made. A vanilla ice-cream base is topped with 5 of 10 available flavours in sorbet or ice cream: pistachio, sour cherry, Ardèche chestnut, dark chocolate Amaretto, Corsican clementine...need we go on?

Serves 10, €72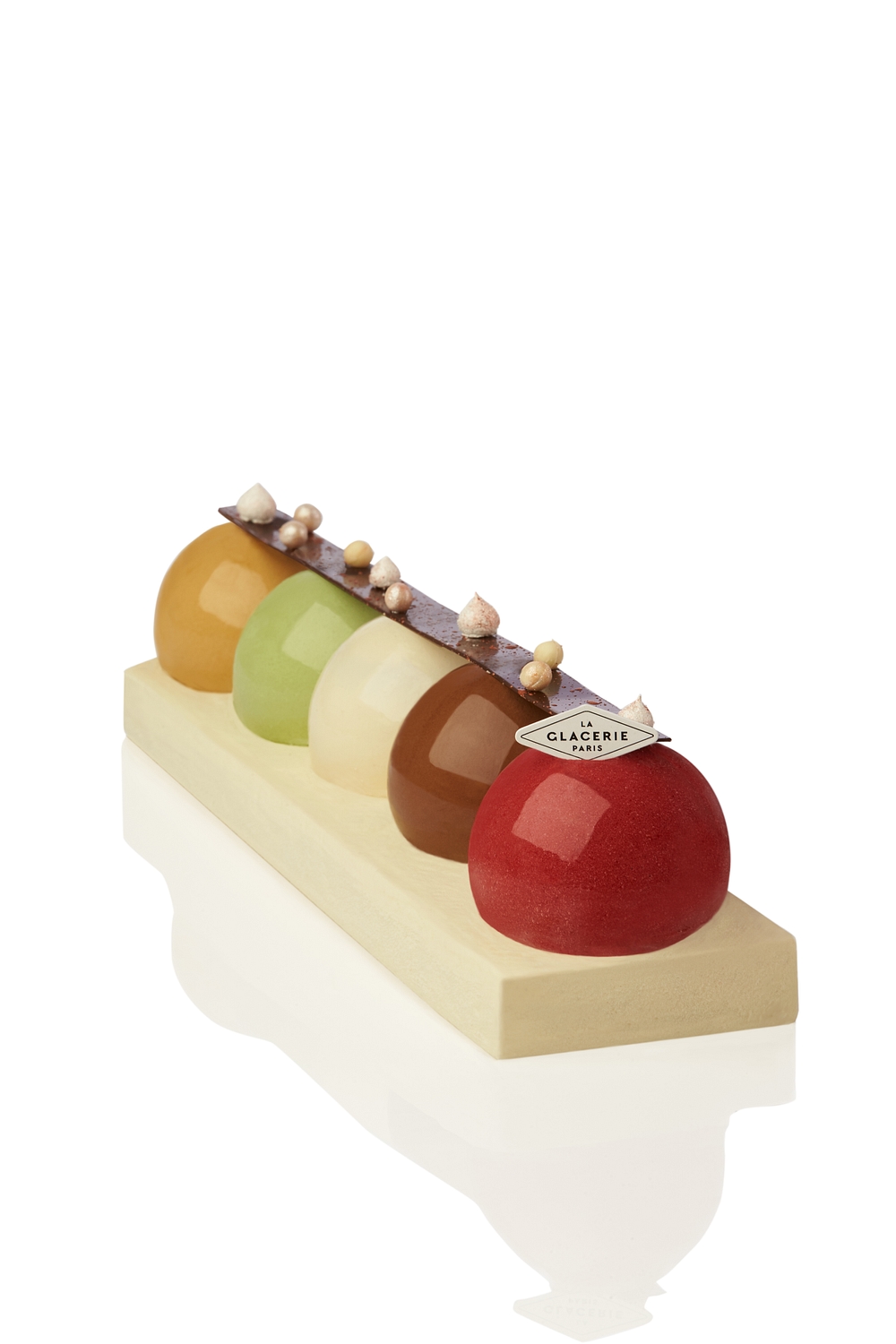 Le Bristol, by Julien Alvarez
One of the most luxurious Bûches de Noël of 2018, Le Bristol showcases the work of its Chef Pâtissier Julien Alvarez with this amazing trompe l-oeil sculpture - and every inch of it is edible! It may look like a wooden box full of decadent truffles, but in fact Alvarez's creation is made up of biscuit, delicate crisp, hazelnut chocolate, light cream and - naturally - real black truffle. 
€140 for 8 people
Shangri-La, the 'Shangri-La Express' by Michael Bartocetti
Surely winning the prize for cutest Bûche de Noël, this sweet little creation from Michael Bartocetti could have been delivered by Santa himself. Bartocetti loves a childhood festive theme - last year he gave us a spinning top - but 2018 sees him conjuring with wonderfully surprising flavours like chocolate mousse with lemon grass, banana confit with lime and vanilla, and little carriages full of lime truffles! 
Serves 8, €128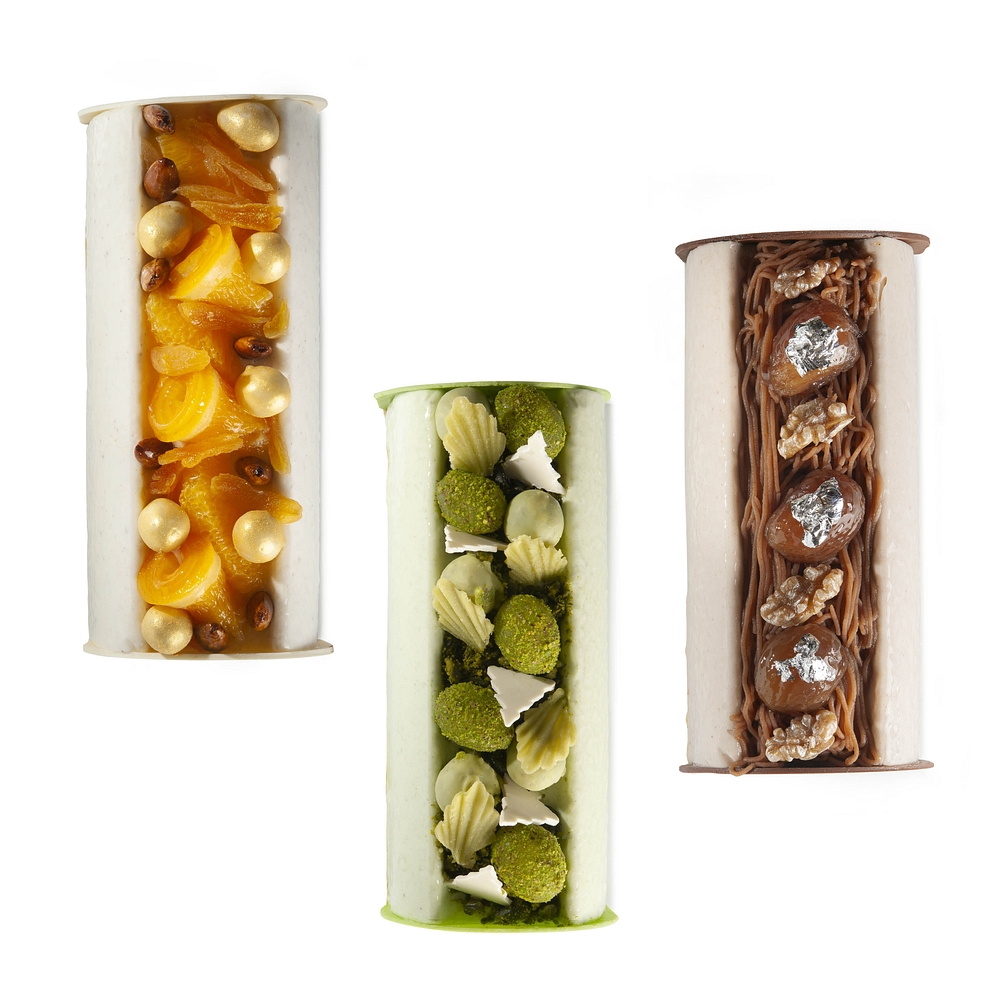 Pain de Sucre offers no fewer than four Bûches to choose from this year. There's Choc Choc for the chocolate lovers amongst you; Tendresse for lovers of almond, apricot, vanilla and orange flower; the Franquette with homemade chestnut cream and walnuts; or the Jardin Vert with its flavours of pistachio, lime and infusions of verbena. You can even adjust the size according to the number of people who will be partaking!
4 personnes 36 €       6 personnes 54 €      8 personnes 72 €     10 personnes 90 €
Le Molitor set out to create something truly unique this year, in association with Panamanian artist Cisco Merel. The four funky geometric shapes that make up the Molitor Bûche de Noël reveal bold flavours by pastry chef Antoine Bouchard, with the colourful design giving a clue to what awaits - blue for blueberry, white for vanilla, red for strawberry and rose for raspberry. You can either demolish them one by one or mix and match! Ingenious.
6-8 people, €100 pre-ordered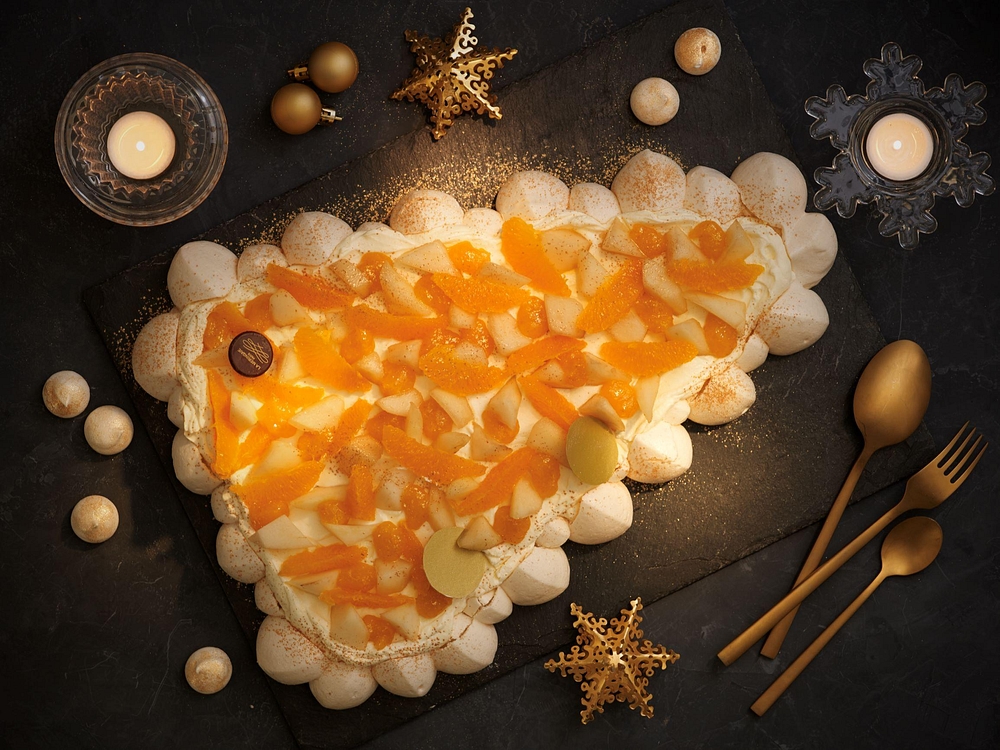 If you're looking for a Bûche de Noël that can feed a whole party, then Le Meringaie's 2018 entry might be the one for you. Like a gold-tinted Christmas tree, this perfect-for-sharing creation is a mass of both soft and crunchy meringue, whipped cream with bergamot, tangerine confit and topped with mandarin segments and pear. Delicieux!
15 people, €90
8 people €47
There's a forest of Christmas trees this year at La Fabrique Givrées, and an edible forest at that! Jérémie Runel is the chef patissièr behind 2019's collection of five creations, all of which include gorgeous sorbet or ice cream flavours for a delectable dessert. Flavours include matcha tea, Tahitian vanilla ice cream, mango sorbet, chestnut, raspberry, salted caramel and cashew - to mention just a few! 
6 people €32
Chef Pâtissière Sophie de Bernardi was inspired by the traditional sapins - Christmas trees - of her youth when creating her Bûche de Noël for the historic Café de la Paix. This is one for the chocolate lovers, with a chocolate mousse interior, crunchy chocolate biscuit, crunchy pine nut and a coating in - you guessed it - chocolate. 
6/8 personnes 75€