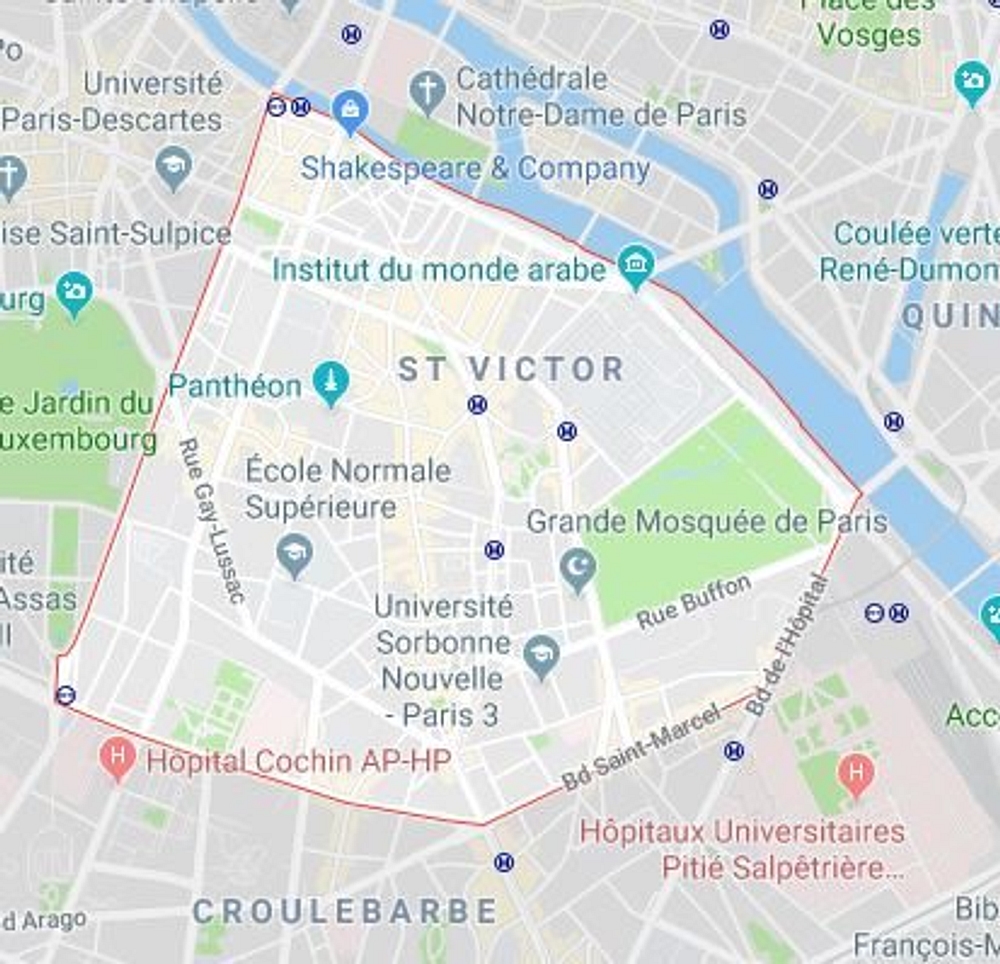 The Fifth : An Overview
Full of the history of Paris' vibrant student life and still full of late-night haunts, the Fifth is a beautiful neighbourhood to explore on foot, stretching from the banks of the Seine and encircling the Jardin des Plantes, the Latin Quarter and the famous universities and institutions of Paris - including La Sorbonne, of course! The Romans were pretty busy in this neighbourhood, and even did us the huge favour of building the rue Mouffetard - still one of the most bustling thoroughfares in the neighbourhood. Merci Romans! While they were at it, they also built the nearby Arenes de Lutece -a Roman amphitheatre - and guess what? You can still see it! Find the location on our Handy Map of Lesser Known Historic Gems, right here. 
While perhaps one of the lesser well-known foodie destinations, the Fifth still has plenty to discover - including of course those lively bars and late-night revels! 

A short disclaimer before we get started... as we all know, dining out is a very personal, nuanced affair, and our humble little list featured here - or indeed in any of our content - unfortunately cannot guarantee a spectacular, knock-your-socks-off, "Dear Diary" dining experience - as much as we would love it to! While we certainly aim to inspire, as always we recommend using these suggestions merely as a jumping-off point for your own Paris research. So with that out of the way - on we go! 
Restaurants
Le Verre à Pied
If you love a typical French café and bistro, Le Verre à Pied on the ancient rue Mouffetard fits the bill perfectly. Tiled floors, chalkboard menus, locals having lunch - the perfect stop off on your explorations of the fifth. 
118 Rue Mouffetard
La Nouvelle Seine
It's a boat, it's a theatre, it's a restaurant, it's... La Nouvelle Seine. Why not stretch your sea legs and watch the water on the Seine as you dine? 
Opposite 3 quai de Montebello
Le Porte-pot
Blues on a Thursday night makes Le Porte-Pot a great spot to know about for those who love live music, it also serves good food in a cosy space full of wooden beams and candlelight. 
14 Rue Boutebrie
Nossa

All the liveliness and loveliness of Portugal - in the 5th! Nossa serves up delicious roasted chicken and sides in an almost street-food-style, enjoyed in a little dining room that feels like you've wandered into a local's kitchen! Charming and delicious. 
1 Rue de l'École Polytechnique
La Rotisserie d'Argent
If the Tour d'Argent is slightly out of your budget, why not get back to basics with a beautiful rotisserie chicken and slightly more affordable prices at this sister eatery. Chequered red tablecloths, well-stocked bookshelves, red banquettes - you can only be in Paris!
19 Quai de la Tournelle
Something a little Special...
Prosper et Fortunée
If you want to feel like you're enjoying a home-cooked meal in a Parisian home, snag one of the 20 spots at this acclaimed restaurant to enjoy multiple no-choice courses that change every night - prepared right in front of you by chef Eric Lévy.
50, rue Broca
Les Papilles
This celebrated little bistro has long been a gem for many, with its tiled floors, handful of tables and prix-fixe menu. 
30 Rue Gay-Lussac
Restaurant AT
Franco-Japanese chef Atsushi Tanaka wows all those lucky enough to nab a reservation at this minimalist restaurant. Expect ingenious, molecular-inspired cuisine. 
4 bis, rue du Cardinal-Lemoine
Tour d'Argent
One of the most famous restaurants in Paris, Tour d'Argent also boasts one of the most amazing views and a history stretching back through the centuries. You may need to splash out a little to dine here, but you only live once!
17 Quai de la Tournelle
Bars
Le Piano Vache
A favourite with the music lovers as well as the students of the fifth, this low-lit, ramshackle bar is a mainstay of the neighbourhood. Fantastic Gypsy Jazz on Mondays.
8, Rue Laplace
Les Pipos 
A neighbourhood favourite with a reliably lively atmosphere. Come for the wine, stay for the food.
2 rue de l'Ecole Polytechnique 
Caveau de la Huchette & Caveau des Oubliettes
If you love jazz bars in typical Parisian "caves" (cellars) then these two music-loving addresses are for you. Jam sessions, concerts, swing, blues, Big Band - you'll find it all on the programme. 
Caveau de la Huchette - 5 Rue de la Huchette
Caveau des Oubliettes - 52 Rue Galande
Café de la Nouvelle Mairie
You can look forward to a really fantastic array of natural wines here, not mention a bustling terrasse and honest French bistro fare. Just a couple of steps from the Pantheon. 
19 rue des Fossés Saint Jacques
The Bombardier
If you're in search of a friendly pub atmosphere, a pint and an English-speaking crowd, then the Bombardier is a great spot to know about. There are pub quizzes, sports, pub food and lots of people to get to know. 
2 Place du Panthéon
The Best of the Rest
Marché Monge
Place Monge - Wednesday, Friday, Sunday
If you've never joined us for a French Market Tour & Cooking Class, come along on a Wednesday or Friday to discover this beautiful open-air Market in the fifth - we love it! 
Marché Maubert
...Or how about one of the oldest local markets in Paris? We're at Marché Maubert on Tuesdays, Thursdays and Saturdays to shop for ingredients to cook up a storm back at the school. Why not join us? 
Place Maubert - Tuesday, Thursday, Saturday
Coffee
Shakespeare & Company
Just next door to the famous bookshop, the Shakespeare & Company Café serves hearty wholesome fare and excellent coffee, enjoyed indoors or on the large shared tables outside - weather permitting!
37 Rue de la Bûcherie
Circus Bakery
Another top pick on our blog, read about Circus Bakery here before popping in for cinnamon rolls and espresso / cappuccino.
63 Rue Galande
Nuance
Sleek and stylish, you can get everything from excellent coffee to pancakes, granola and freshly baked cakes at this spacious cafe. 
16 Rue Linné